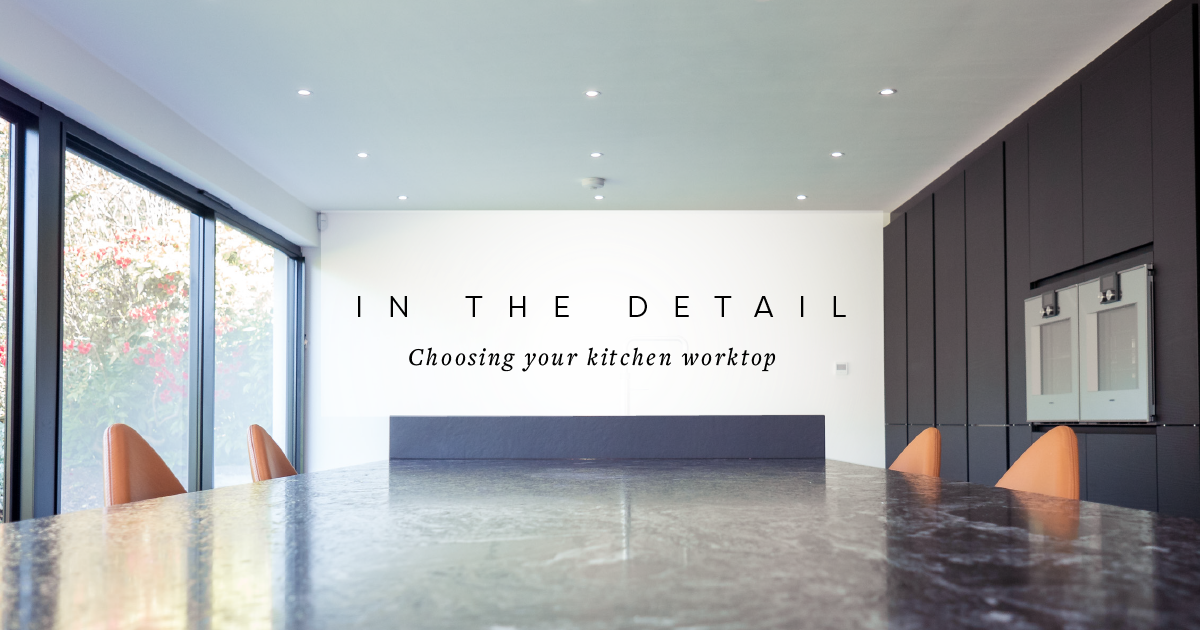 When it comes to bespoke kitchen design, the details make all the difference. Our team put a lot of care and consideration into each individual design choice, to make sure every element of your new kitchen is the perfect fit for your home and your lifestyle.
Take worktops, for example. Due to the large surface area they cover, they're one of the first things people notice when they walk into your kitchen. But with so many materials, finishes, colours and textures on the market, it can be difficult to know what to choose. To get you started, we've put together a list of some of our favourite choices, by our favourite suppliers.
Sensa by Cosentino
Cosentino offer their own brand of premium handmade granite, called 'Sensa'. It's a protected natural stone surface (the treatment involves dipping the material in solution to seal it) meaning it's resistant to scratches and stains. The stone material makes for a unique, elegant surface – and, because it's so durable, it also comes with a 15-year warranty.
See it in situ
For Claire's kitchen, we crafted the dining table from 60mm 'Black Beauty' Granite, which has a smart suede finish. The table is a step down from the long central worktop, and is a bespoke statement piece. Together, they make for an impressive centrepiece in the room – as well as showcasing just how versatile this product can be, as we would typically pair it with a traditional style kitchen.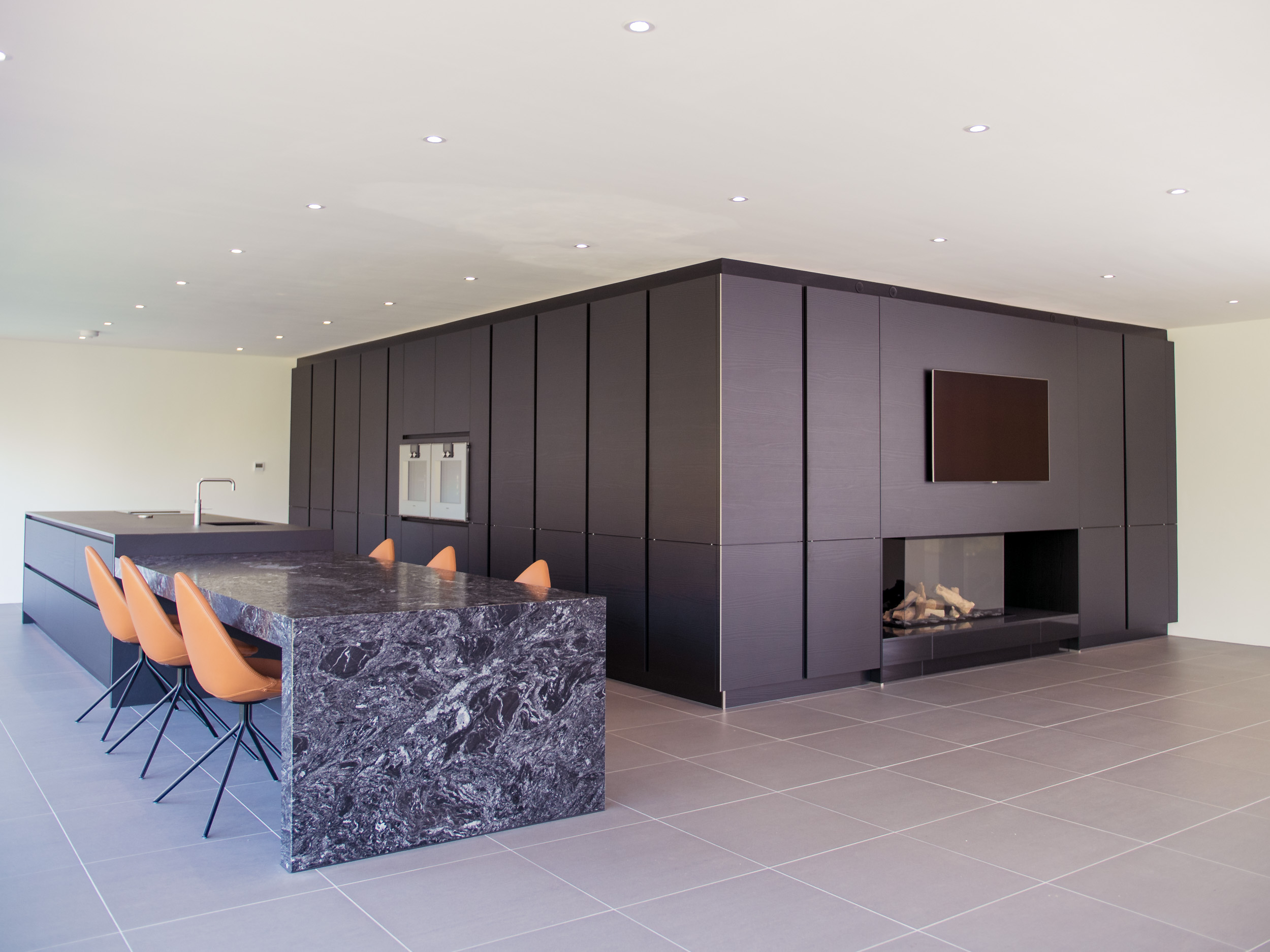 Silestone by Cosentino
Another worktop surface by Cosentino, 'Silestone' is their brand of Quartz. Made up of 90% natural quartz, it's very hard and resilient. It's a non-porous surface, so it's highly resistant to household stains – like coffee, wine, lemon juice and olive oil. They also have over 90 colours to choose from, as well as 3 unique textures: polished, suede, and volcano. The material also comes with an impressive 25-year warranty.
See it in situ
Barry & Diane's bright open-plan kitchen features a 'Matt Stone Grey' and 'Porcelain Light' colour scheme – beautifully complemented by the polished worktops, which are a sleek 20mm Silestone in 'White Storm'. These form the surface for the large central island, undoubtedly the focal point of the kitchen.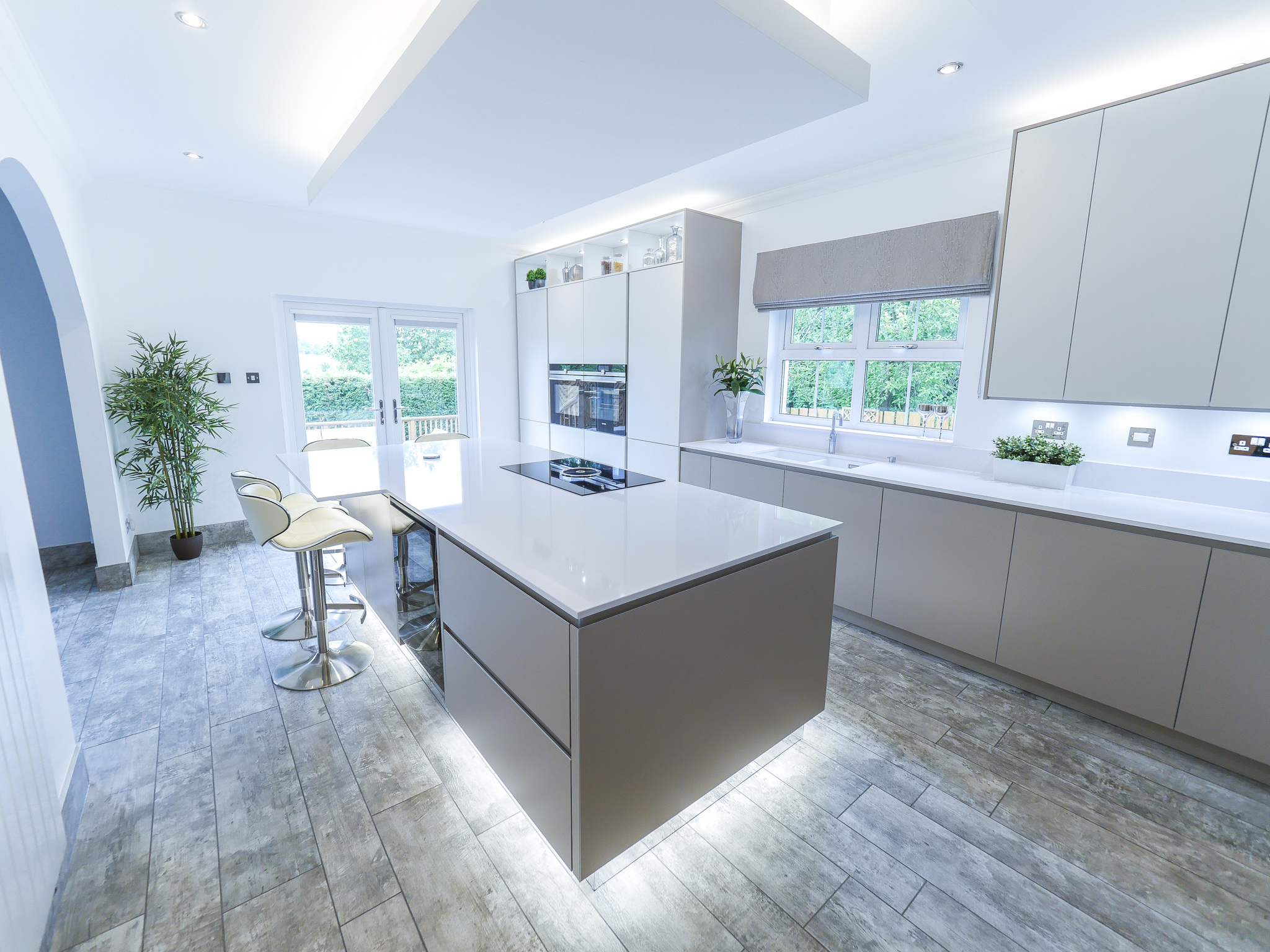 See more of Barry & Diane's kitchen
Dekton by Cosentino
Our last Cosentino material on the list, 'Dekton' has been a popular choice with our clients lately – and for good reason. Described as an "ultracompact surface", it's a sophisticated blend of glass, porcelain and quartz. Its main selling point is durability; it's resistant to stains, scratches, heat and UV. Its appearance is similar to marble, or a polished concrete, and it's available in multiple colours. These colour choices are grouped into collections of similar shades – such as 'Natural', 'Industrial' and 'Wild'.
See it in situ
For Kathleen & Tony's Pronorm Y-line kitchen, we used Dekton worktops in storm-grey 'Vegha'. These have a slightly textured finish, inspired by the natural formations of limestone and sandstone. The surfaces match their sleek white colour scheme, with the clean-lined central island becoming the focal point of the open-plan space – ideal for the clients' lifestyle, as they enjoy hosting events.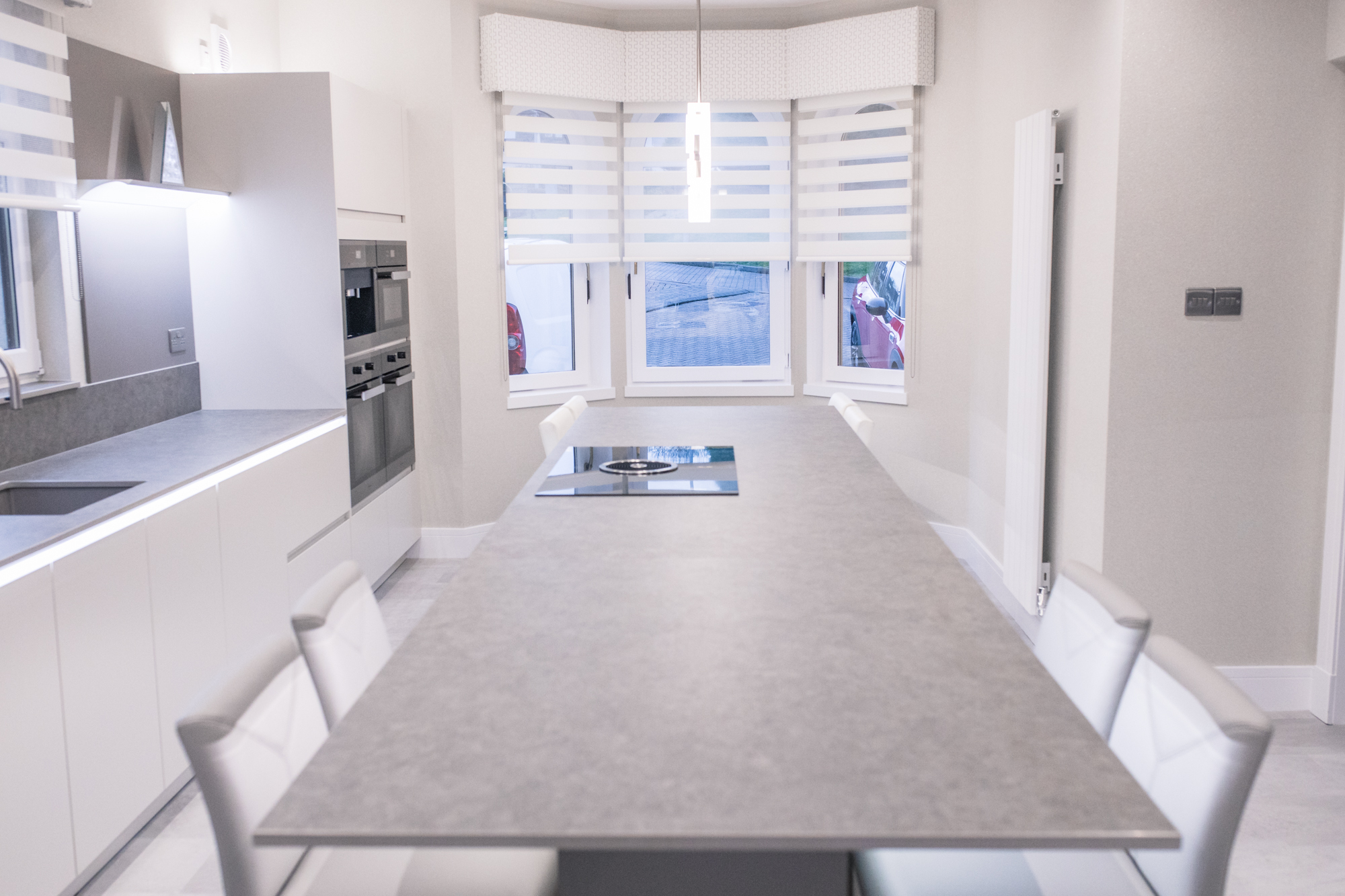 See more of Kathleen & Tony's kitchen
As well as suiting our modern handleless kitchens, Dekton works just as well with more traditional styles. Gerard & Sandra's elegant, classic kitchen showcases Dekton's 'Aura' worktops – a stylish veined pattern, inspired by the patterns of natural Calacatta marble. The pattern dovetails with the soft grey tones throughout the kitchen, highlighted by the tranquil copper lighting. These are the same worktops as in Kathleen & Tony's kitchen, but – because of the many styles and finishes available for Dekton – the effect is entirely different.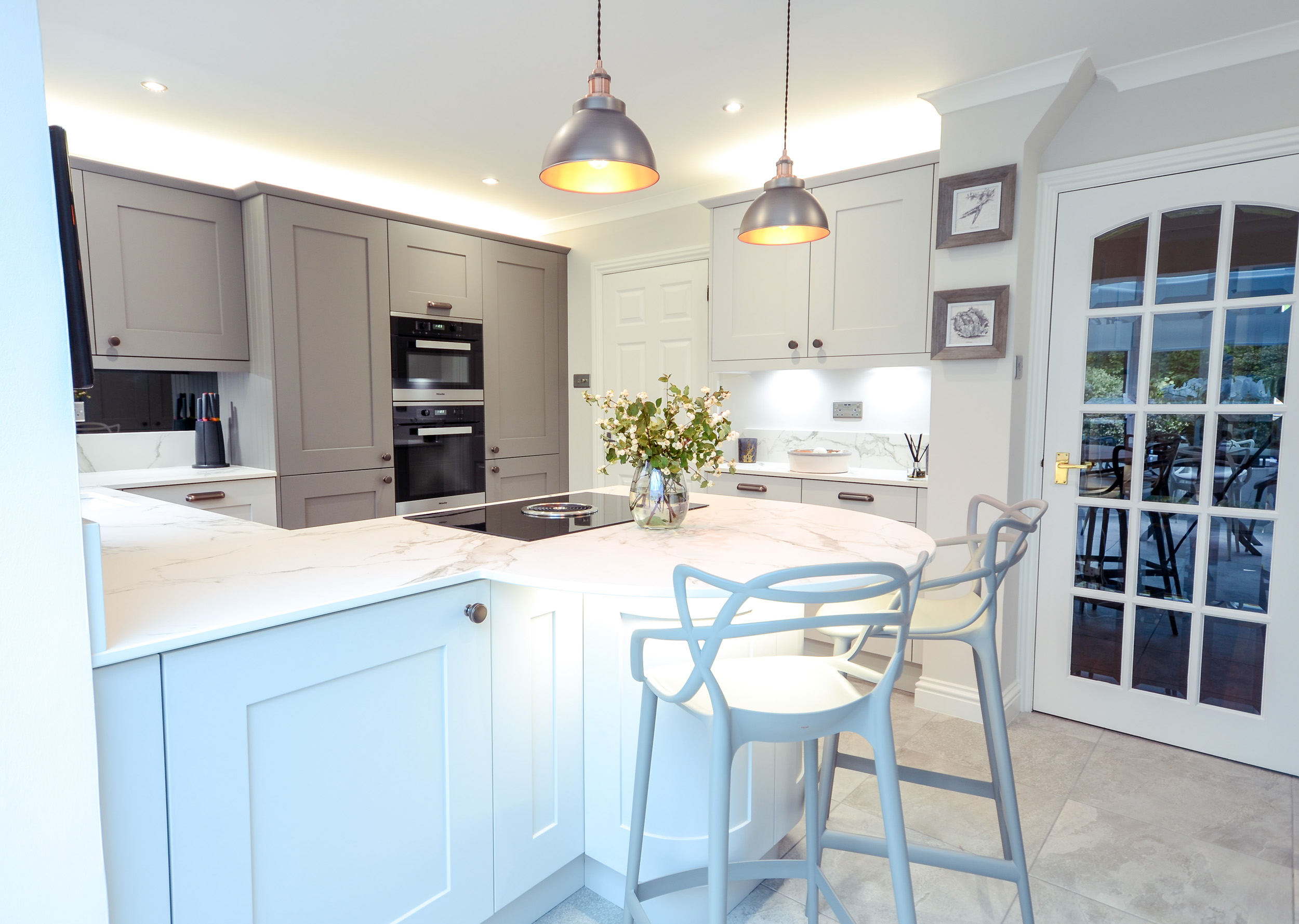 See more of Gerard & Sandra's kitchen
Corian by DuPont
Corian is a stone-hard surface material by DuPont, made from a unique blend of minerals and acrylic. It's very tactile and easy to model, so it can be shaped to suit any design or dimension. As well as worktops, Corian can be used to make shaped breakfast bars, and even sinks and bathtubs. It's also tough, durable, non-porous, easy to clean, and is warmer to the touch than traditional stone materials. Not to mention, there are multiple colours to choose from.
See it in situ
Stuart & Jenny's kitchen is the beautiful centrepiece of their extension, with Corian worktops and a matching kitchen island. Due to the mouldable nature of the material, we were able to make the island in one piece, seamlessly joining the downturn leg which completes the breakfast bar area. The chosen shade, 'Linen', has a soft speckle through it, which adds depth and a hint of colour to the light surface.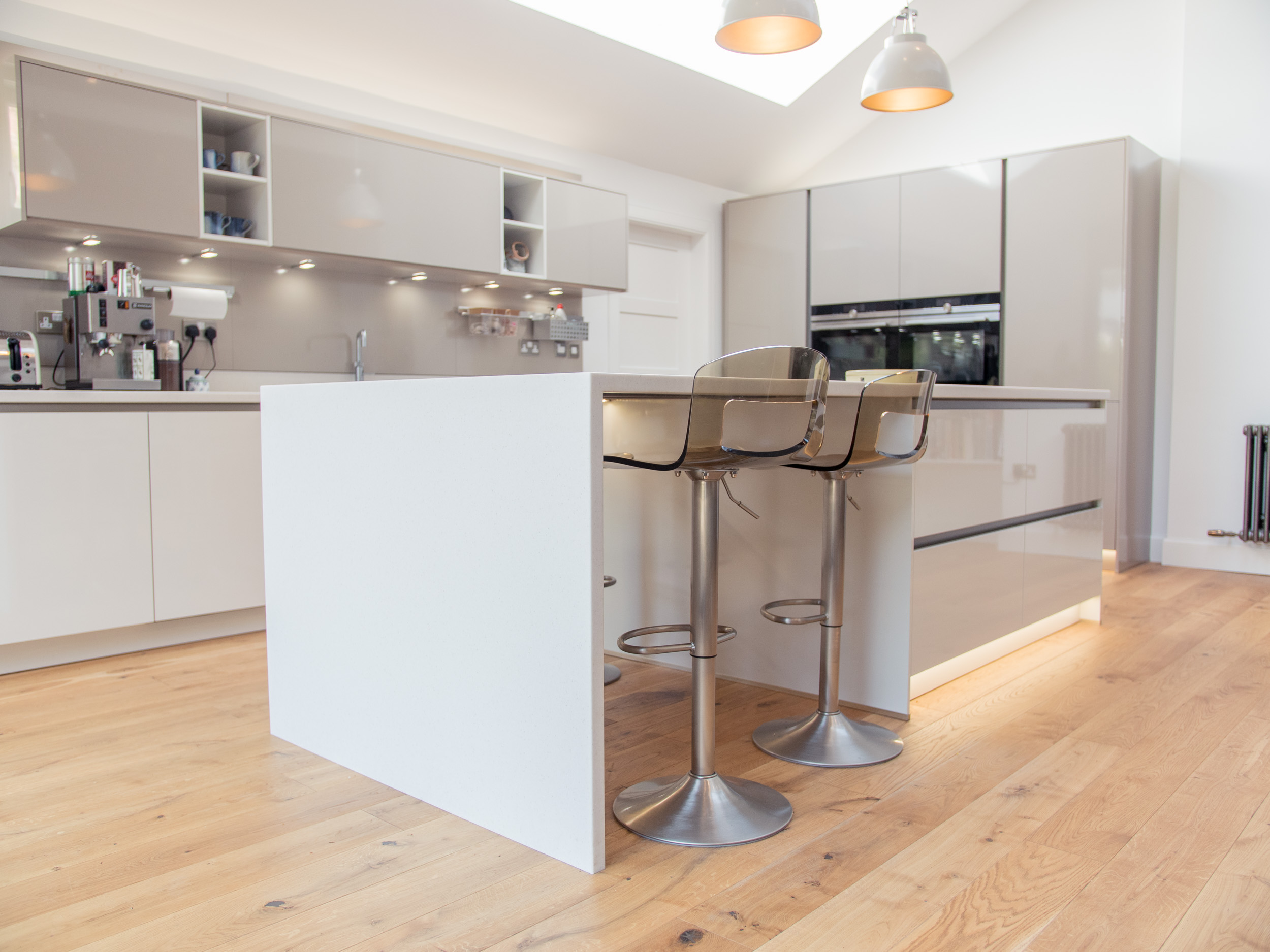 See more of Stuart & Jenny's kitchen
Laminate by Pronorm
Last, and certainly not least, Pronorm's laminate is essentially a reinvention of the material. It has all the same benefits as regular laminate – it's durable and resistant to scratches and moisture – but the quality is far better. It's well made, can be as thin as 16mm, and it looks like concrete (though it also comes in stone and wood effects).
See it in situ
For Norma's modern Pronorm kitchen, we used Pronorm laminate worktops in a 'Natural Concrete' colour, with a section in thicker laminate material for the breakfast bar area in 'Mystic Pine'. The end result is sleek, seamless and stylish.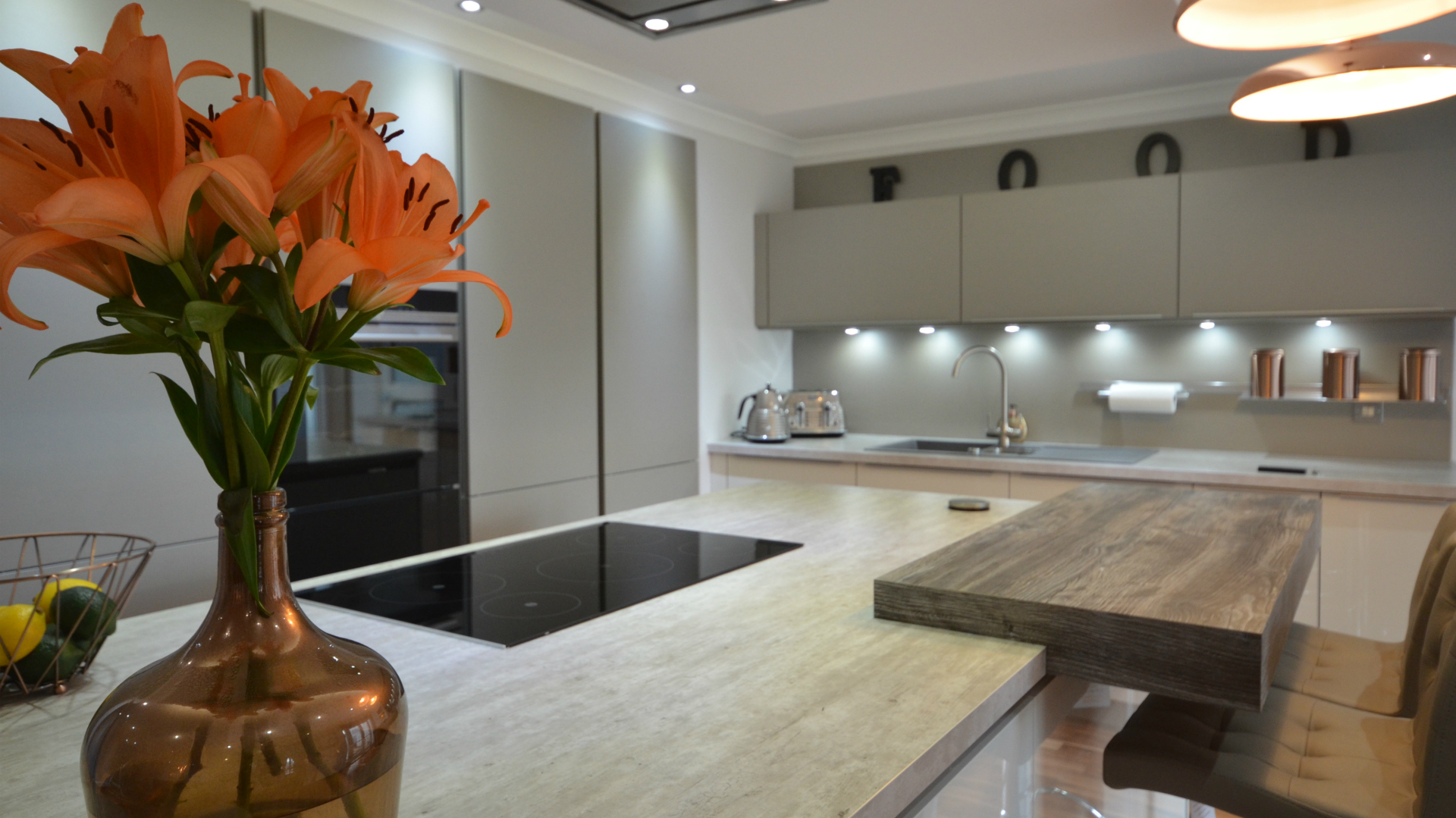 ---
Thinking about a new kitchen?
---