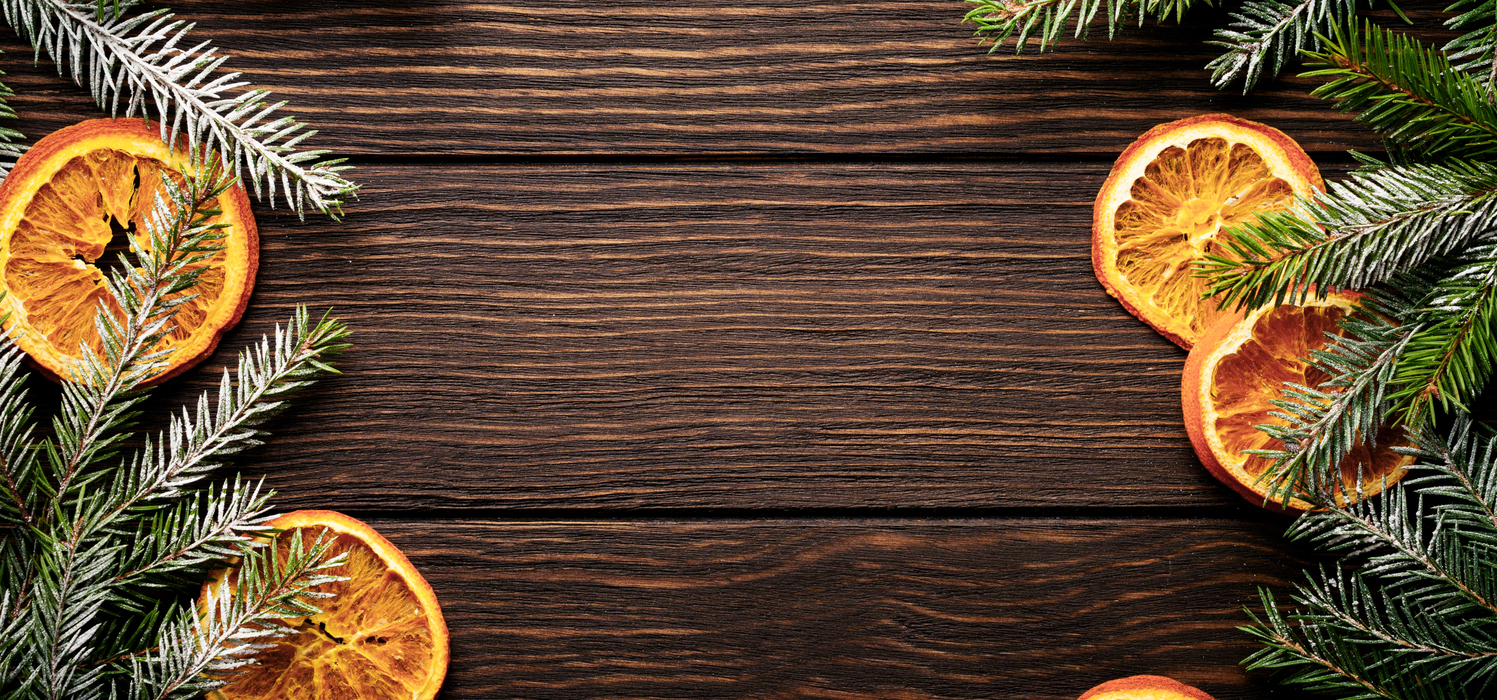 After last year's turbulent festive season, Team Palazzo are ready to go all out for Christmas 2021 – and it seems we aren't alone! With many retailers opening up their Christmas shops extra early this year, and offering more products than ever before, we are certainly spoiled for choice when it comes to festive decor. So we've curated a few of our favourite trends, to help you get into the Christmas spirit and style your kitchen for the season.
Nostalgic decor
Last year, lockdown restrictions meant many of us missed out on the Christmas traditions we know and love. So this year will be all about nostalgia and making up for lost time. Create a joyful and uplifting space with simple comforts in the kitchen – like a traditional Nordmann Fir tree in the corner, and a classic poinsettia adorned with copper wire fairy lights on the kitchen counter.
Images via Bloom & Wild (left) and BoConcept (right).
Instead of buying new decorations, this is the year to consider mending old ones, hunting for hidden gems in vintage shops, or even making your own. You can't go wrong with a simple, homemade Christmas wreath hung atop the kitchen mantle. All you need is some steel wire (or a pre-made wire hoop from a florist) and a few on-trend materials – like eucalyptus, pistachio or olive branches – then attach the branches with wire or thread. Voilà!
Sustainability
That leads us nicely onto the next big trend which is here to stay – sustainability. When the time comes to set the Christmas table, pair some trendy recycled glassware with a selection of eco-friendly, plastic-free crackers. These luxury Cox & Cox crackers are made from 100% recyclable paper, sustainably sourced in the UK, and decorated with vegetable-based inks. Or you could go entirely waste-free and opt for reusable crackers – like these Scandi-inspired fabric crackers from Kate Sproston Design. Kind to the environment, and a family heirloom in the making!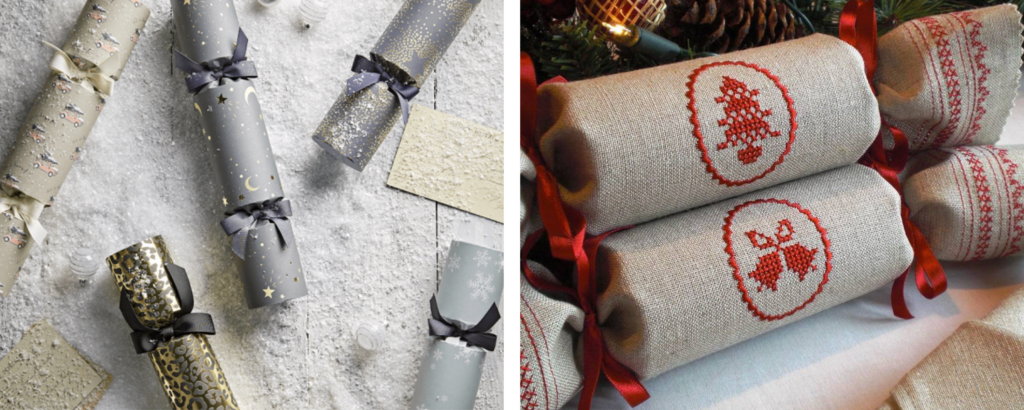 Images via Cox & Cox (left) and Not On The High Street (right).
If you're feeling brave, you could even take a DIY approach and make your own centre-pieces from found and foraged materials – bringing a truly personal, ultra-green touch to the table.
Blue Christmas
Though this year will be all about traditions, a red and green colour scheme isn't for everyone! Rich, moody blues have been a popular choice for kitchens this year, and Christmas doesn't have to be any different. The quirky Blue Christmas range from Alessi encapsulates this trend and epitomises winter, when the nights become longer than the days. The collection includes a number of matching items – from tree decorations, to crockery – so you can carry the style across your kitchen.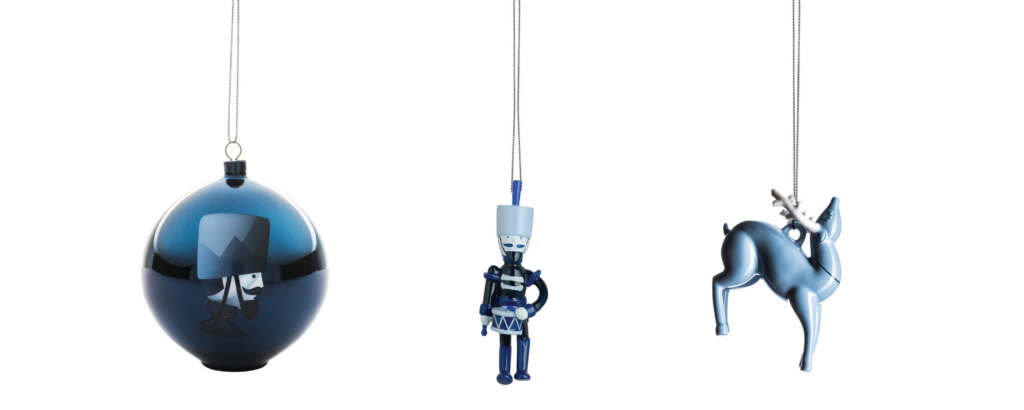 Images via Alessi.
Mini trees
Miniature LED twig trees are very much in again this year, bringing a bit of simplistic sparkle to the home. They're also appropriately eco-friendly, and are perfect for perching on the worktop of a modern, minimalist kitchen. Or, if you want to save space but still crave the real deal, look no further than Bloom & Wild's adorable letterbox trees. There are designs to suit all tastes and all styles of kitchen – from traditional, to downright whimsical. And the best bit? They're re-plantable, so you can re-home them in your garden and continue to enjoy them long after the festive season.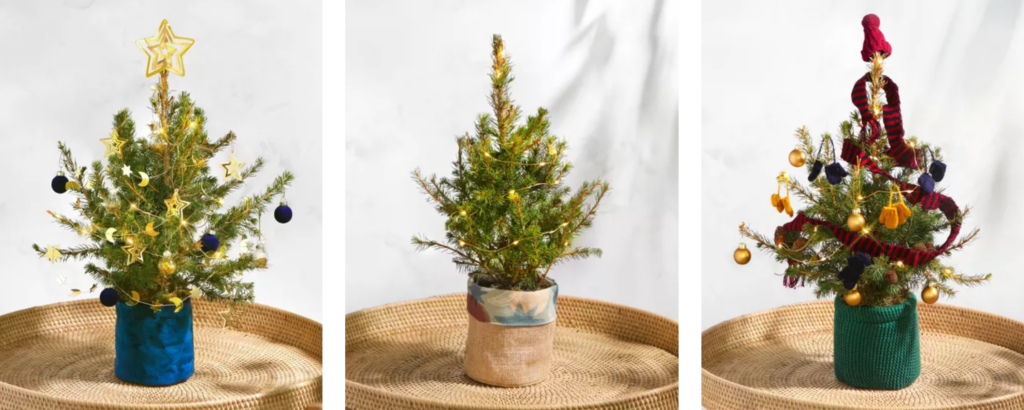 Image via Bloom & Wild.
Multiple trees
When we said we wanted to go all out this year, we meant it. We highly recommend having multiple trees throughout the home, of all shapes and sizes and styles, to really make the most of the season – and yes, that means you can absolutely have a glorious, full-sized Christmas tree in the kitchen!
---
---