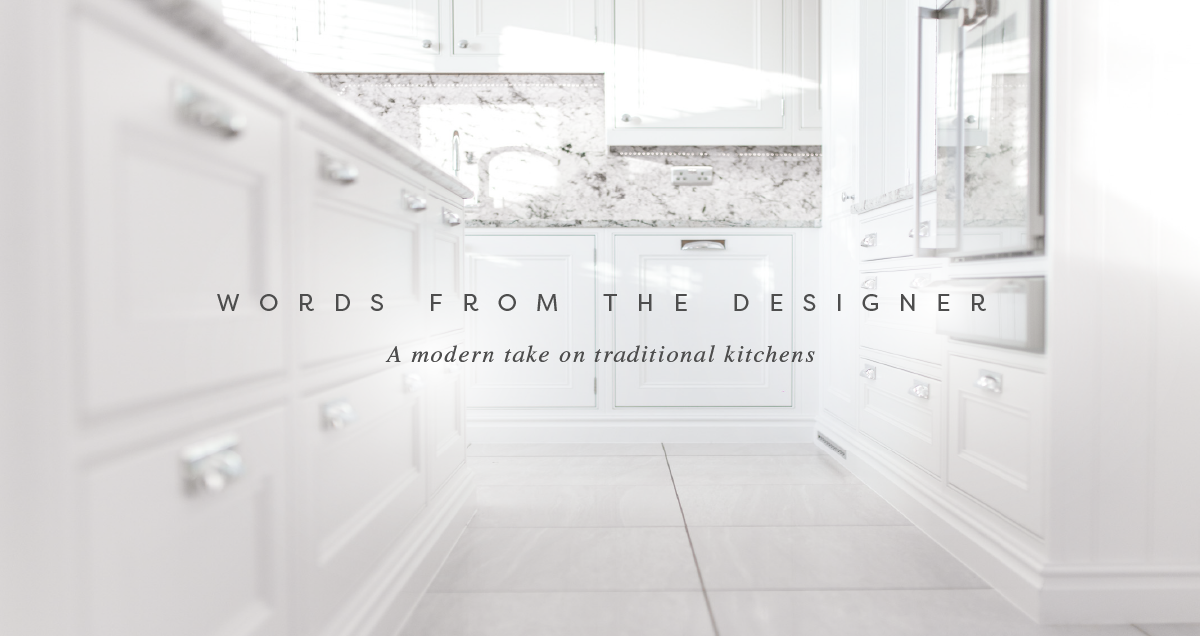 Traditional kitchens have always been synonymous with country-style shaker doors in warm painted finishes – with dark granite or oak worktops, and ornate features like turned pilasters and decorative canopy hoods.
However, we have seen a progression in the last few years – particularly recently – towards a more modern, more refined take on the traditional kitchen. This gives clients the perfect blend of a traditionally-built kitchen, but with modern colours and tones. A classic example of this would be soft grey or off-white hues on painted doors, complemented by a light veined worktop and stylish handle designs. For me, this creates a modern but timeless aesthetic; a look that is warm and inviting, but not fussy.
From a designer's point of view, it's wonderful to be able to mix different styles and have that juxtaposition of old meets new – so I'm very on board with this trend of using traditional products in a fresh way.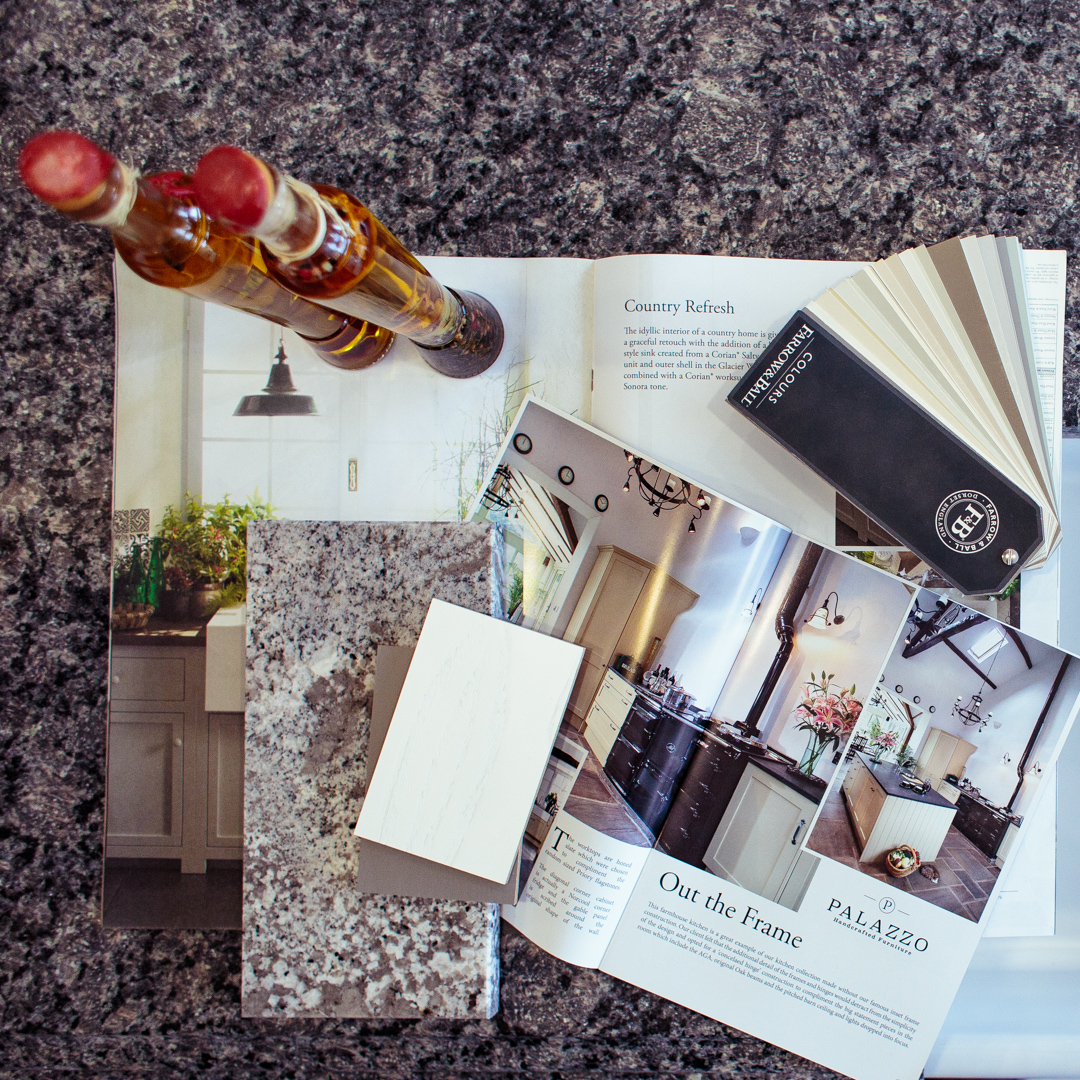 Design flexibility
One of the many selling points of both our Traditional and Handcrafted ranges is that, as well as having a wide range of door styles to choose from, we are also able to offer complete flexibility with colour choice, as the doors can be painted – either in factory or on site – in any shade the client wishes. We often turn to the Farrow & Ball paint chart as our main reference, and having access to this full spectrum of colours means you can mix two complementary tones, if desired, to highlight key areas – such as an island or a tall bank of units. This means you can achieve the exact look you're after, rather than being confined to a fixed set of colours – as you would be with a matt or gloss slab door.
Softer features
Whilst the linear, streamlined style of our modern German kitchens is still very popular, some clients do prefer having the ability to add softer features and decorative elements to their design – such as glass feature doors, curved units, and dresser units. The finishing details of cornice, pelmet, and skirting are also key elements that complete the look of a traditionally-styled kitchen, giving the appearance of fitted furniture.
A tailored approach
I particularly enjoy working with our Handcrafted range as the quality of the materials, and the flexibility of the craftsmen in our factory, means we can tailor everything to suit our clients' space – if I can draw it, they can make it!
As a designer, it's great to be able to go that extra mile and create something special – outwith the constraints of a standard catalogue of units. It's not something that many companies can offer, and I feel it's something that really sets Palazzo apart.
Gerard & Sandra's Traditional Kitchen
It's always lovely when a past client returns to us for a new kitchen, as was the case with Gerard & Sandra. Though their previous kitchen was still in excellent condition, they felt it was time to update the look and layout. The existing design had rich walnut doors – so by choosing bright painted doors and light worktops, we were able to completely transform the room.
'Moles Breath' and 'Ammonite' by Farrow & Ball; Dekton worktops in a veined 'Aura' colour
Their new kitchen was designed using our Traditional range, and boasts some beautiful features – such as the walnut laminate internal carcases, the tongue and groove finishing panels, and the drinks cabinet with bespoke curved shelves.
I especially love the finishing touches: the Brushed American Copper handles finish off the furniture beautifully; the Philippe Starck designer stools and co-ordinating dining chairs are a stylish choice; and the industrial-style pendants over the breakfast bar are the perfect touch to complement this mix of old and new.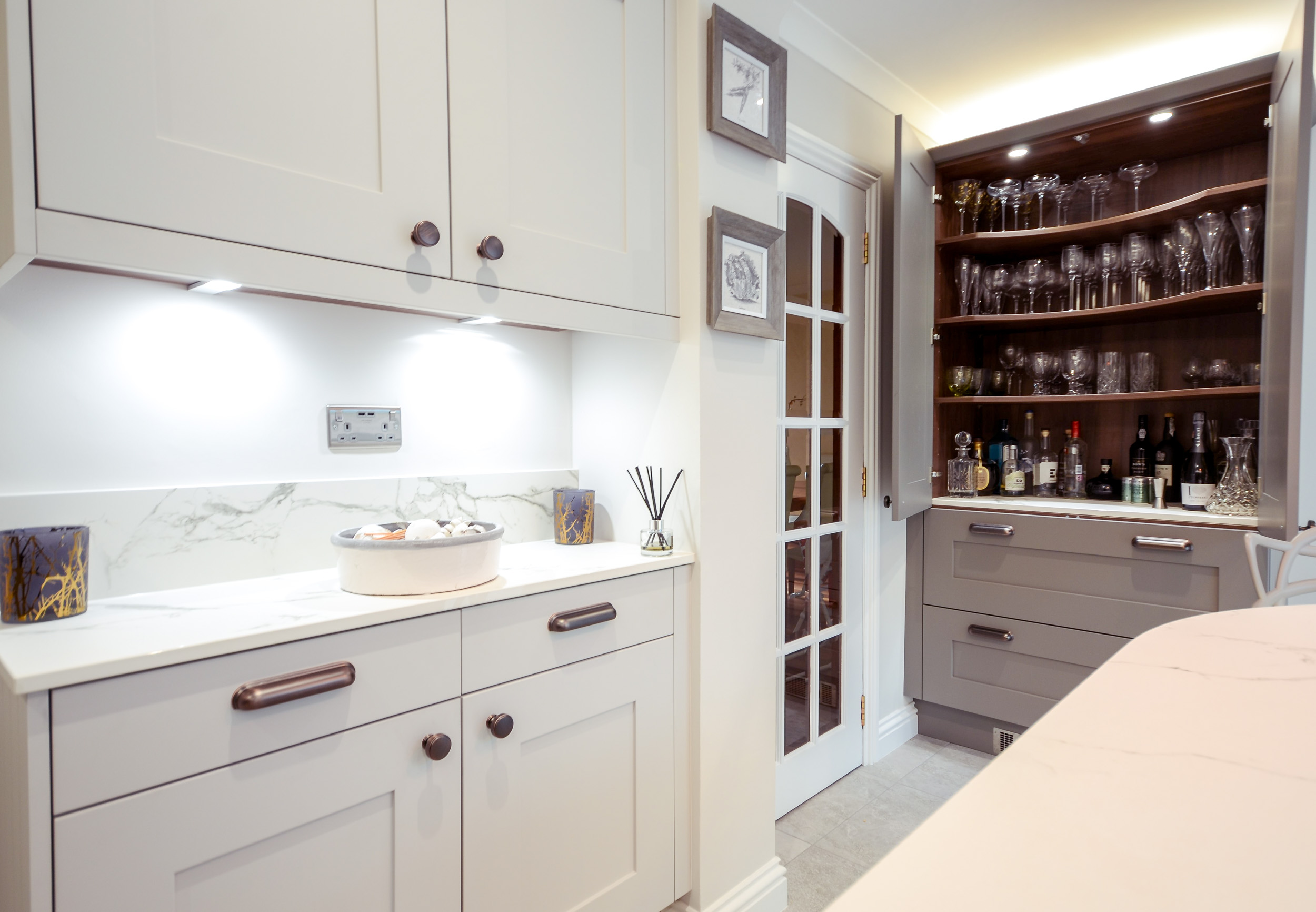 Bespoke drinks cabinet with curved shelves
Douglas & Patricia's Handcrafted Kitchen
Douglas & Patricia's kitchen was an interesting project to work on, as Patricia previously worked as a kitchen designer – and had even designed their existing, modern-style kitchen herself. Through the redesign, we wanted to create a different look and feel for the room. This involved moving the kitchen door, which allowed us to create a better layout and incorporate a large island in the centre of the room.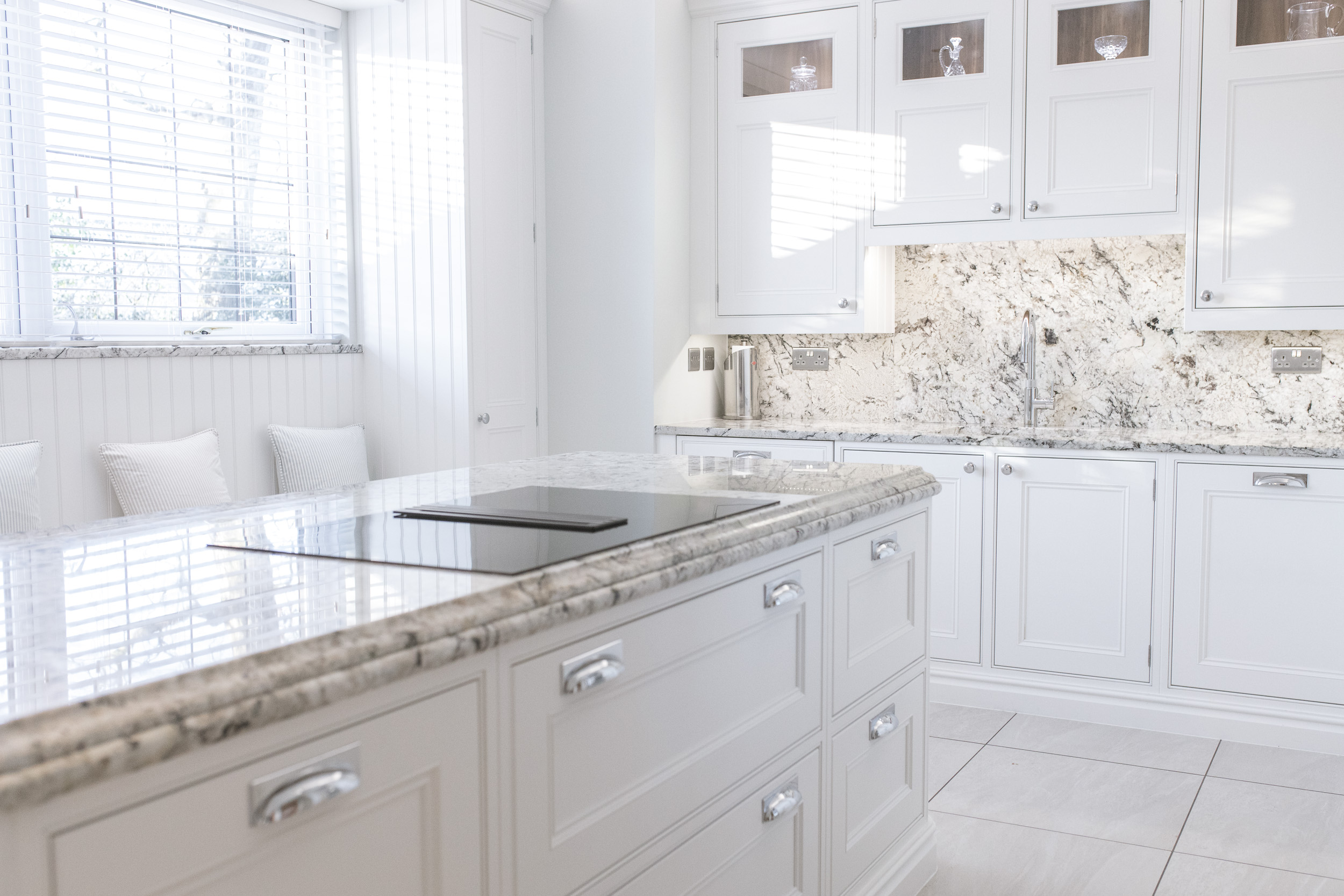 Hand-painted in-frame furniture, finished with skirting detail
Working with our Handcrafted range also allowed us to create bespoke units in the exact sizes we needed. Plus, we were able to add some special elements 'behind the scenes' – for example, the dovetailed walnut internal drawers; the flamed, veneered walnut interiors of the pantry units; and the curved pilasters and door-style panels framing the ends of the island.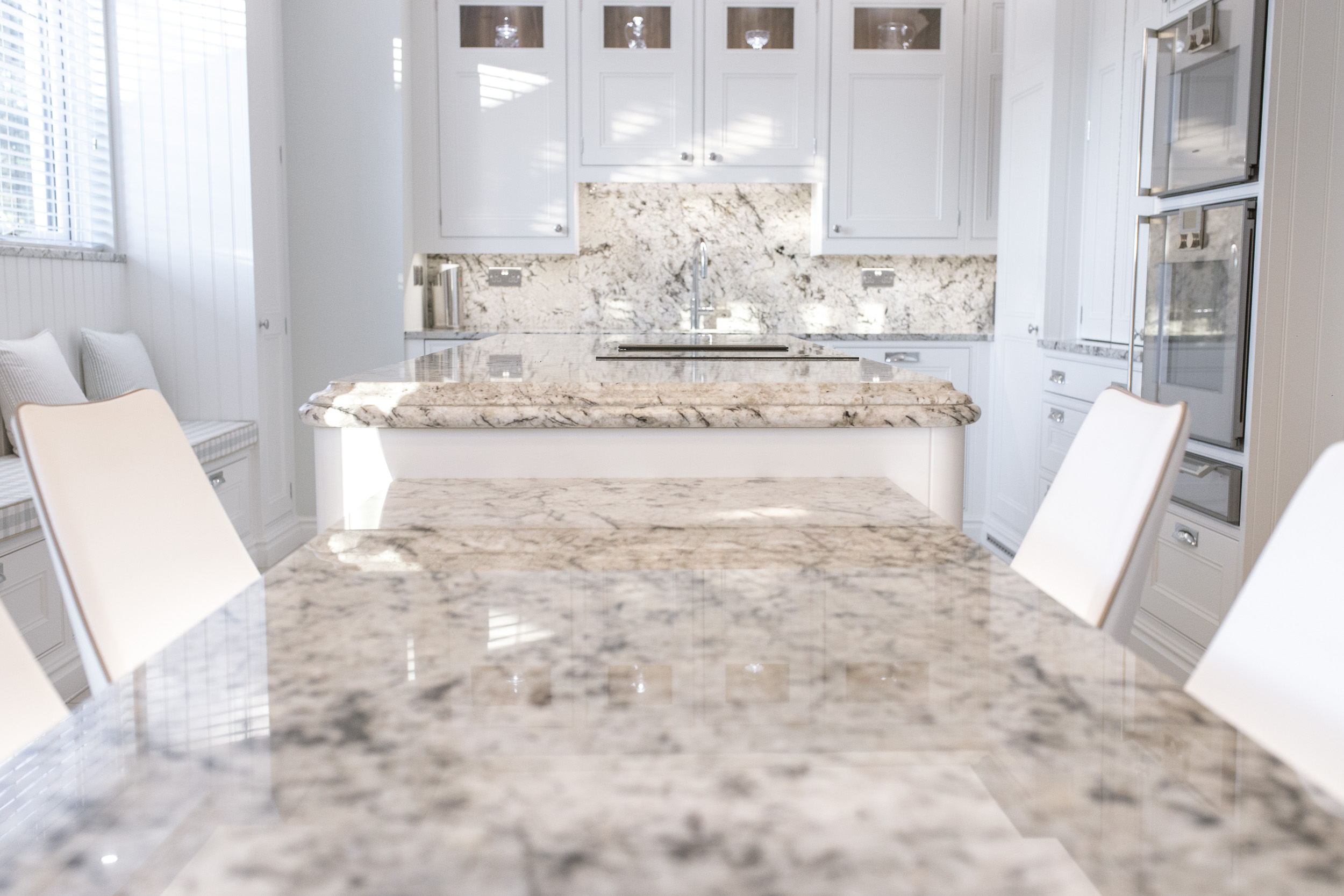 Central island in 'Ice Blue' Sensa Granite by Cosentino, with an Ogee-Bullnose edge detail
My two favourite elements of this design are the window seat and the folding-door pantry. There's a lot of natural daylight in this kitchen, so the window seat is a lovely spot to sit and relax with a cup of tea! I think elements like this are important in a kitchen – so it doesn't feel entirely utilitarian, and instead becomes a sociable family space.
The bi-fold doors that open to reveal the pantry (which sits between the ovens and the integrated fridge) create easy-access storage, which can be kept tidy and closed off when not in use. The perfect balance of function and style.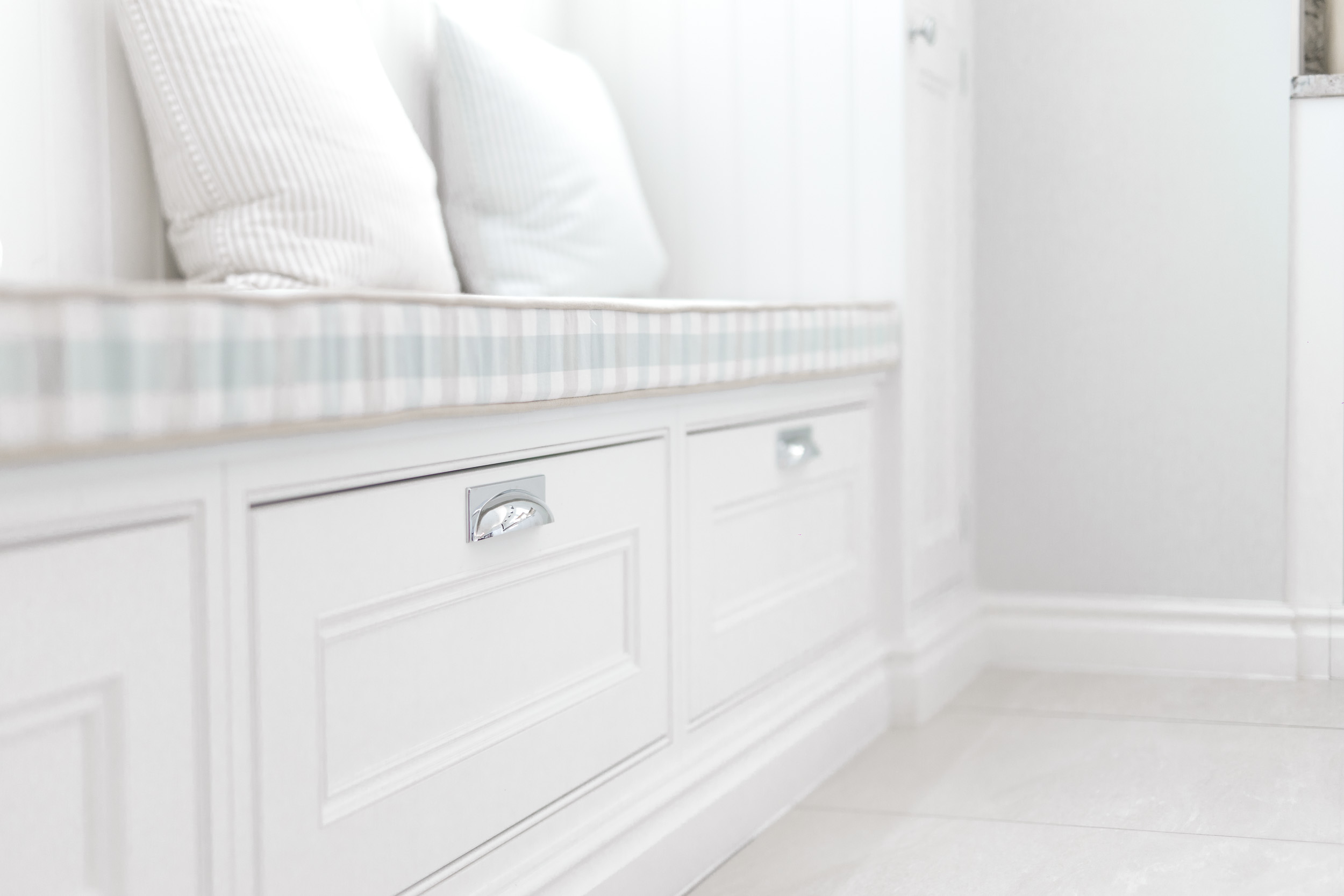 Custom-made window seating with drawer storage
Where to start?
There are a lot of elements to consider when choosing your kitchen – and it's always best to see this for yourself in our showroom, where we can talk you through the different ranges available.
In both of the case studies mentioned here, we used what we would classify as traditional furniture. However, one kitchen has been designed with a simple, stylish, lay-on shaker door with a smooth painted finish; the other has an in-frame door with visible butt hinges, and has been hand-painted on site to have a subtle grained finish. Both are equally impressive and in-keeping with the modern-classic trend, but were achieved using different ranges.
When you drill down to this level of detail, this is where working with a designer simplifies the planning process for you – and makes it more interesting and enjoyable as well. We can offer opinions on the different options, guide you on materials and price points, and help you to create your dream kitchen.
---
Planning a traditional kitchen?
---