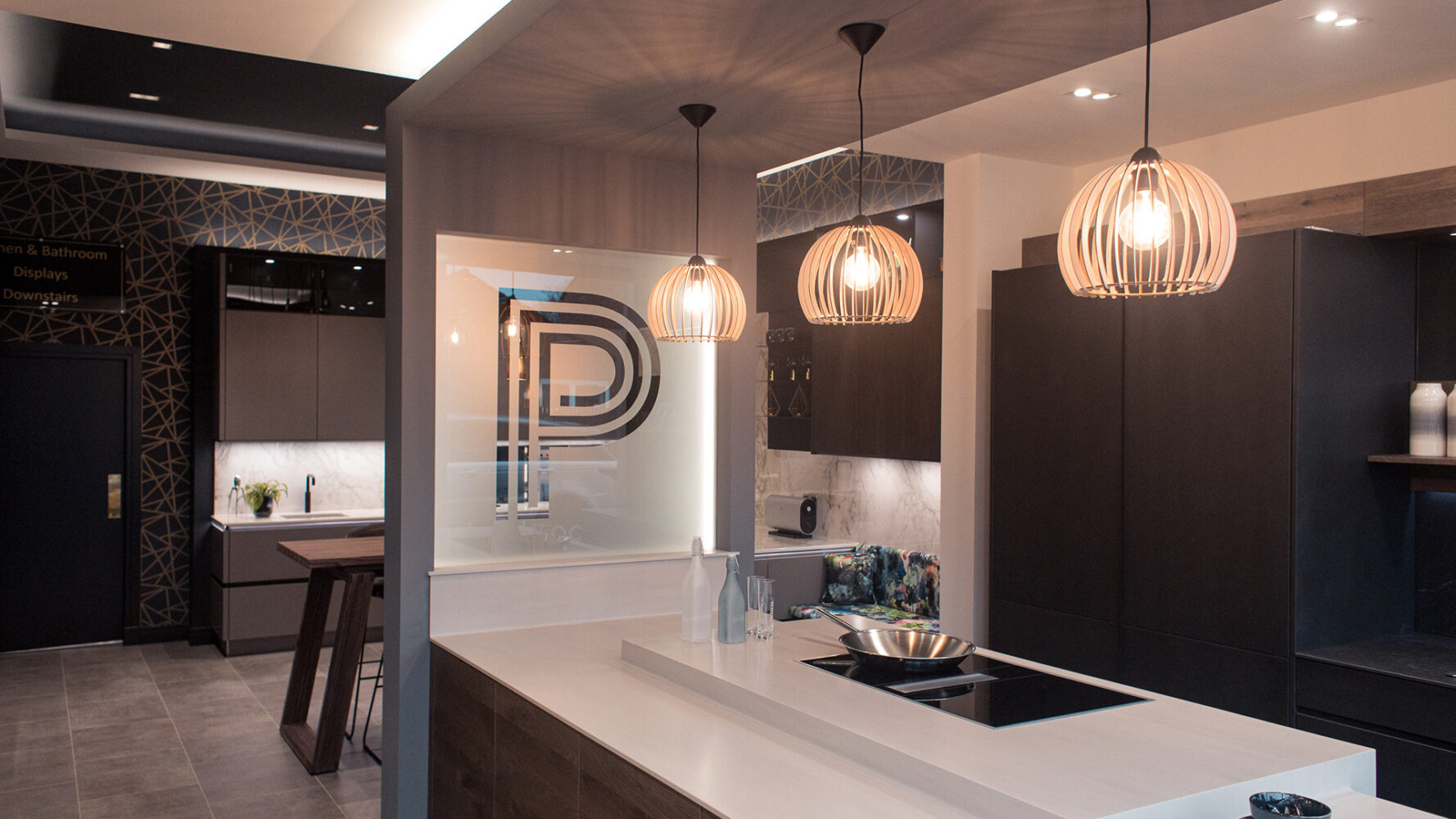 Last year saw us spending more time at home than ever before—and no room has worked harder than the kitchen. As we've adapted to a new way of living, our kitchens have played an increasingly important role; transforming from simple spaces in which to cook, eat and socialise, into makeshift offices and classrooms too. With another lockdown underway, and no sign of significant change on the horizon, we've got some ideas for making the most of the space you have—to create a kitchen that's practical, multi-functional and, of course, on-trend.
Ready…set…sustainable
As consumers, we are ever more conscious of our impact on the environment. At Palazzo, we exclusively supply durable, sustainable products that will stand the test of time; both the Siemens Studioline and Gaggenau ranges, our go-to luxury appliances, come with a 5-year warranty as standard. Quooker is another of our favourite suppliers, committed to saving energy and reducing plastic with their boiling water taps. By replacing your kettle with a Quooker CUBE, you'll get boiling water straight from the tap, as well as filtered, chilled and sparkling. That means putting away the kettle for good—saving you countertop space, and saving the planet!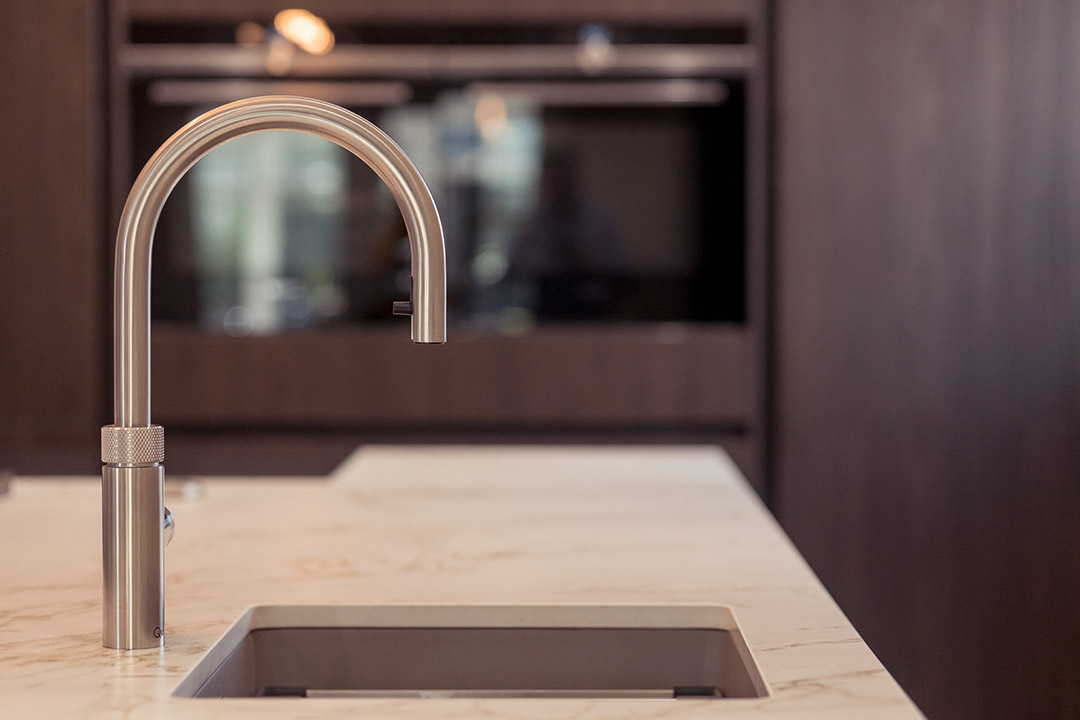 It isn't just our appliances that are built to last, either. Our Handcrafted kitchens are designed to delight for decades; made with exquisite craftsmanship so that, years down the line, all it will need is a touch of paint.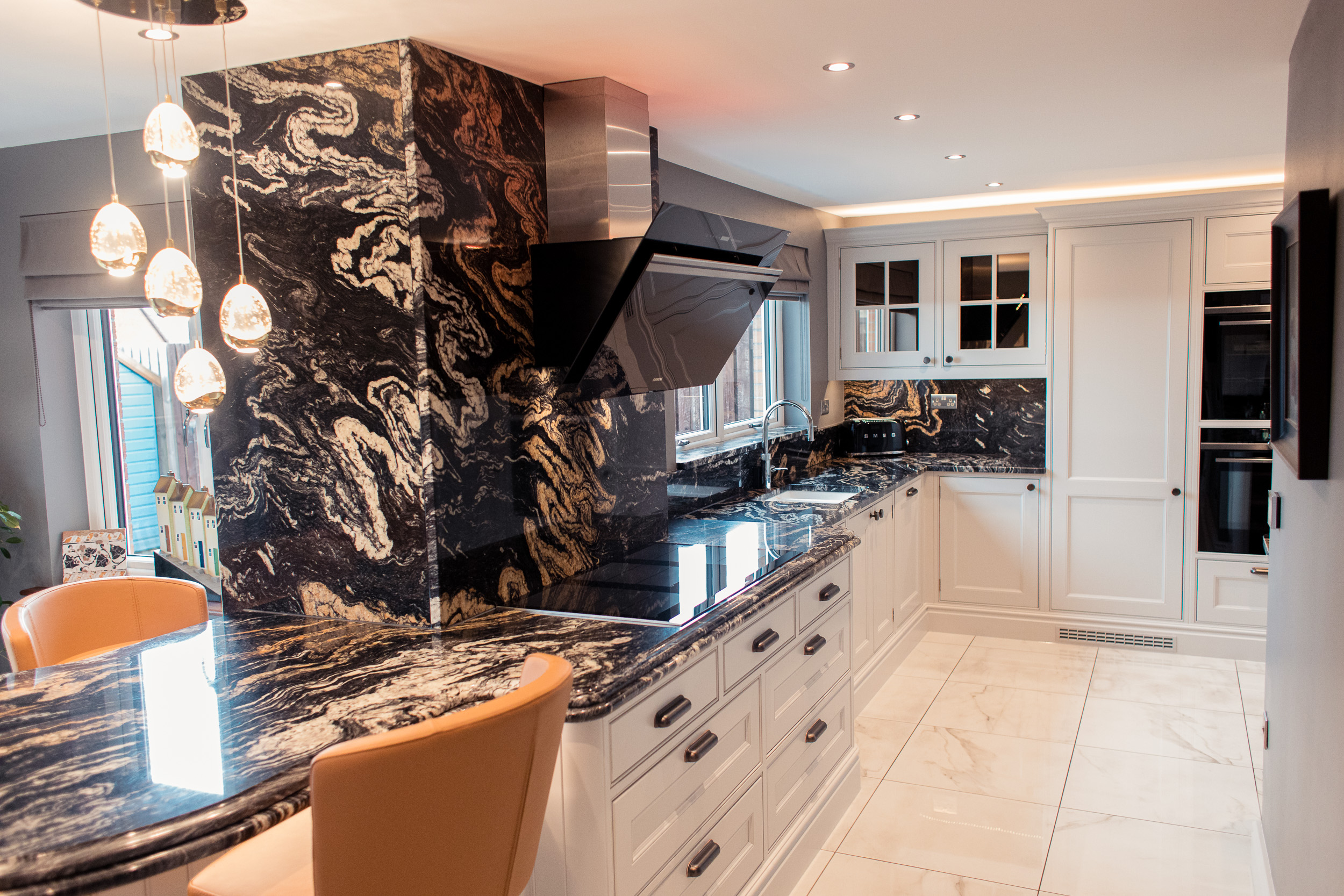 Gorgeous greys & pops of colour
If you're looking for a timeless colour scheme to match, you can't go wrong with classic grey. Whether you choose a soft stone or a moody charcoal, grey creates a subtle and stylish backdrop for your kitchen. Add some pops of colour and layers of texture, and you'll really bring some character to the space.
For the perfect partner shade, take a look at Pantone's dual Colours of the Year for 2021. Together, 'Ultimate Grey' and vibrant 'Illuminating' yellow convey a timely and uplifting message of endurance and hopefulness—just what we all need.

Image via Pantone.
Multi-functional is a must-have
Open-plan living is still very much at the heart of modern interior design—but our new stay-at-home lifestyles demand that these grand spaces be flexible and multi-functional. Hidden storage is definitely in demand by our clients; secret but accessible spots around the kitchen for stowing laptops and stashing away the printer at the end of the working day. Not to mention, when a surprise Zoom invite appears in your inbox and the kitchen is a mess, sliding pantry doors can be a life-saver!
Image Pronorm's folding doors hidden storage solution from the Pronorm 20-21 catalogue.
If you prefer to make a statement, on the other hand, display shelving is an elegant alternative; creating a striking background for that all-important conference call.
Indulgences that bring you joy
2020 was all about finding the joy wherever we could. Staying in became the new going out, and suddenly built-in coffee machines and wine fridges were upgraded from nice-to-have to must-have! The same will be true this year, as people continue to incorporate these little luxuries into their homes.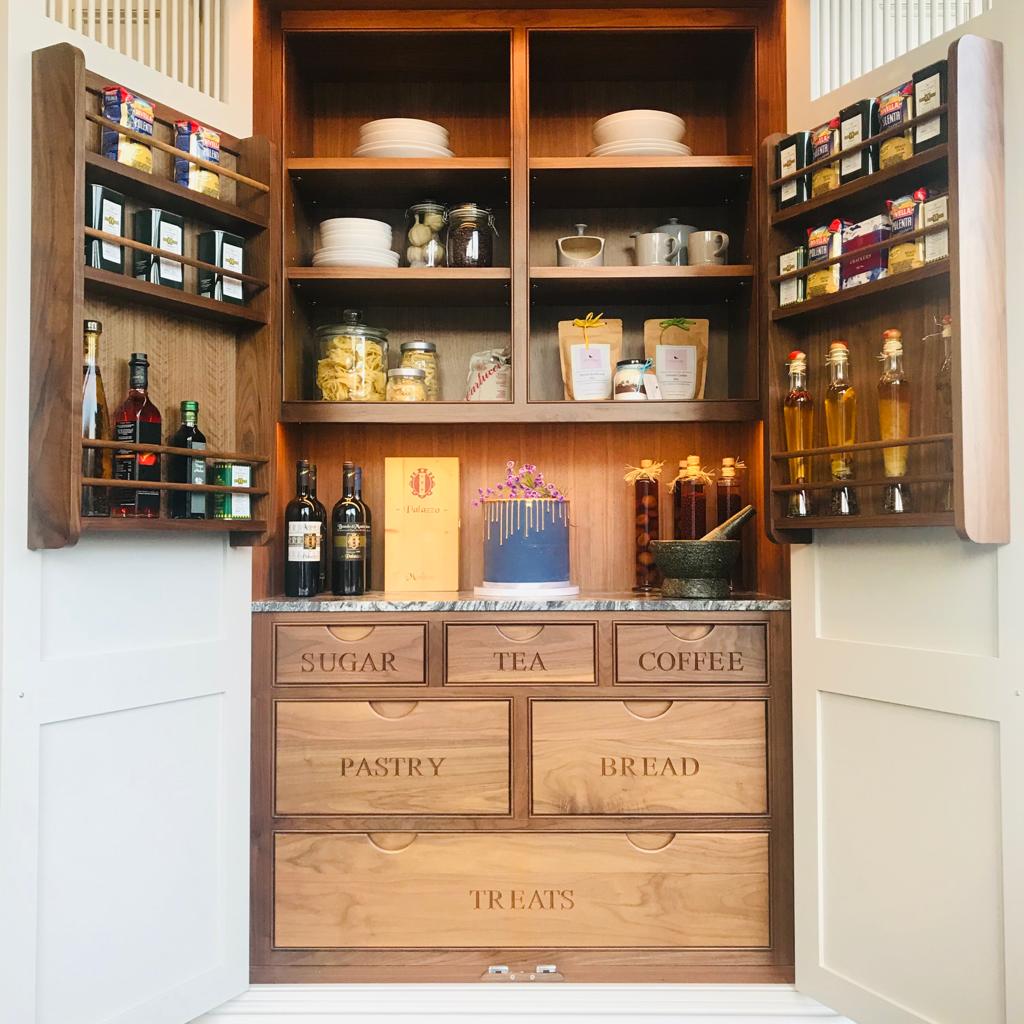 Image of Palazzo's bespoke, hand-painted pantry in the Palazzo showroom.
If you don't have one already, we would highly recommend a dedicated treat drawer—like this beauty from our Handcrafted range (if it's engraved, it'll feel extra-special!). Or, if you're a compulsive organiser who's more concerned with what's on the inside, these Rempp drawer inserts are particularly satisfying—with textured felt bases and sleek Walnut dividers.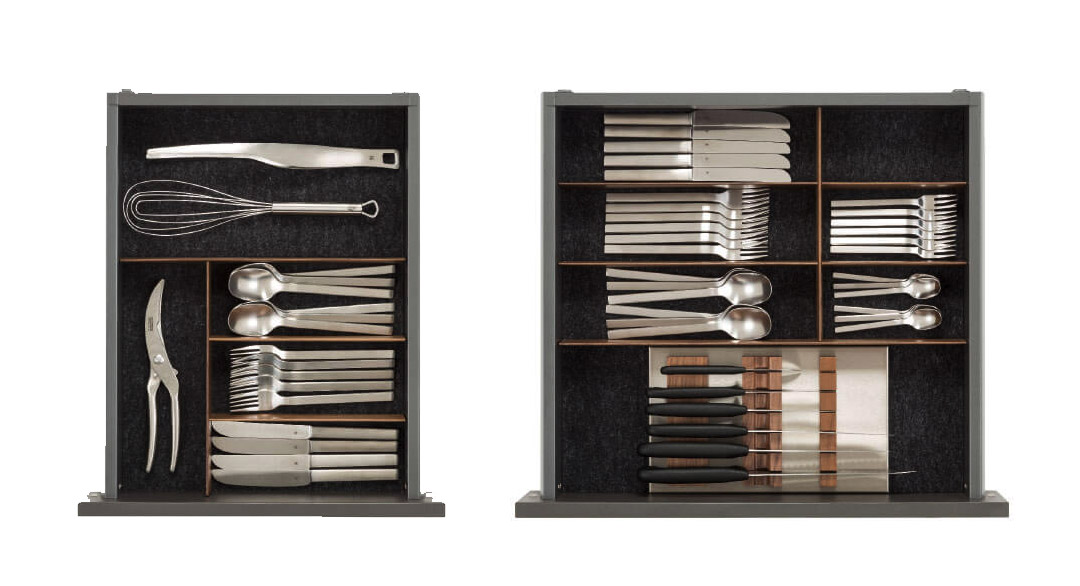 Image via Rempp.
Or perhaps you're missing nights out on the town. By experimenting with bold colours, you can add a welcome touch of glamour and sophistication to your home. Pronorm have introduced two new metallic shades, gleaming gold and classy copper, as well as Laguna oak—a warm chocolate wood with a planked finish that we absolutely love.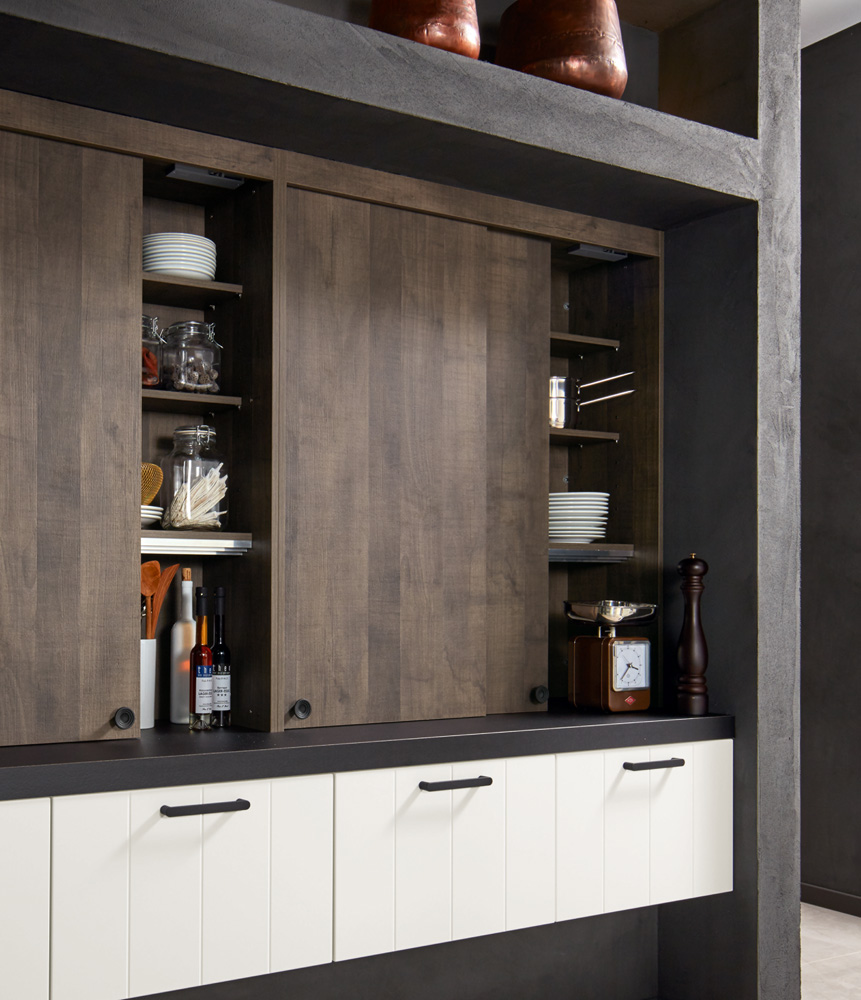 Image via Pronorm.
Bring the outside in
Last year also saw a rise in landscape gardening projects being commissioned, with homeowners tying together their indoor and outdoor spaces. Large sliding or bifold doors, with flooring that flows seamlessly onto the patio, can make your BBQ area feel like an easy extension to the kitchen.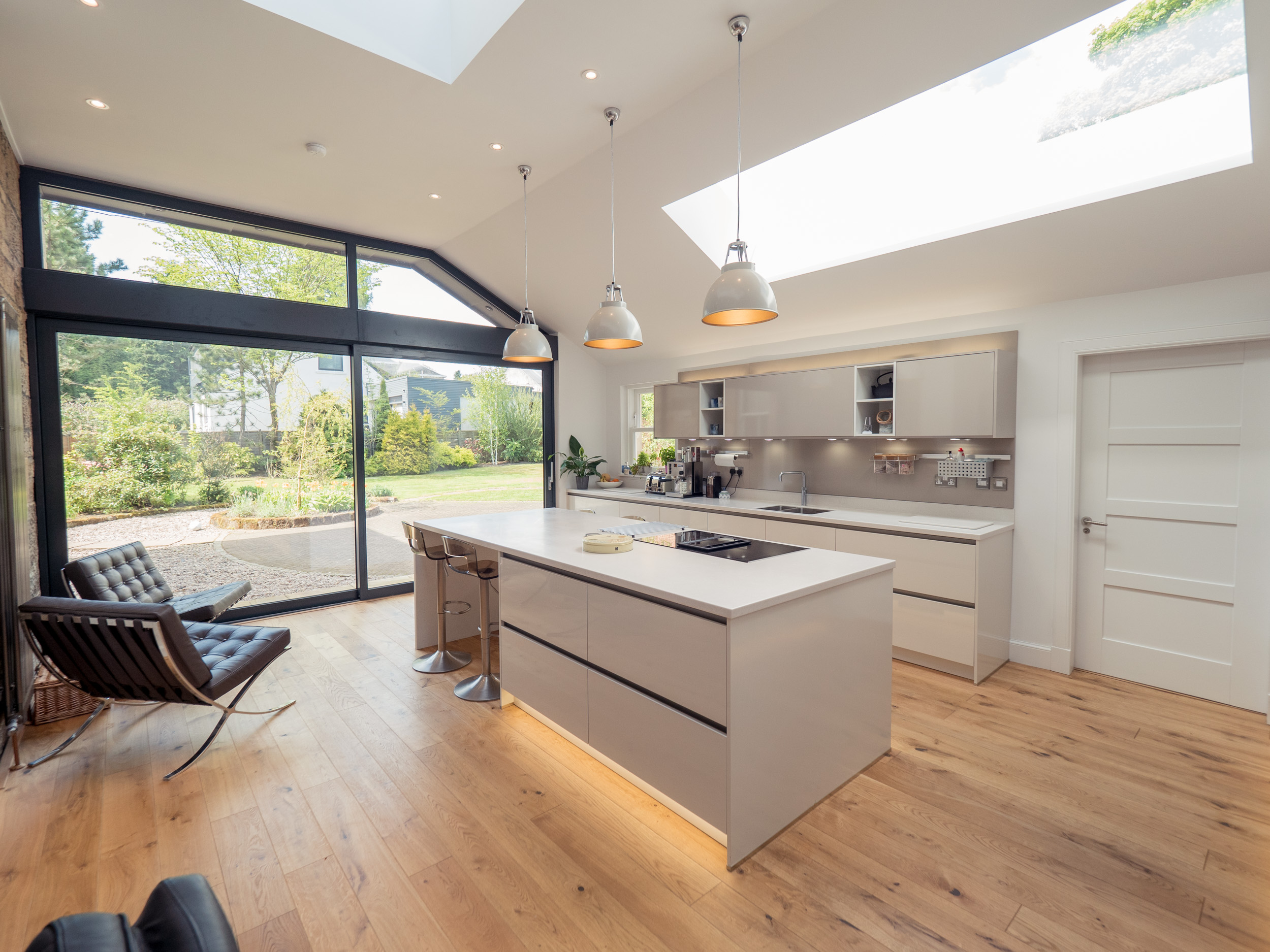 It might seem a long way off in February, but warmer days will arrive before we know it—and, with a bit of forward planning, you'll be ready to enjoy them when they do!
---
---