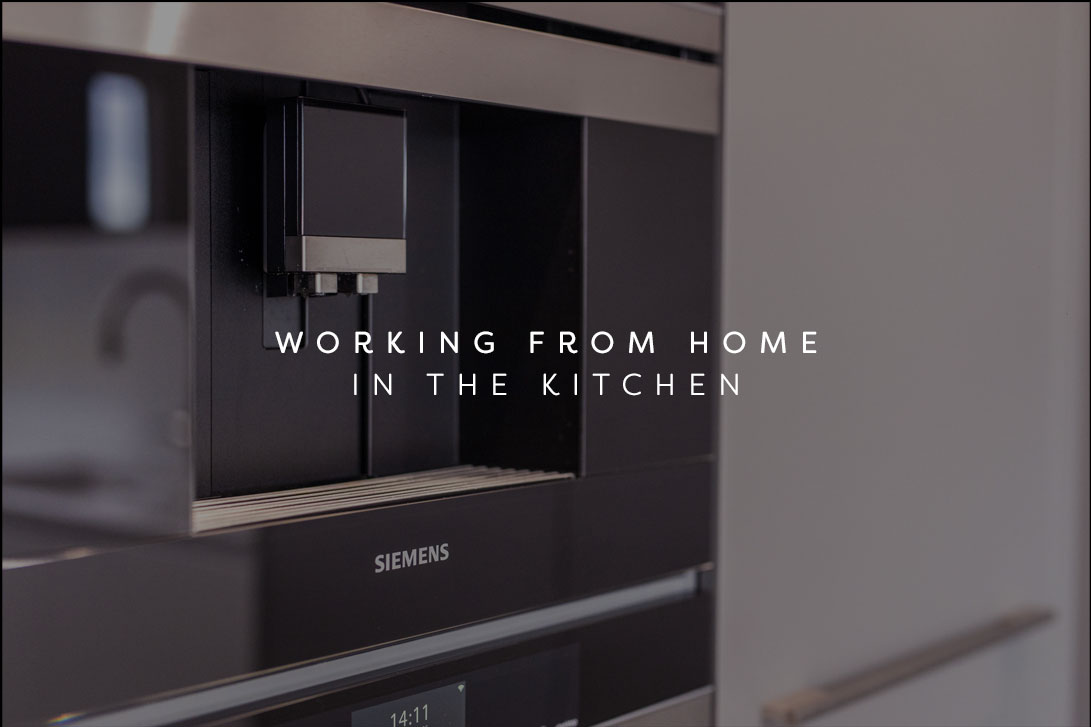 Your kitchen is the heart of your home—and, for many of us this year, it has also become an office. With millions of people across the UK now working from home indefinitely, a kitchen redesign may be just the thing to make remote working a little more practical and comfortable. In fact, with these stylish design touches, we're sure working from home will go back to feeling like a treat, not a chore.
Breakfast bar & booth seating
For those who miss working in cafés and coffee shops, booth seating is absolutely the next best thing. One of our favourite examples is the stylish circular booth in Reec & Steve's kitchen, with its retro buttoned cushions and sleek square shape. We built the structure using Corian, a stone-hard material that can be shaped to suit any design—making it the perfect fit for the space, and a comfy spot for a conference call.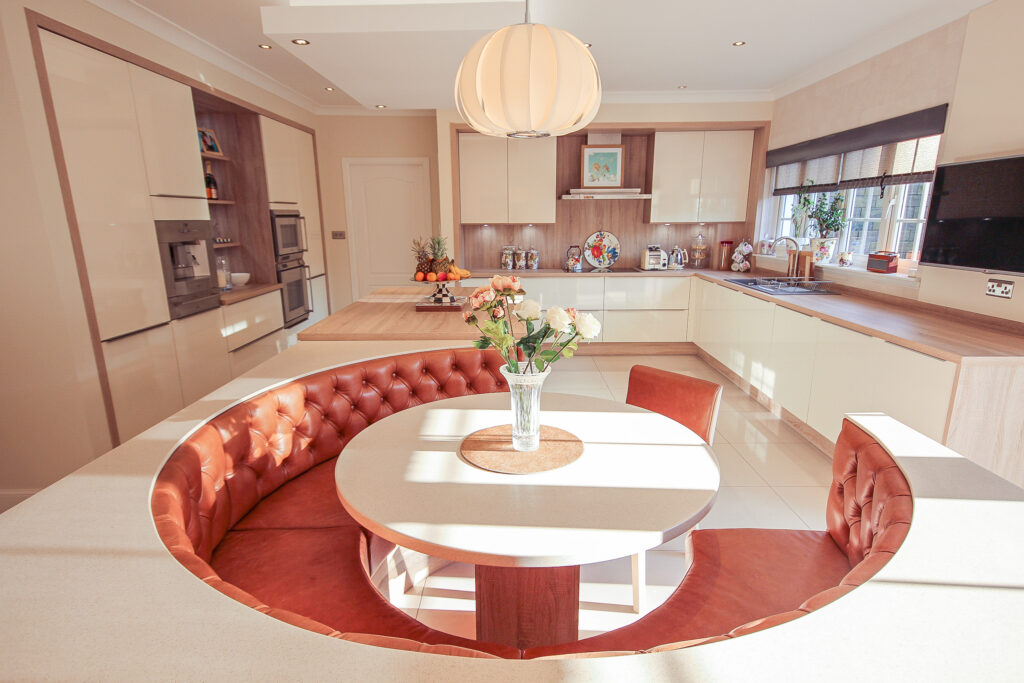 Reec & Steve's circular booth.
If you don't have room for a stand-alone booth, a breakfast bar is another option for creating a versatile dining/working area—and the spacious wrap-around breakfast bar in Bob & Lorna's kitchen is a great example. It's more casual than a desk, making it ideal for taking a breather and decompressing after a stressful meeting. Just like working from your favourite café for an hour or two, but even better—because you don't have to queue for coffee!
Bob & Lorna's wrap-around breakfast bar.
Coffee machines
While we're on the subject—for anyone missing their daily take-out flat white, we'd definitely recommend an integrated coffee machine. The Siemens model, from their Home Connect suite of smart appliances, is the best of the best. You can save your regular order on a 'coffeePlaylist', which is then prepared at the press of a button or, even easier, via voice command through your Amazon Alexa. That means barista-quality coffee every time, without the hassle.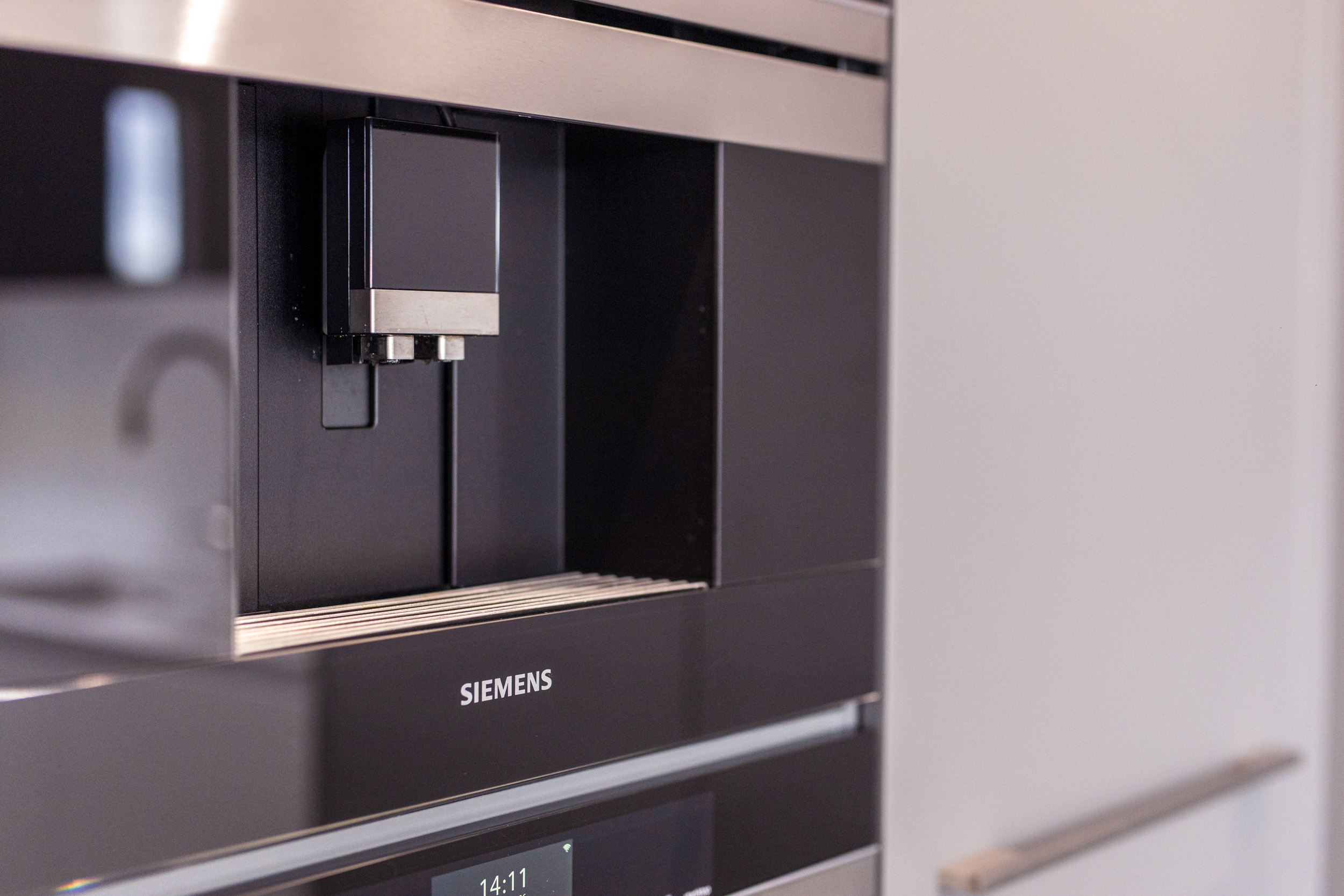 Integrated Siemens coffee machine.
A new coffee machine is also a good excuse to update your coffee accessories—especially now that you don't have to settle for the chipped mug collection in the office kitchen.
Sockets
If you're going to be working from the kitchen for months on end, you'll need to think about socket placement, as there's nothing more frustrating than a low battery warning breaking your focus. The most practical solution—for both cooking and working—is to incorporate sockets into the surface of the worktops and breakfast bar.

EVOline 'BackFlip' sockets.
The EVOline 'BackFlip' is a stylish and discreet option; it sits flush on the worktop when closed, but flips 180 degrees with a gentle push to reveal two power sockets and a USB port. You'll have everything you need to settle in nearby with your laptop, and you won't have to worry about a mid-Zoom dash for the charger!
Lighting
One excellent benefit of working in the kitchen is good lighting. All of our kitchen designs incorporate a blend of essential task lighting and decorative lighting fixtures, creating a cosy and comfortable environment for cooking and working. And if you want to add an extra touch of luxury and convenience, you can upgrade to smart lighting.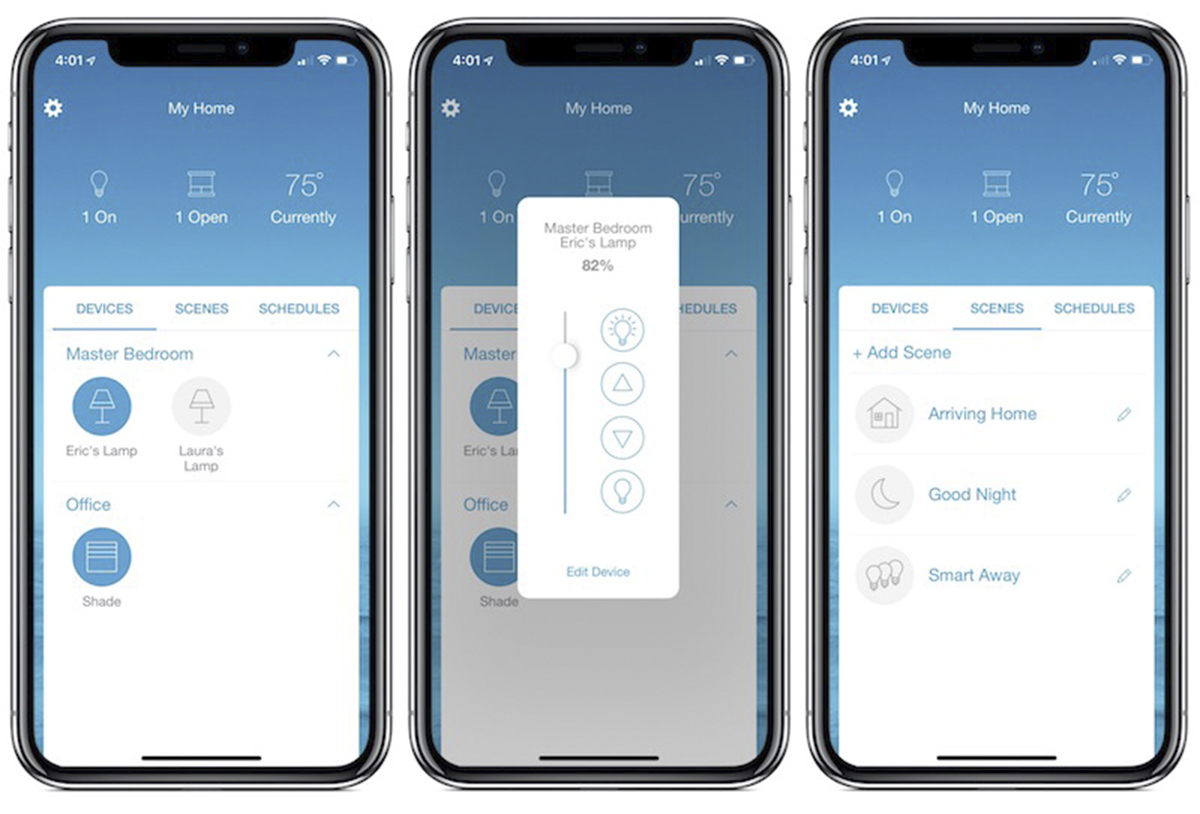 Caséta App by Lutron.
The Lutron smart lighting system—which you can experience in our showroom—lets you control the level of light in the room from your smart phone. Through the easy-to-use app, you can schedule your lights to adjust automatically at different times of the day; for example, to gradually brighten on dark autumn afternoons. This is a must-have feature for those who spend their work days staring at screens.
Hidden storage
Our last recommendation is for anyone who has ever worried about a messy background in a video call! A pocket door system—like the one designed by Rempp—allows you to have the essentials on hand when you need them, but hidden when you don't; so it's a straightforward solution for quickly clearing away the clutter before dialling in.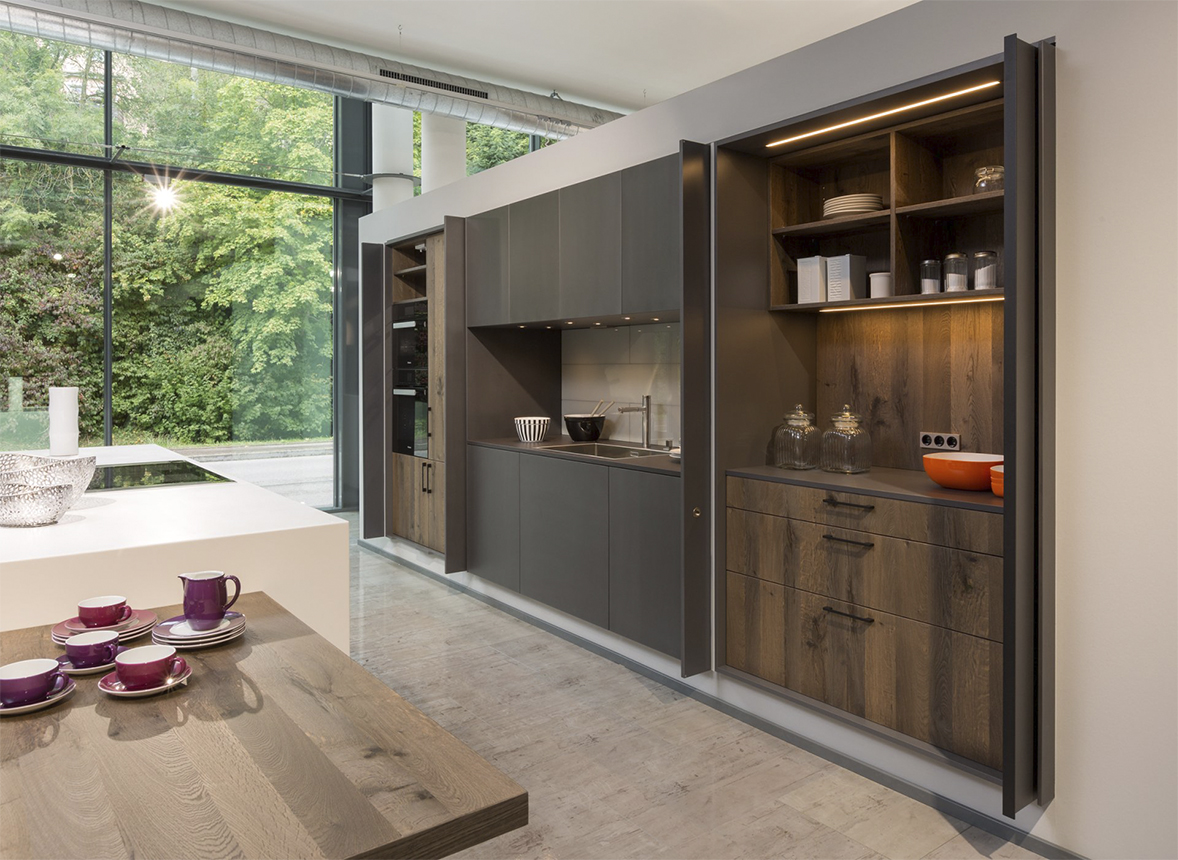 Pocket door system by Rempp.
This is also the perfect place to shut away work supplies when the weekend comes around, so you can draw the line between office hours and free time simply by closing the door.
---
Planning a versatile kitchen re-design?
---