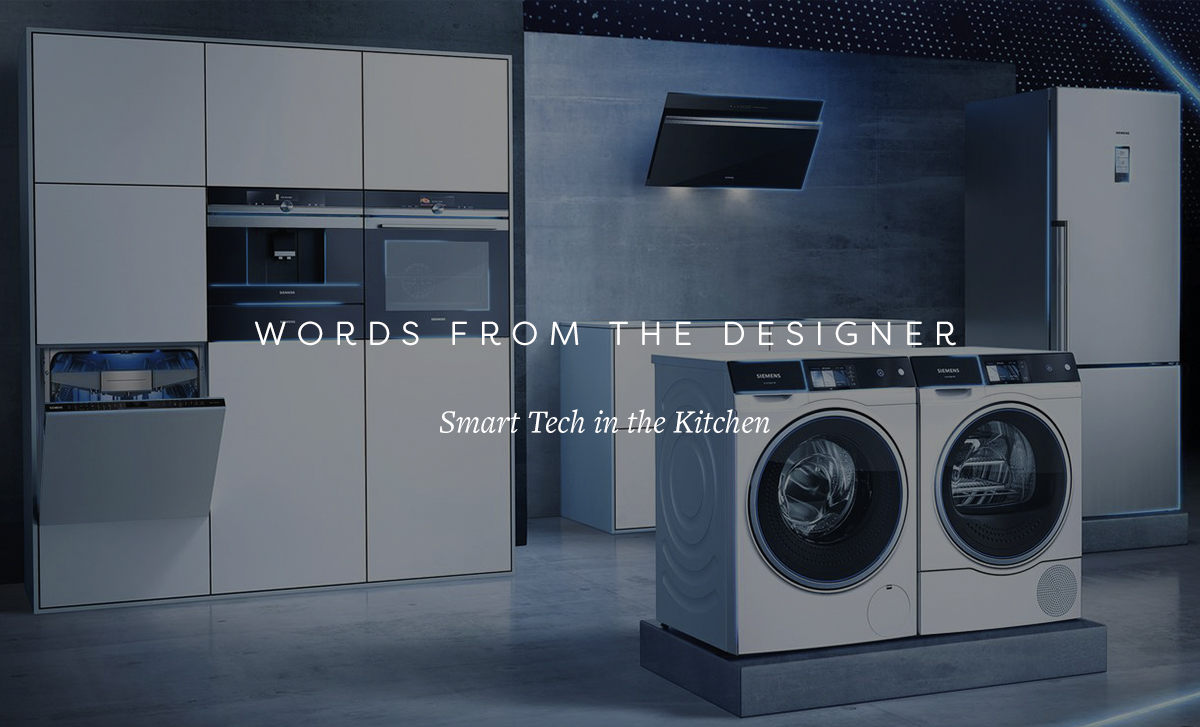 When it comes to smart technology, the kitchen is the ideal place for innovation. From small gadgets like WiFi-enabled kettles and cutting boards that weigh the food you chop; to large appliances like smart ovens and fridges with interior cameras—there's a lot of choice in the smart tech market, so it can be difficult to differentiate between the fleeting fads and the valuable investments that will genuinely make your life easier. These are a few of our go-to products, which we incorporate into our clients' kitchens to streamline their daily routines and enhance their lifestyles.
Smart Lighting
We always create different layers of lighting in our designs—using a combination of functional lighting that is crucial in the kitchen, and decorative features for adding personality and creating ambience. These layers can include a mix of plinth LED strips, recessed handle channel lights on our handleless furniture, under-unit task lighting, over-unit up lighting, feature pendants, and recessed ceiling spotlights.
Using the Lutron lighting system—which is featured in our new showroom display—you can control each of these elements through the Lutron app, giving you the option to alter the lighting in your kitchen according to your mood or the task at hand.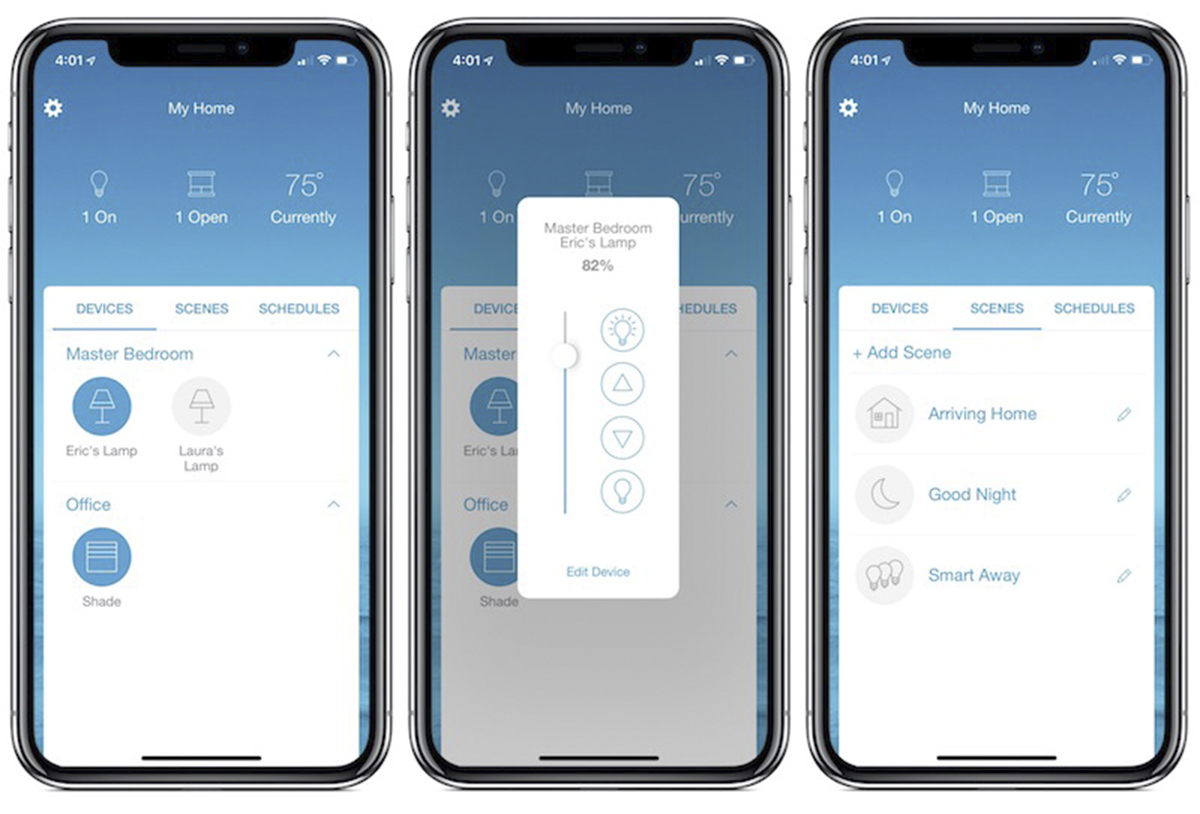 Caséta App by Lutron 
The easy-to-use app allows you to schedule lights to adjust automatically at different times of the day; for example, to gradually brighten on dark autumn afternoons. You can set and name your own routines, such as 'goodnight' for turning off all the lights at the end of the day. Voice activation also lets you control the lights by speaking to your Amazon Alexa or Google Assistant—a convenient option if you're mid-food prep and need a little extra lighting on the worktops.
Socket Solutions
Many of our kitchens include an island; a much-coveted feature that is often specified by our clients as being top of their design wish-lists. The issue that comes with a kitchen island is where and how to incorporate sockets. A simple fix is to put the sockets on the side gable panels; a more practical solution is to have the sockets on the actual worktop.
EVOline offer a stylish model, the BackFlip, which sits flush on the worktop surface when closed but, with a gentle press, flips 180 degrees to reveal two power sockets. Its raised position when the sockets are out protects against spills; while its subtle appearance when shut makes it an easy addition to a clean-lined, handleless kitchen. It also has a USB port—a handy feature when settling in at the breakfast bar with your iPad or laptop.

EVOline BackFlip Sockets
Innovative Appliances
Siemens offer a vast range of cutting-edge appliances at multiple price points, with features to suit all types of home chef. They regularly introduce new innovations to their appliance suite, including a wide spec of Home Connect appliances which can be controlled through your smartphone or Amazon Alexa, and add genuine value to the kitchen experience.
Fridges with interior cameras allow you to see the contents when you're out and about, ensuring forgotten shopping lists are a thing of the past. Wi-Fi-enabled ovens let you start the pre-heating process before you even get home from work, with remote monitoring banishing all thoughts of "have I left the oven on?". The 'cookConnect' feature lets you pair your extractor with your hob, so the hood starts extracting as soon as steam or odours are detected, stopping automatically when clear.
You can even create a 'coffeePlaylist' for saving your family's drink preferences to your coffee machine, which it then prepares in a sequence. Not to mention, there's the option to control all of these appliances via voice command. The ability to ask your coffee machine to "please make me a cappuccino" may be the height of smart-tech decadence!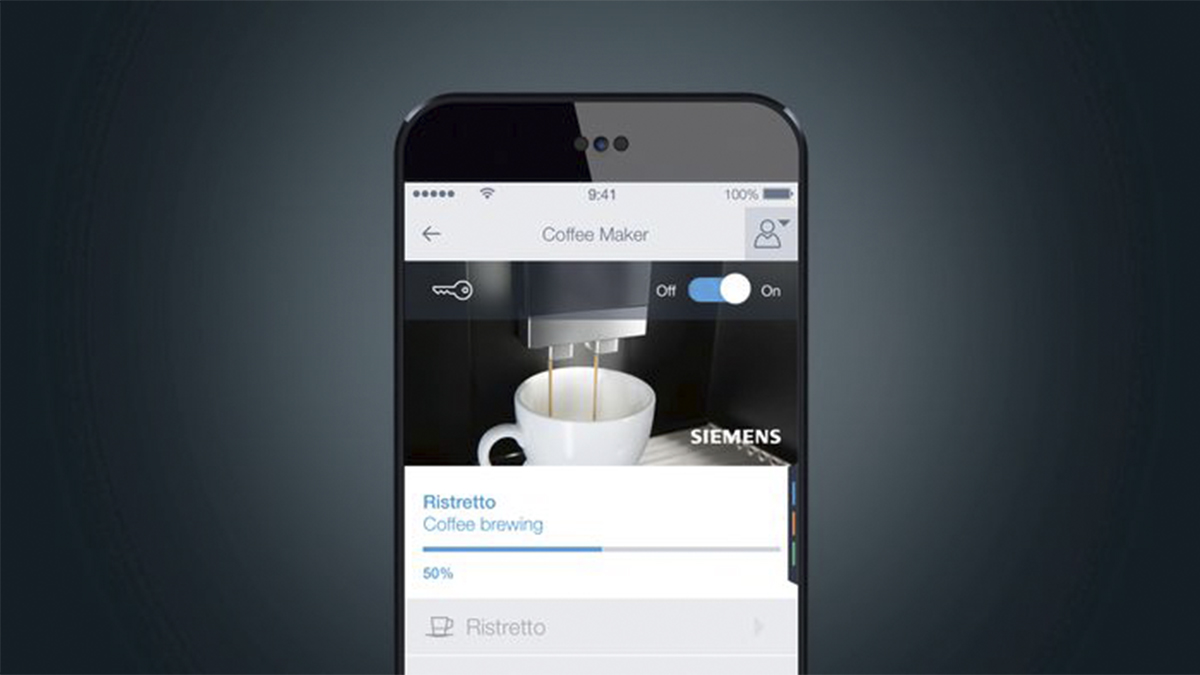 Siemens Home Connect App
If you want to get a feel for how this technology works, you can download the free Home Connect app from the Apple App Store or Google Play Store and view the demo. Even better, you can see some of this technology in action in our new showroom display, which features a WiFi-enabled hob, extractor, fridge, coffee machine, and three ovens.
If you're still a smart tech naysayer, this demonstration may well convince you that a well-designed, connected kitchen really can remove some of the hassle of everyday life.
---
Visit our showroom for more kitchen inspiration
---