The first day of spring has arrived! That means more sunlight, more greenery and, of course, spring cleaning. It's the perfect time of year to get your house in order and clear away the kitchen clutter. So if Marie Kondo is putting your kitchen shelves to shame, we've got a few tips and tricks for tidying up – featuring some of our favourite organisational accessories. Here's everything you'll need for a Pinterest-worthy pantry and a clutter-free kitchen.
Drawer inserts
If you've got one of those 'everything' drawers in your kitchen, you're not alone! But don't stress – Pronorm's designer range of drawer mechanisms and accessories make it easy to add method to the madness. The range includes simple cutlery tray inserts – available in a variety of widths and with moveable aluminium dividers, so you can choose the size of each compartment. You can also get vertical inserts for deeper drawers, which come with anti-slip mats to keep everything in place. Simple, but effective.
Pronorm, ProDesign drawer with upright insert and anti-slip mat
If you're looking for something more bespoke, you can't go wrong with upgrading the drawer boxes in your Pronorm kitchen to the sleek ProTech range – available in two finishes, Titan or Oak (pictured below). The removable drawer inserts come in a variety of combinations to accommodate all standard utensils and cutlery, as well as a fitted knife block and bread bin.
Pronorm, ProTech drawer box upgrade with Oak inserts
Internal mechanisms
Pronorm's Planero storage systems are a great way to make the most of tight spaces. The tall larder unit has an internal swivel mechanism, which opens up to show the entire contents of your cupboard at a glance. This is an ideal way to store tins and jars – much more practical than rummaging through the backs of standard shelves!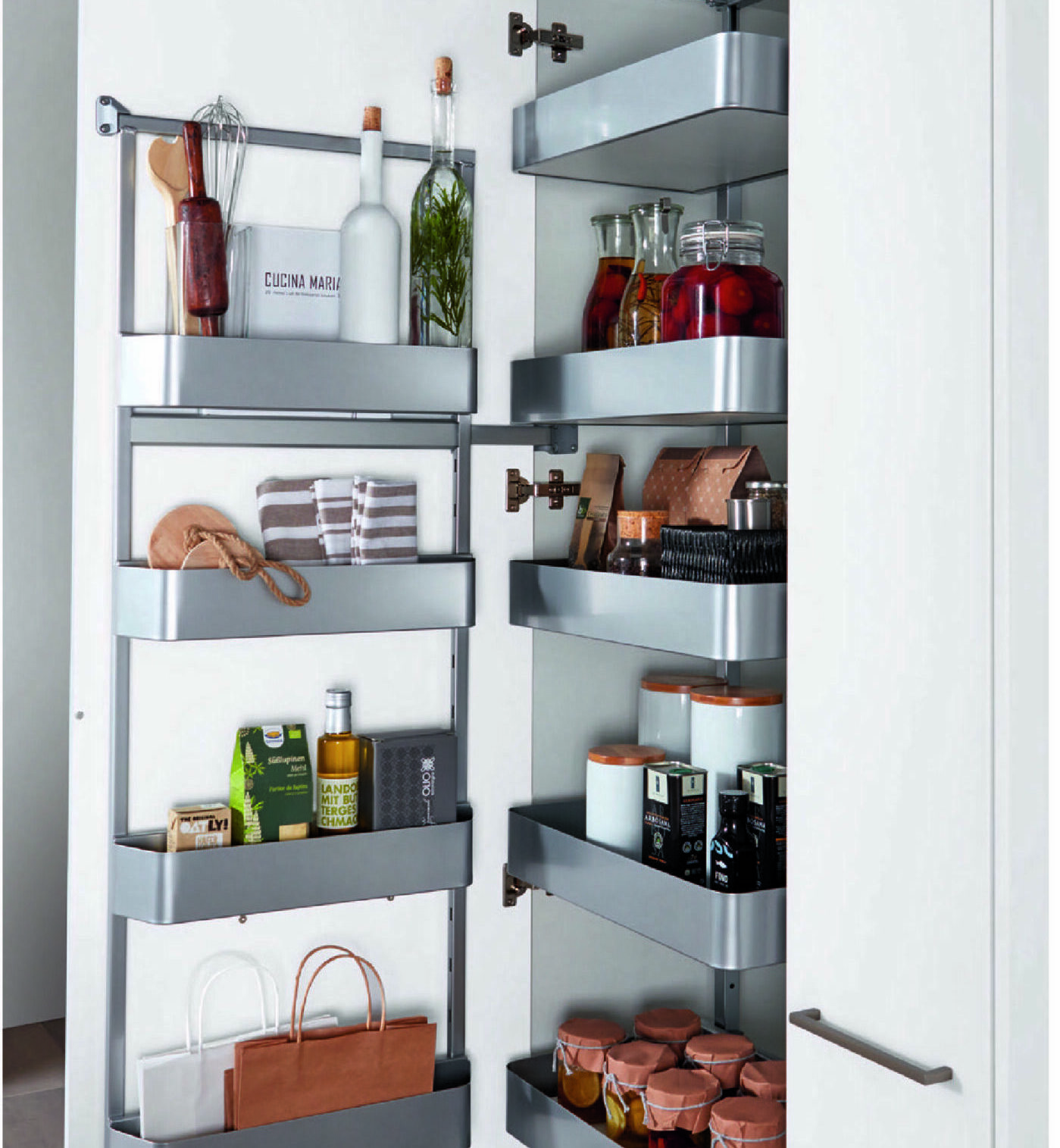 Pronorm, Planero tall larder unit
If you can't accommodate a tall unit in your design layout, the pivoting corner unit is a good space-saving alternative. With two pull-out shelves, soft-close door technology, and shallow aluminium sides to keep items secure – this unit is best-suited for storing heavier pots and cookware. We always try to plan for one of these near the hob for ease of accessibility, and to ensure there's no wasted corner space.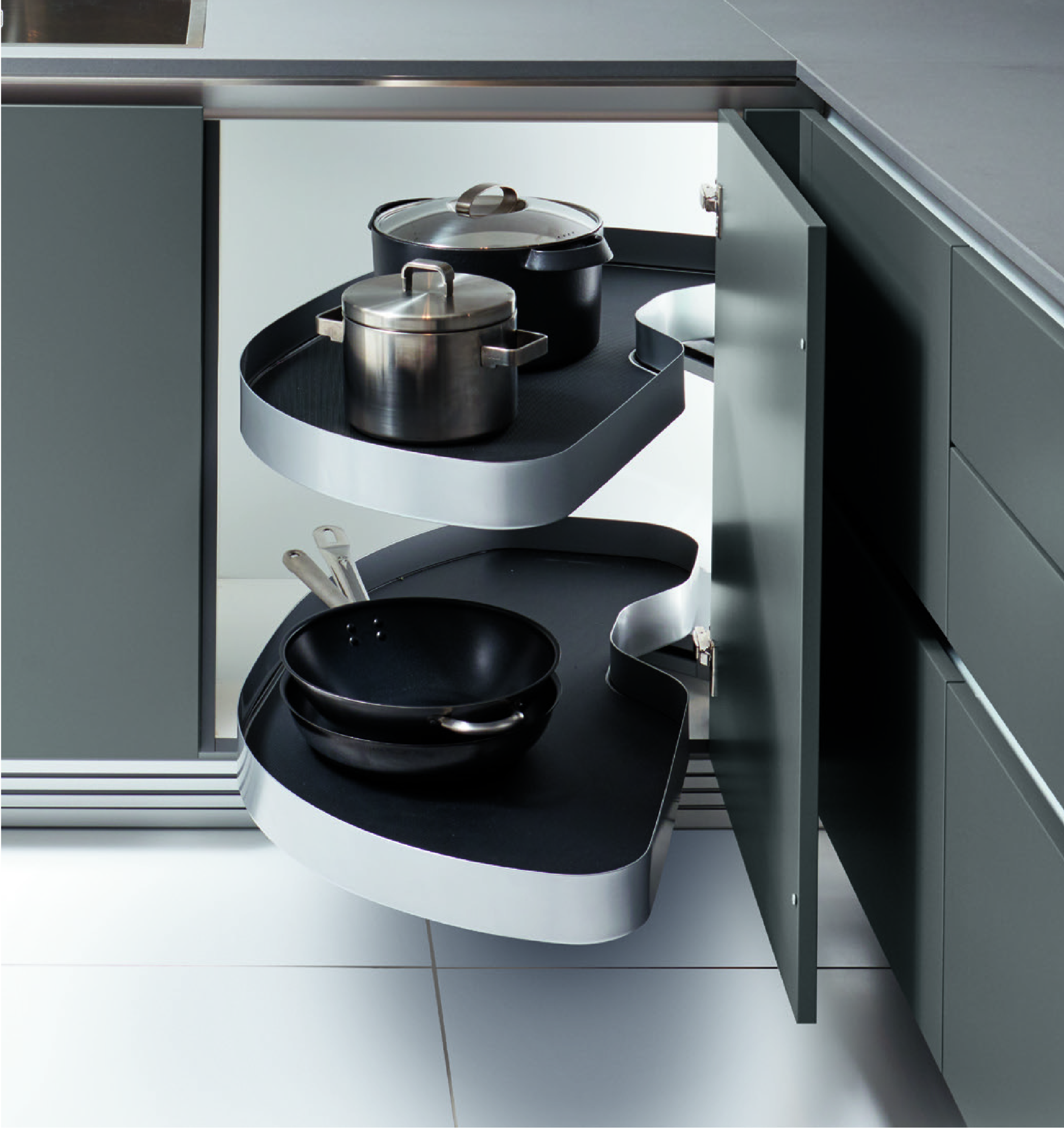 Pronorm, Planero corner unit
Accessory rails
Pronorm's hanging rail system allows you to make the most of the wall space in your kitchen. The rails are available in black and sleek aluminium, and can be recessed between laminate or glass panels from the Pronorm range. You can hang various accessories – such as a kitchen roll holder, tea towel hooks, utensils, a knife holder, and even extra shelves. Each of these accessories clips in and out easily, for cleaning or for rearranging your layout.

Pronorm, accessory rail system
These rails offer a practical way to have frequently-used items on hand for everyday use, whilst keeping your worktops clear. Not to mention, it's an opportunity to create a customised, decorative display on the splashback area between your upper and lower cabinets.
Storage containers
Lastly, a list of tidying tips wouldn't be complete without mentioning the organisational power of storage containers! Jars and tins, in a variety of sizes, are the key to arranging a pantry or larder unit. Decant non-perishable products – like flour, sugar, rice, pasta, and cereal – into matching decorative jars. This means you can get rid of half-empty, dog-eared packets and boxes, and reduce the 'visual noise' caused by mis-matching labels and logos (a fantastic term coined by Marie Kondo!).
More often than not, it's the little things which "spark joy". Investing in some stylish small containers will not only create a more practical and peaceful space, it will also help to add a bit of personality to your kitchen.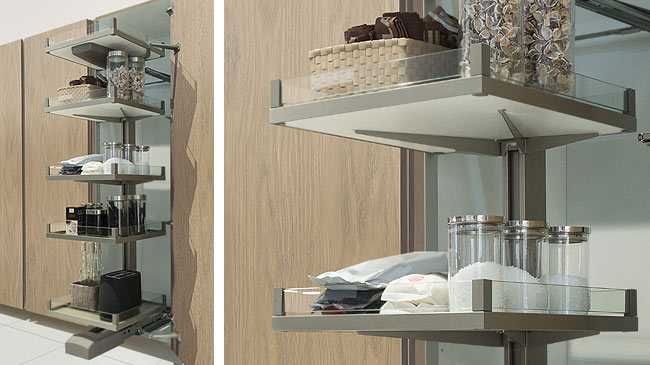 Storage containers in a Pronorm unit
---
Thinking about a kitchen redesign?
---