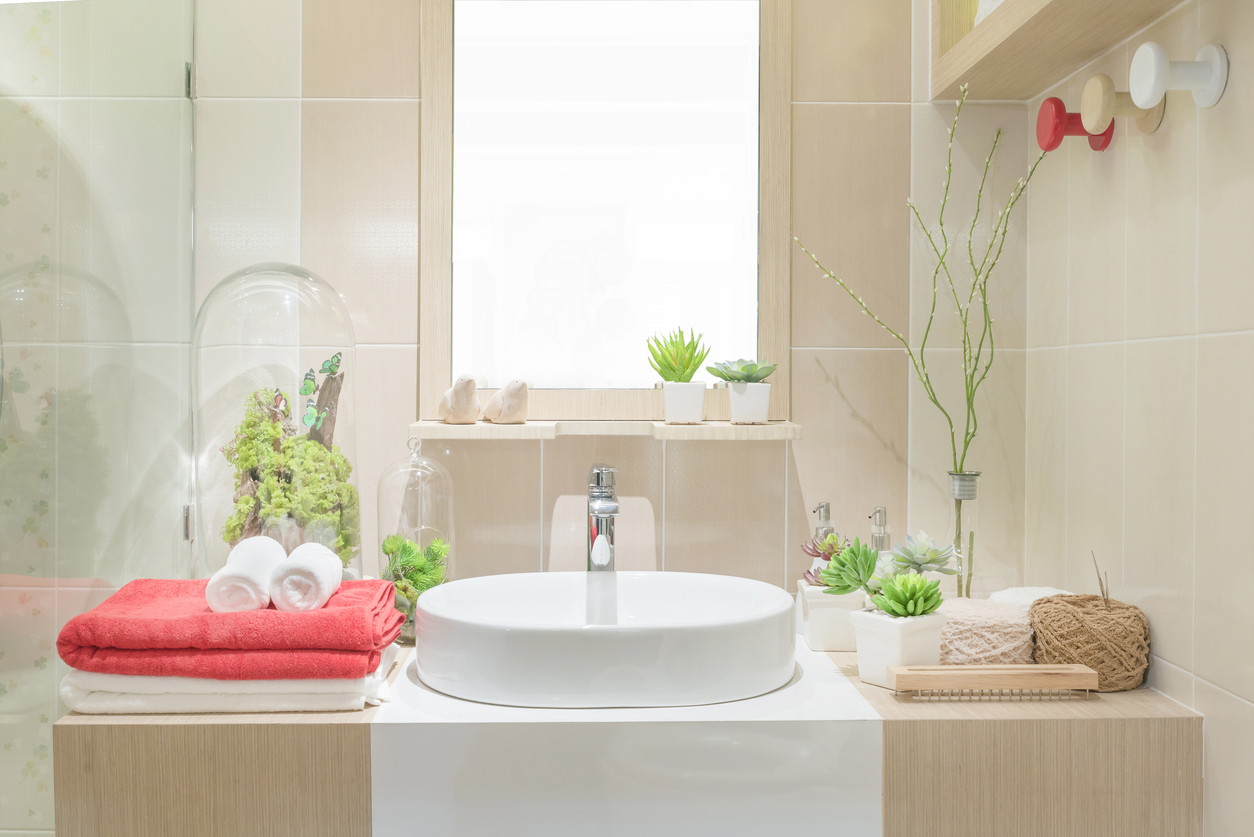 The bathroom is no longer a purely functional room for carrying out daily routines—it has become a personal and unique space, for getting yourself energised at the start of the day and unwinding in the evening. This is increasingly reflected in modern bathroom design, which is centred upon the creation of a soothing environment. Whether you're working with a large or a small space, these tips will help you turn your bathroom into a stylish and relaxing retreat.
Plants
Adding house plants is an easy way to brighten up a neutral bathroom, whilst also promoting relaxation and reducing stress. A room full of plants gives the illusion of being among nature, providing a welcome escape from modern life. For this to work, you need plants which thrive in moist conditions and don't require a lot of sunlight.
Ivy plants suit this environment and are generally very hardy. Spider plants are easy to maintain and will even purify the air; they absorb carbon monoxide, making the room feel fresher. Orchids respond particularly well to humidity and will add a splash of colour. Equally, if your bathroom has no natural light, or you just don't fancy the upkeep, try an artificial plant—they can be very convincing and will have a similarly pleasing effect.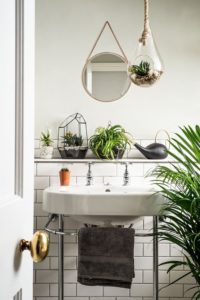 Image via The Guardian
To make the most of the dead space above the bath, use hanging plants to create a leafy canopy—an alfresco feel, with the added bonus of not having to worry about the weather!
Natural materials
Complement the outdoor look by including natural materials in your decor. These are often avoided in bathrooms, but the development of new finishes and treatments means that woods which wouldn't have survived in such damp conditions are now robust enough to last. The rustic look is very popular this year; think less polished, more rough and unfinished.
Image via Honey We're Home
Since it can be unusual to see anything but shiny tile in a bathroom, the addition of a wooden shelving unit or towel rack creates an immediate point of interest. Even something as simple as a wicker washing basket can add a bit of character and warmth to a modern bathroom.
Statement furniture
The bathroom may not seem like the typical location for a statement piece of furniture, and that's exactly why it works! If you have a bit of space to play with, add a soft chair or ottoman for a touch of glamour. Bespoke dressing tables, or 'vanities', are also appearing in bathrooms this year, providing a one-of-a-kind feel.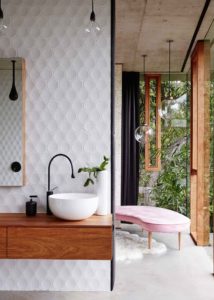 Image via Brit + Co
If you're low on space, a simple step stool can be surprisingly decorative and very versatile. Use it as a makeshift plant stand and knickknack holder, or just as a place to balance your wine glass whilst indulging in a bubble bath.
Adorn the walls
Patterned wall paper and colourful geometric tiles are becoming increasingly popular. But if you're looking for something a little less permanent, eccentric wall art is also making a resurgence. In small bathrooms, this is an opportunity to save space and make a statement on the walls instead.
For an easy decor upgrade, replace a plain bathroom mirror with something a little more ornate or unusual. Circular mirrors are in-demand this year, especially when combined with clean-lined cabinets for maximum impact.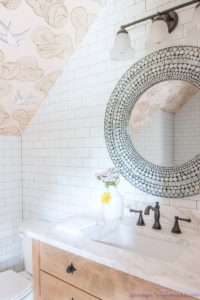 Image via Addison's Wonderland
Creative storage
Small bathrooms are often lacking in storage space, but there are inventive and decorative ways to sneak in a little extra space. Trays and boxes, either on shelves or even mounted to the wall, are ideal for tidying the area around the sink. Baskets are also eternally useful; roll up your best towels and show them off in a wire basket. At the end of the day, to declutter is to destress!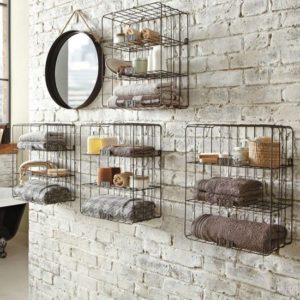 Image via Ideal Home
---
Start your bathroom design journey by booking your free design visit.
---
SaveSave
SaveSave
SaveSave
SaveSave
SaveSave
SaveSave
SaveSave
SaveSave
SaveSave
SaveSave
SaveSave