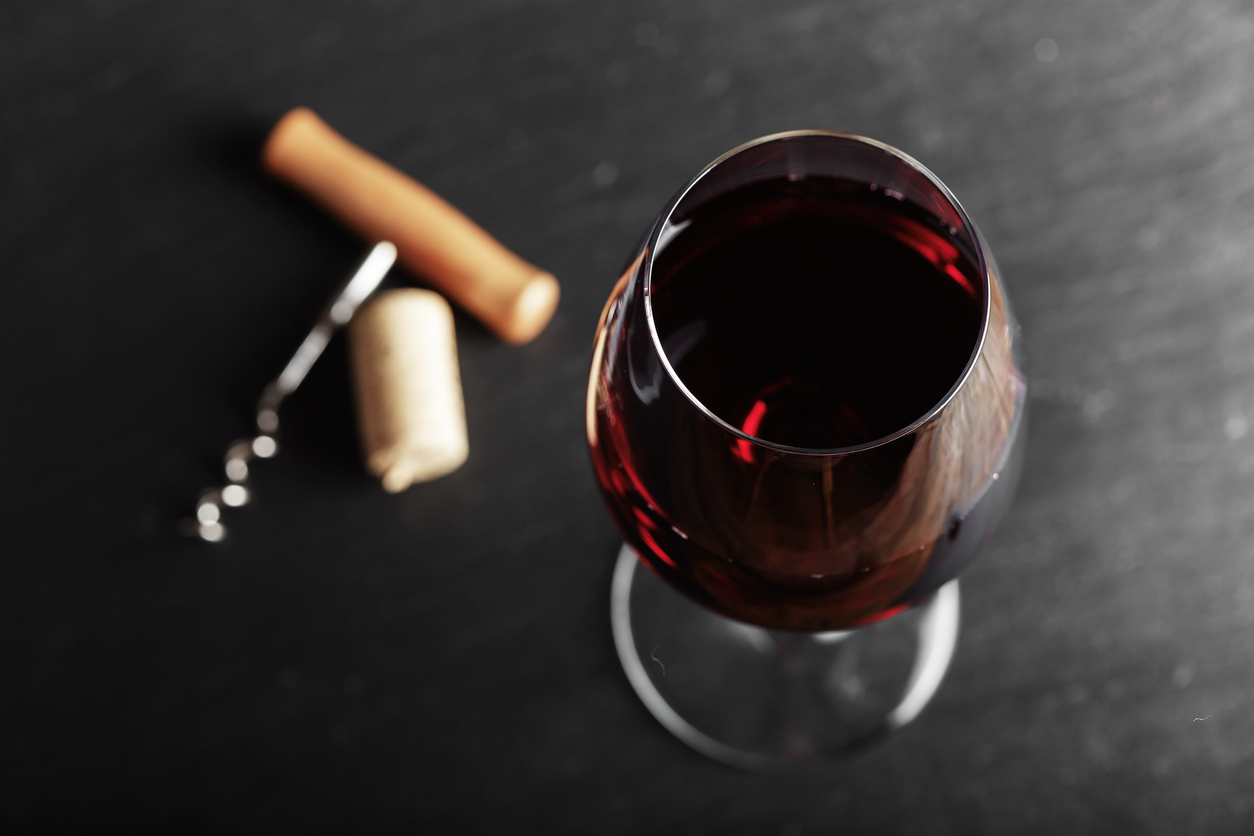 For wine connoisseurs, the enjoyment begins with the careful selection of the wine itself – and when you finally open it, the quality and flavour of the wine will depend on how you've stored it.
Whether you're an avid collector or just like to keep a few bottles in the house, we've got some suggestions on how to create the perfect conditions for storing wine at home.
First of all, your choice of storage will depend on your chosen level of investment: from simple wine racks, to fool-proof wine fridges, to the ultimate statement in wine storage – a bespoke wine cellar.
WINE RACKS
Ideally, wine racks should only be used as a temporary storage solution. They're a good option for people who buy their wine to drink within a couple of months, rather than those growing a collection.
That said, opting for a wine rack doesn't mean you have to compromise on correct storage. Consider the following when choosing your wine rack and deciding where to put it.
DO choose a horizontal rack, as this will ensure the corks don't dry out.

DO store your wine in a cool, shaded environment.

DON'T keep your wine in direct sunlight.

DON'T put your wine rack near sources of heat or steam (such as appliances).
Though there are certainly some attractive wine racks on the market, it's all too easy for them to become a dumping ground for the kids' squash or those strange bottles of spirits you get as gifts and will never drink… If you're thinking of starting a wine collection, we'd recommend a storage upgrade.
WINE FRIDGES
When it comes to wine storage, there are definitely benefits to increasing the budget. Wine fridges were once a luxury kitchen item, but are now becoming more mainstream. From simple drinks fridges to more advanced conditioning units, we offer a range of products to suit different budgets.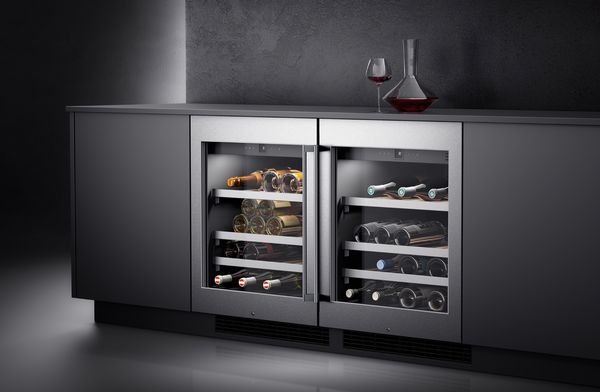 Image via 

Gaggenau
Fridges
Small drinks fridges, like those offered by Caple, are ideal for short-term storage. With UV-protected glass, heat-free lighting, and humidity control – they ensure you can always bring your wine to the table at the right temperature. These are a popular choice for clients who want a wine fridge, but don't expect to keep vintage wines or don't have the budget for a wine conditioning unit.
Conditioning units
In our experience, wine conditioning units provide an elegant balance of functionality, practicality, and style. Miele and Gaggenau have developed machines that create the perfect climate for storing and preserving wine over the long-term. With UV-filtered safety glass, charcoal air filters, low-vibration technology, humidity control, and cushioned door closing – these models cover all the bases. Not to mention, the sleek push-to-open doors integrate seamlessly with modern, handleless kitchen designs.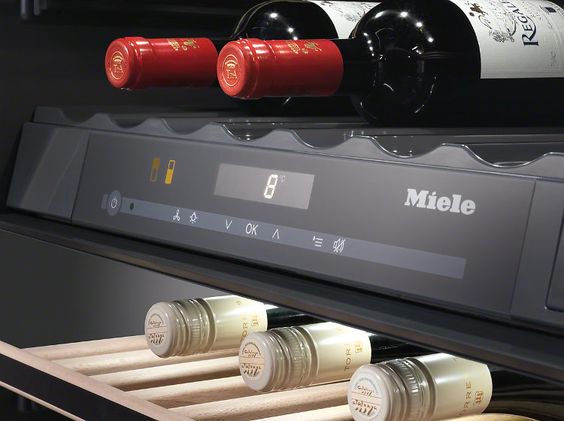 Image via Miele
Depending on the model you choose, you can have multiple temperate zones. Miele models offer up to three zones, allowing for simultaneous storage of red and white wines – with the option to include a Sommelier Set, ensuring you've got all the tools you need for the perfect serve. With adjustable interior frames, they can also accommodate bottles of any size and shape.
Built-in ice buckets
Kaelo, an innovative British company, have developed the perfect 'ice bucket'. The system keeps bottles chilled at the perfect temperature once open. They're completely water-free, meaning no drips and no mess, and they can be built into kitchen islands and worktops. If you can't resist a cool wine gadget, this one's definitely for you.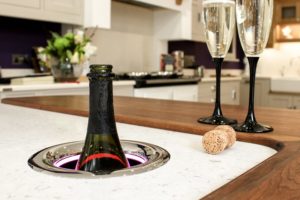 Image via Kaelo
WINE CELLARS
Finally, for the serious wine aficionados among us, a wine cellar is the ultimate choice. Our Handcrafted by Palazzo wine cellars are custom-built to create the perfect home for your vintage collection. These can incorporate wine conditioning units, in addition to bespoke shelving and storage.
---
Looking to include speciality wine storage in your new kitchen?
---