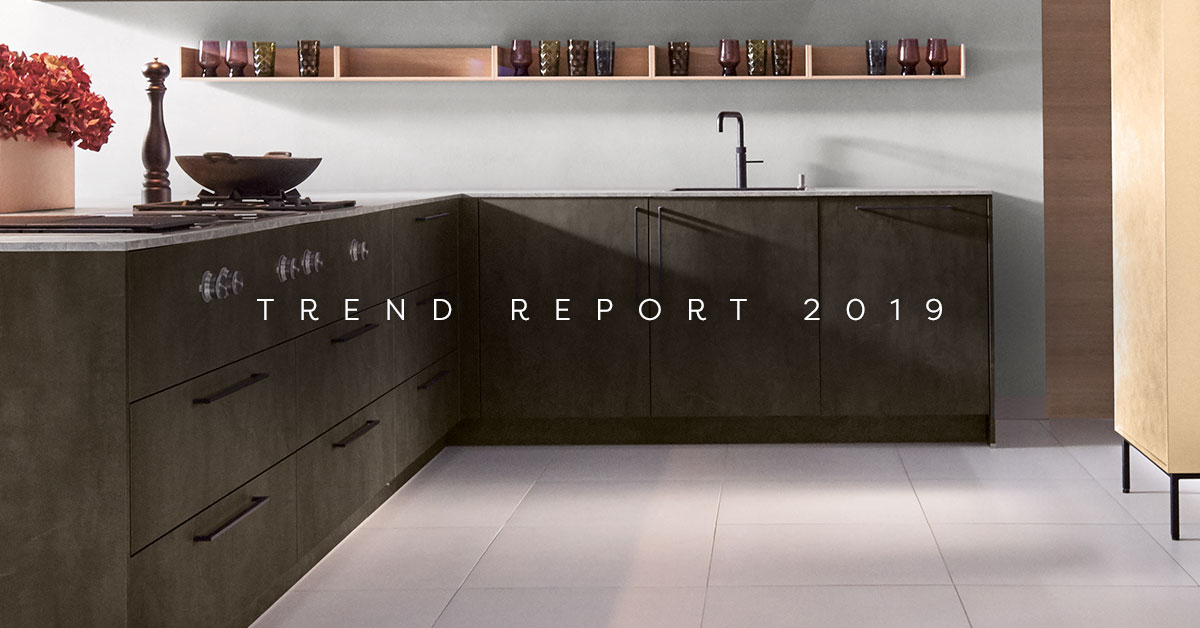 If you're embarking on a kitchen redesign in 2019, there are plenty of stunning interior trends to turn to for inspiration. These trends are reflected in the new colour ranges, materials and finishes released by suppliers, giving you plenty of choice for every design aspect of your new kitchen. To break it down, we've put together a trend report for the coming year, detailing all the interior trends we're noticing and loving right now.
Colours
While last year was all about edgy and vibrant palettes, this year's colour trends offer a more peaceful, mindful look.
We're seeing a lot of dark greens, indicating that this will be a strong interior trend this year – one that's both impactful and natural-looking. Unsurprisingly, soft pinks will also continue to be popular in 2019. Easily compatibility with other shades, these blush hues can offer a colourful twist on a neutral kitchen.
Pronorm, Dark Green
Pronorm have introduced two new lacquer colours: Dark Green and Grey Green. Using either of these as a feature – for example, on a kitchen island or pantry unit – can create a welcome pop of colour, without overwhelming the space. Combined with a bold patterned wallpaper, this can really help to make your kitchen feel more like a living area, rather than a purely functional room.
Farrow & Ball also launched nine new colours last year – soft shades like 'sulking' pink and calming olive green. These classic colours continue to be popular choices with our clients, dovetailing perfectly with our Handcrafted kitchens.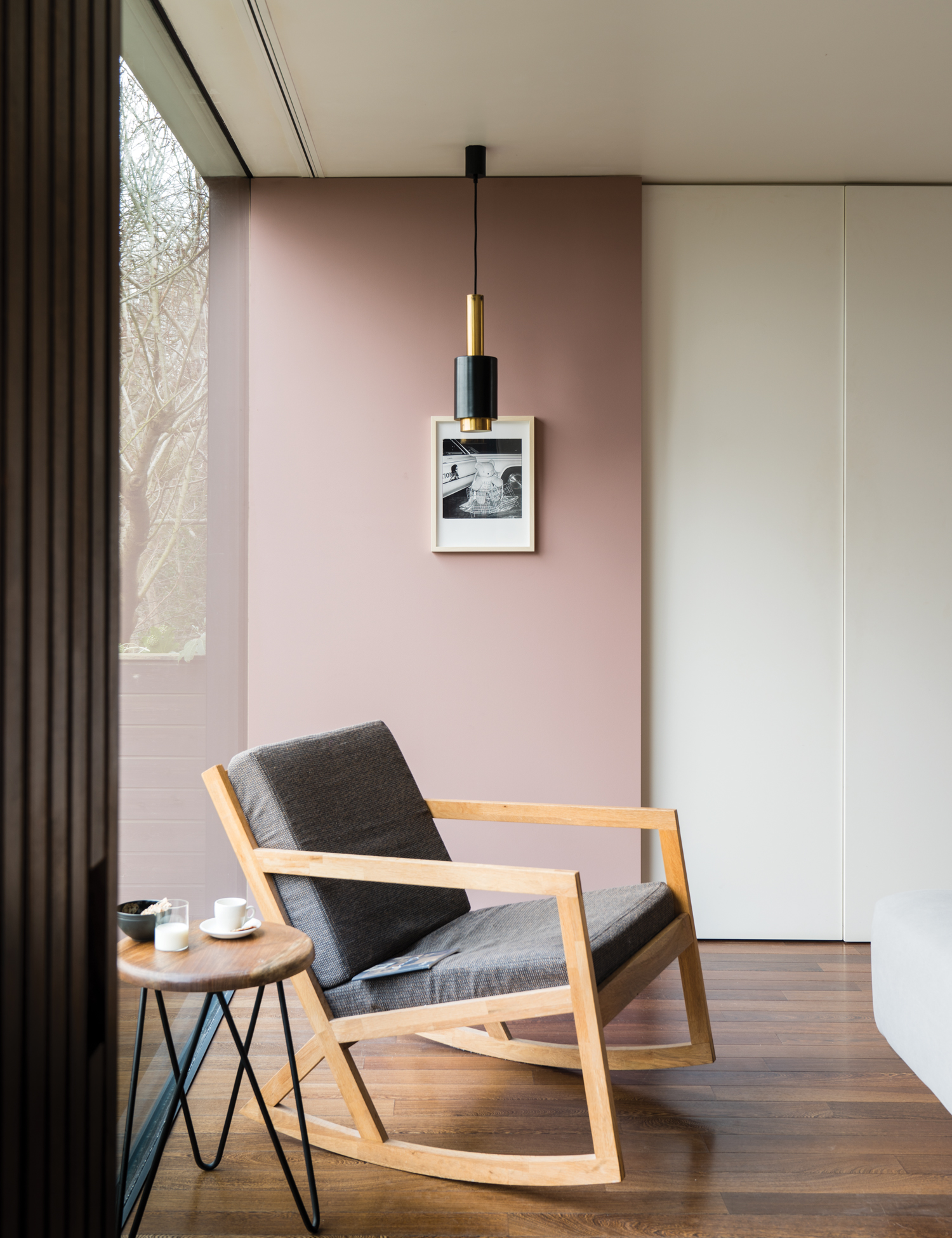 Farrow & Ball, Sulking Room Pink
Finishes
Black and metallics (especially gold and copper) are the most sought-after finishes at the moment – taking over from more traditional choices, like stainless steel and polished chrome. In response to these changing tastes, Quooker now offer their Fusion taps in both black and gold.
Metallic handles are also a subtle way of incorporating stylish finishes, without going overboard. Crofts & Assinder offer a huge range of metallic handles, with some particularly lovely choices in Copper, American Copper, and Polished Nickel – all of which suit the style of our Handcrafted units.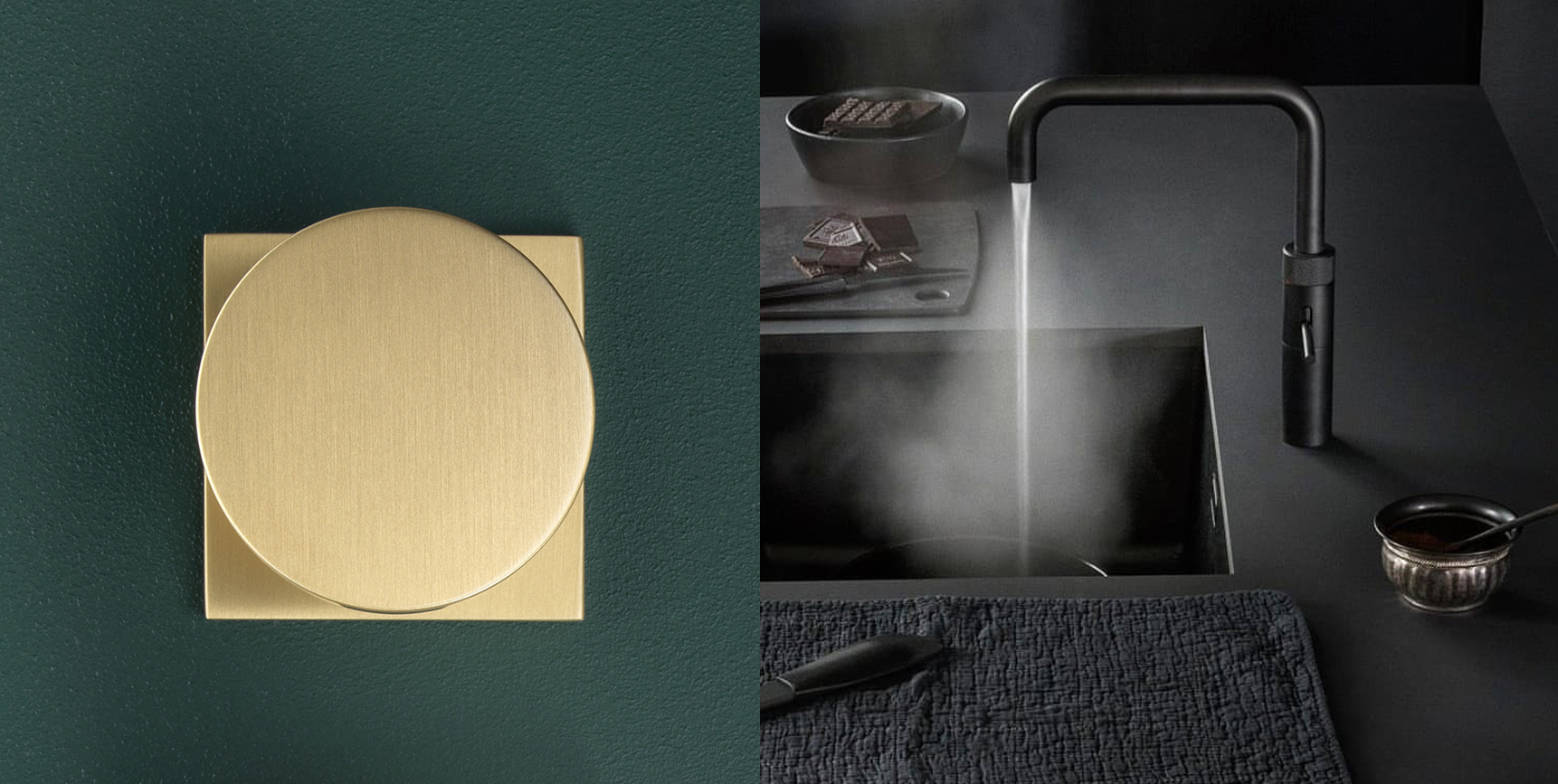 Crofts & Assinder, Cambridge; Quooker Fusion Square, Black
Or, if you really want to make a statement, Pronorm have just introduced metallic door finishes in Gold and Titan. These are especially attractive when used as a feature unit – perhaps as a bank of tall units, or as a section of the kitchen island. It can even be used as panel material to create a sparkling splashback.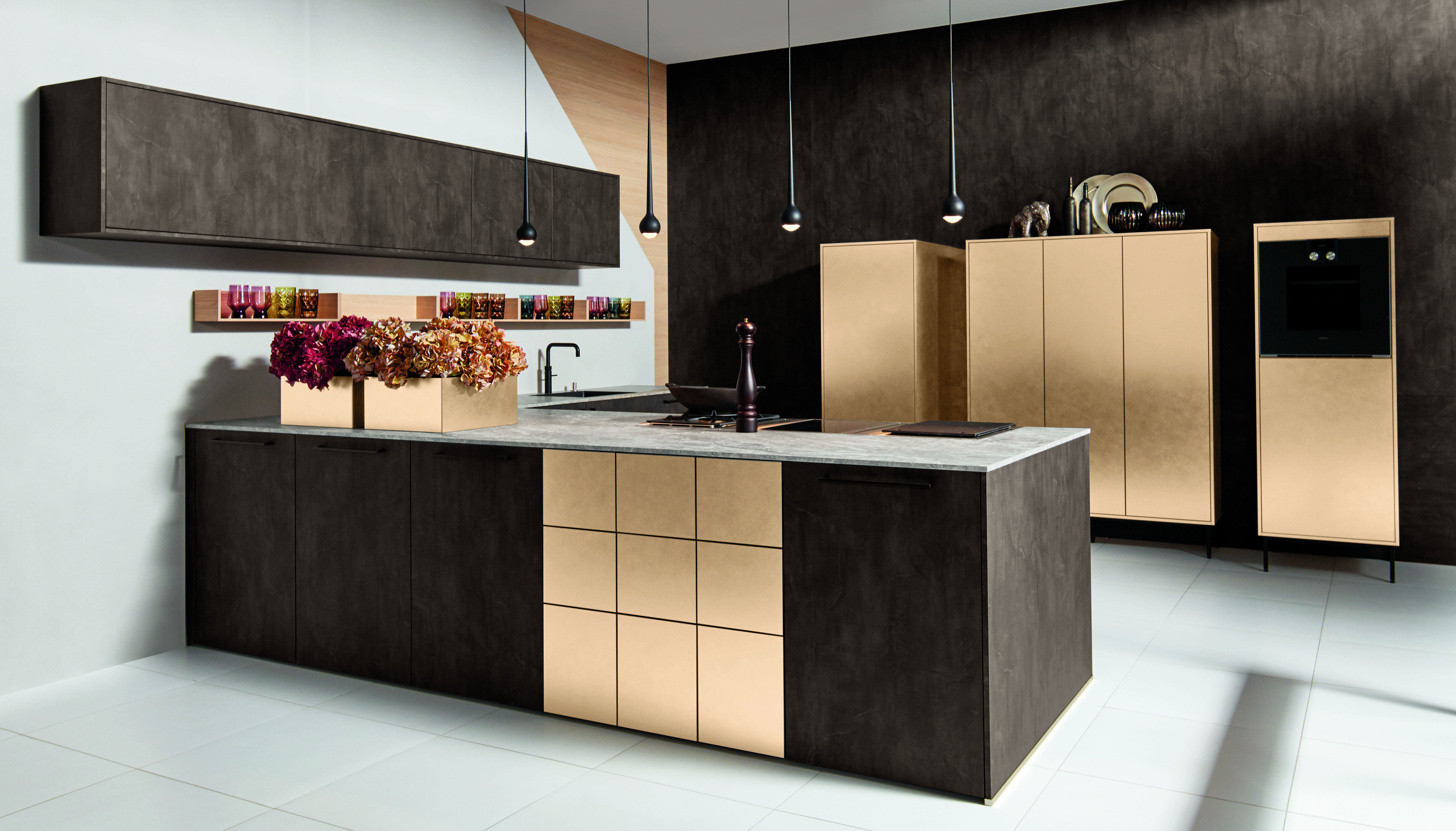 Pronorm, Gold Metal
Textures
When it comes to adding texture to your kitchen, marbled and veined worktops are increasingly popular – and Silestone and Dekton have recently launched new ranges with this in mind. The new Dekton colour range, called the Stonika Collection, offers six new hues – each of which has spectacular shine, drawing inspiration from natural stone materials. Not to mention, they're heat-resistant and highly durable.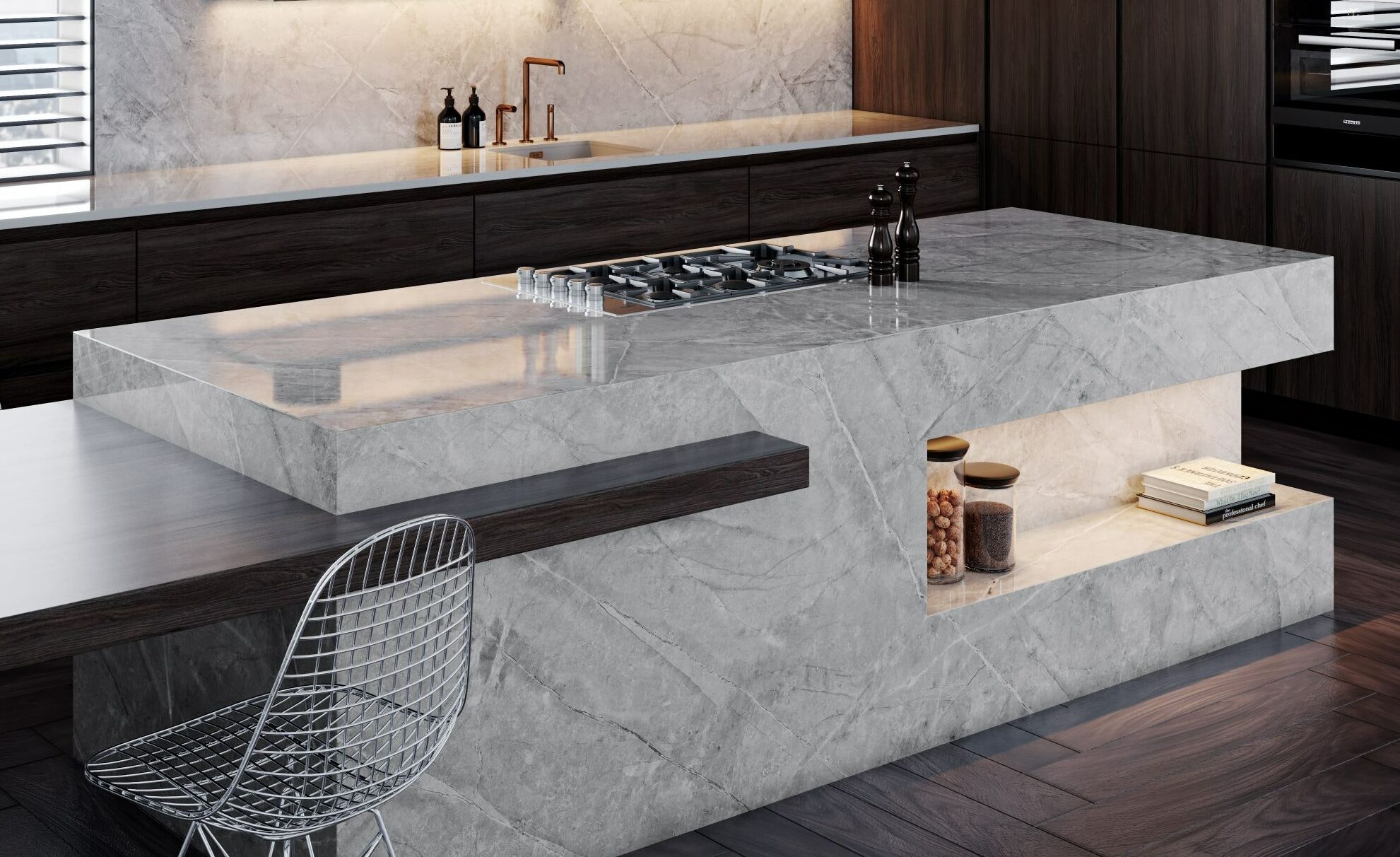 Dekton, Sogne from 

the Stonika Collection
Pronorm have also introduced similar options in laminate. The two colours available are Marble Breccia Paradiso (shown below) and Marble Carrara – a bright white with striking grey veining. These are a more affordable alternative to Dekton, but are just as stunning.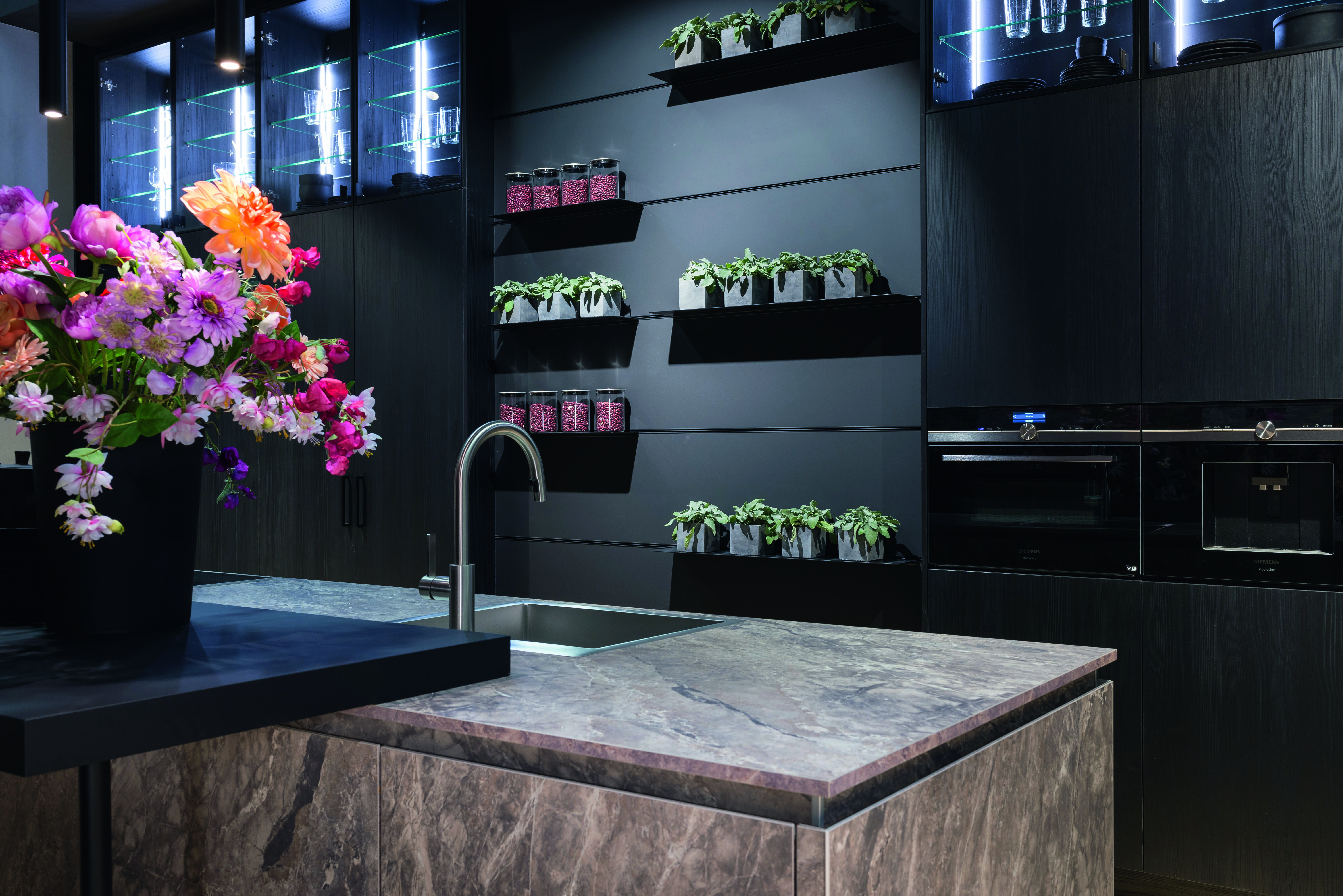 Pronorm, 

Marble Breccia Paradiso
---
---