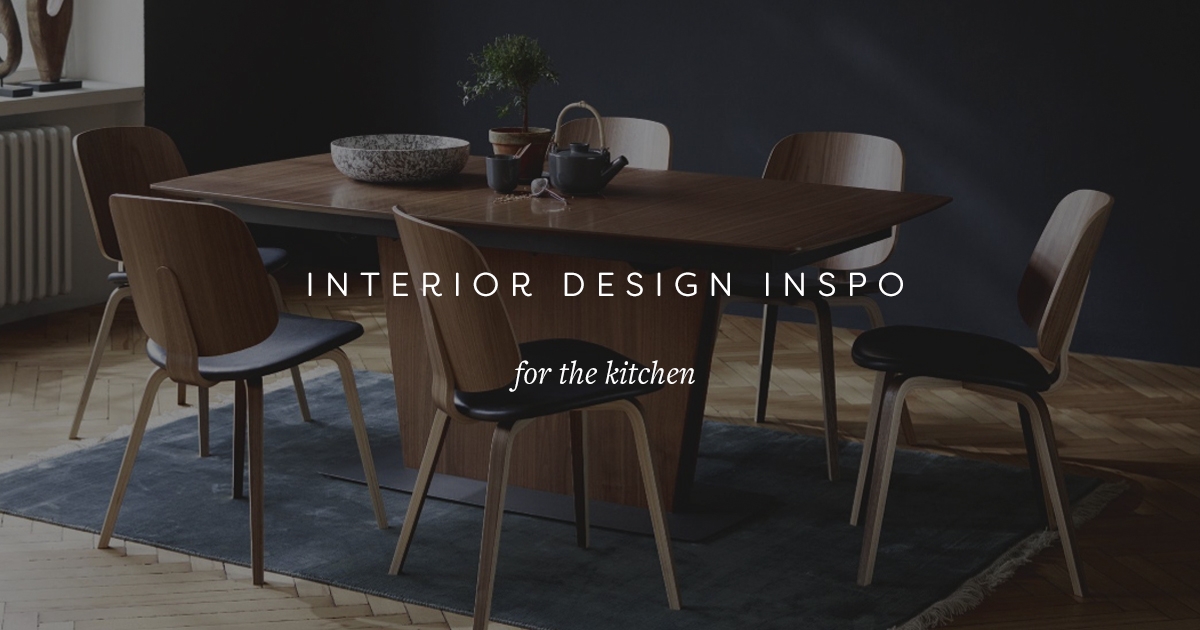 When it comes to remodelling your kitchen, each and every interior design choice should reflect your personality, complement your lifestyle and, of course, dovetail with the rest of your home. This becomes especially important if you have an open-plan layout, as so many people do these days. To create a cohesive look—one that can be consistently carried throughout your home—that means combining a free-flowing layout with a beautiful colour scheme, stylish-but-functional lighting, exceptional materials and eye-catching accessories.
Courtesy of our fantastic suppliers and partners, these are a few of our favourite pieces right now—perfect for bringing those all-important interior design touches to your kitchen and beyond. And if you like what you see, all of these products are soon to be on display in our newly refurbished showroom…more details coming soon!
Flooring by Karndean
Where better to start, than from the ground up? Kitchen floors should be durable and waterproof, as well as stylish. Karndean offers an extensive range of realistic wood- and stone-effect flooring, made from high-quality vinyl—all of which are easy to lay, easy to clean, and very hard-wearing. This means they're robust enough for kitchen use, and ideal for pet-owners. Vinyl is also softer and warmer to the touch than a porcelain or ceramic tile, so it's an appealing choice as we head into the autumn and winter months.
For one of our new showroom displays, we chose 'SP216 Fumo' from the Opus line, which is inspired by a unique batch of limestone sourced from a quarry in the Lake District. With smoky grey tones and subtle veined detailing, it's the perfect complement to both our modern and traditional kitchens.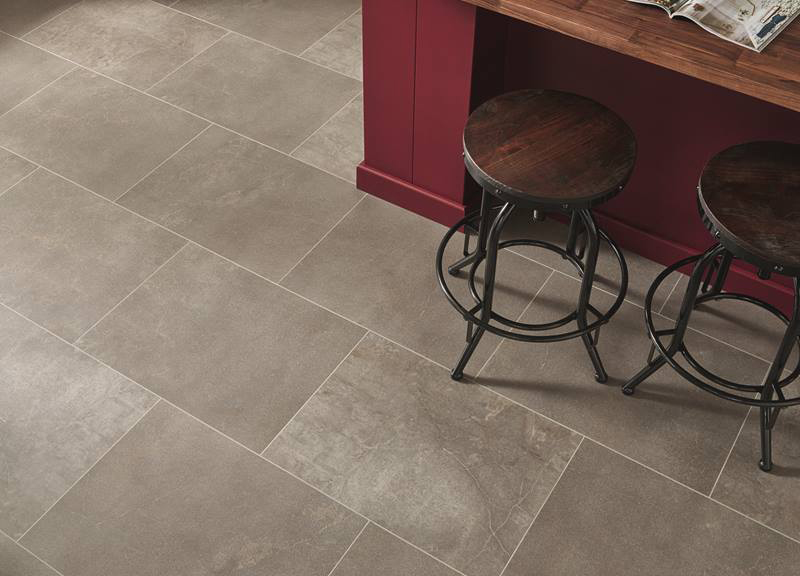 'SP216 Fumo' Flooring by Karndean
Lighting by Nordlux
Kitchen lighting should be more than just practical; it should also be elegant and decorative, enhancing the design of your kitchen. We love the simple and stylish Nordlux ranges, which offer matching products—such as pendants and floor lamps—so customers can coordinate the lighting across their kitchen, dining and living spaces.
We've created a cascading, circular sculpture in our showroom, using the Nordlux 'Embla' pendant in three shades: 'Smoked', 'Gold', and 'Amber'. It's a dramatic look, ideal for above a kitchen island or dining table.

'Smoked', 'Gold' & 'Amber' Pendant Lights by Nordlux
Soft Furnishings by Timorous Beasties
Timorous Beasties are renowned for their quirky patterns and bold colour choices—and we love their style. Colourful fabric is a great way to add a bit of personality to your kitchen, whether that's in the upholstery of your dining chairs/benches, or a few accent cushions in your kitchen/living area.
We chose their vibrant (and fantastically-named) 'Kaleido Splatt Allover Fabric' for a bench in our showroom. A riot of colour that will really brighten up the display.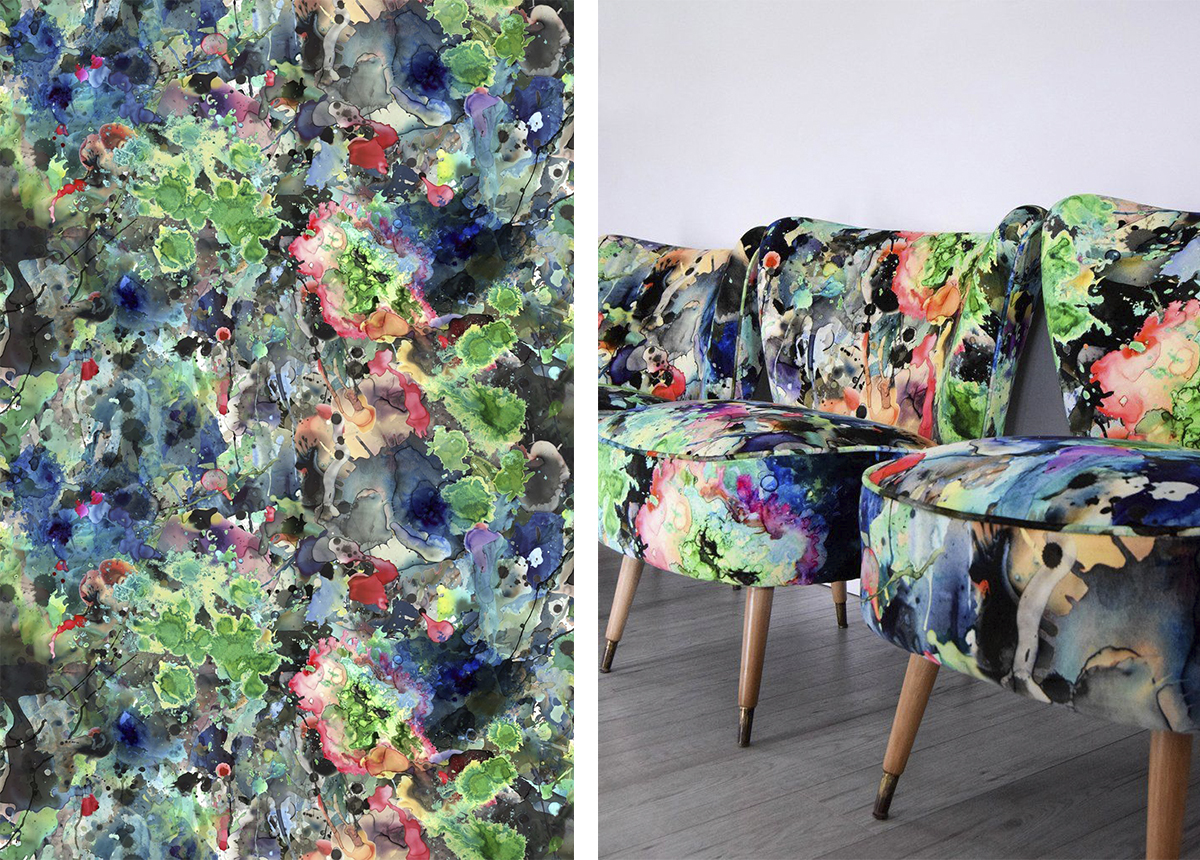 'Kaleido Splatt Allover Fabric' by Timorous Beasties
Furniture & Accessories by BoConcept
We are very excited to be partnering with BoConcept to provide our clients with contemporary, design-led furniture and accessories for their kitchens. They have an extensive range of fabrics to choose from for their chairs and stools, which we'll be able to order for our clients in-house—saving them the headache of sourcing these elements themselves.
You'll soon be able to see BoConcept's 'Adelaide' stools in our showroom, boasting a smart matt black finish, sleek legs and a sculpted seat. With clean lines and minimal form, these would look right at home in a modern, handleless kitchen.
https://www.boconcept.com/en-gb/stores/find-your-local-store/united-kingdom/scotland/boconcept-buchanan-galleries-glasgow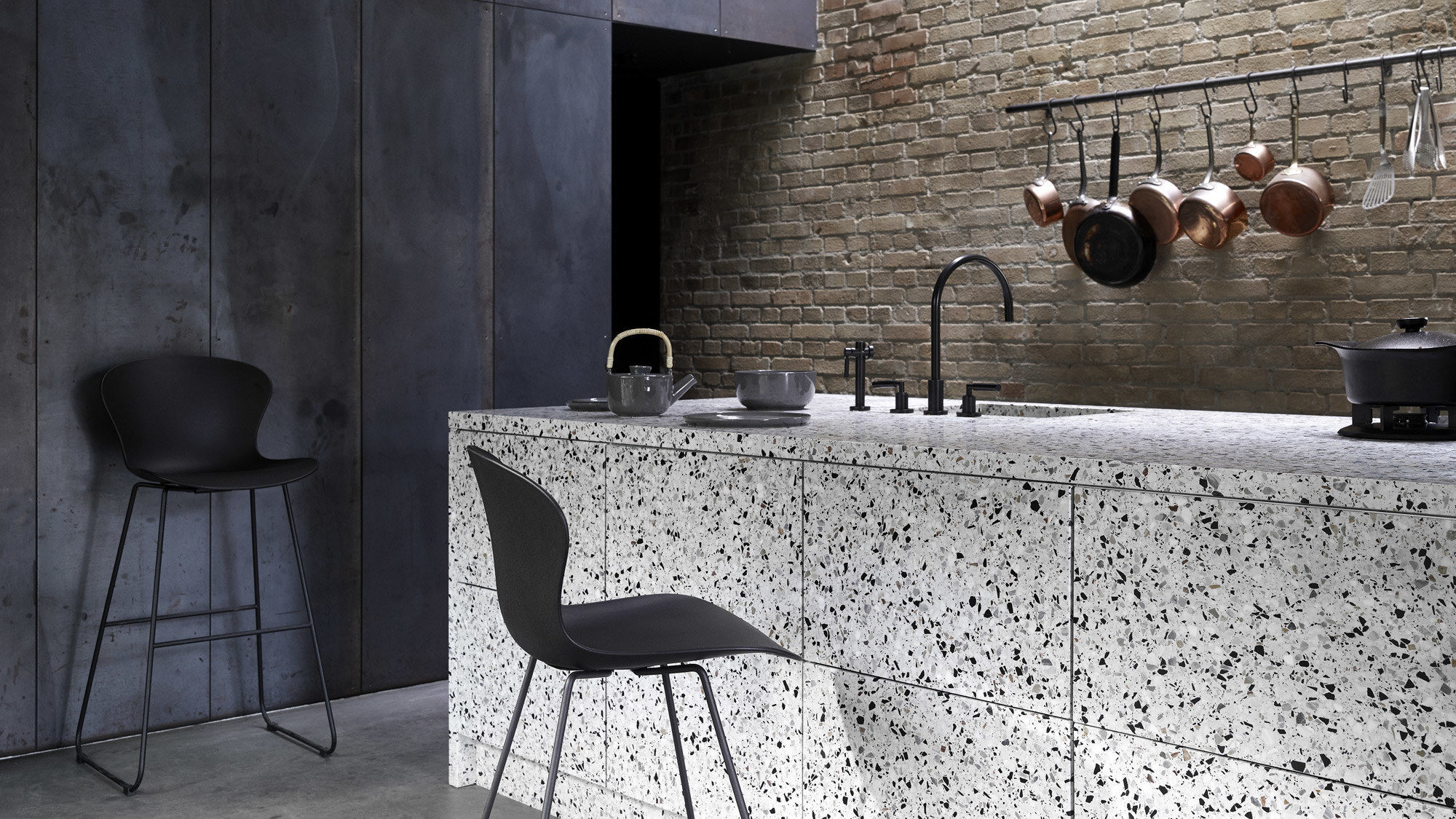 'Adelaide' Stools by BoConcept
Colour by Little Greene
The Little Greene colour palette offers a comprehensive range of stunning, timeless hues. Their carefully-curated colour book has 191 shades, each blended from rich pigments and an environmentally-friendly base. A winning combination of beautiful and durable.
For our showroom, we picked a monochromatic colour scheme; a popular choice of palette amongst our clients, giving them the chance to see it in situ. Two of our chosen tones are 'Jack Black', an absolute black coloured by soot, and 'Dark Lead', a moody grey reminiscent of ironwork—combined to offer a more modern take on traditional black and white.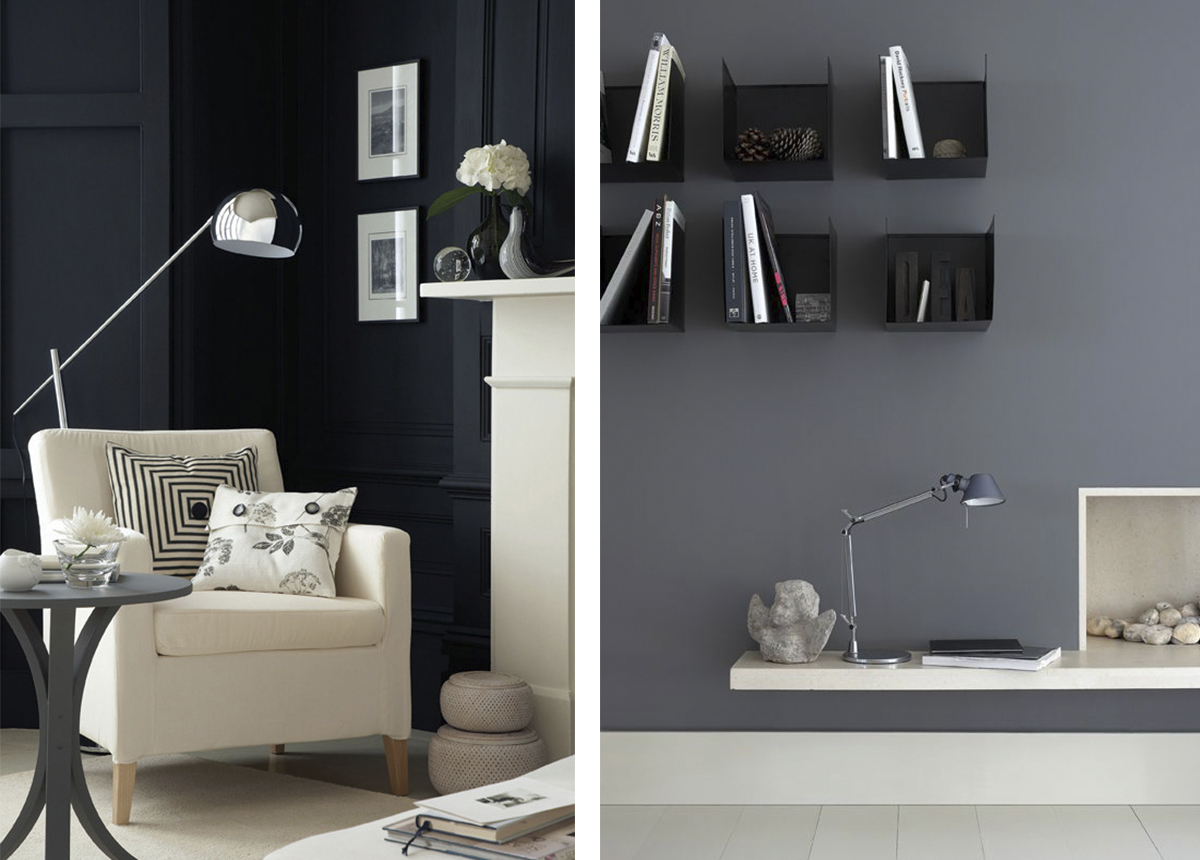 'Jack Black' & 'Dark Lead' Paints by Little Greene
Wallpaper by Albany
Accent walls are another avenue for personalising your kitchen and experimenting with pattern and texture. There are plenty of high-quality wallpaper brands to choose from; Cole & Son and Graham & Brown are a couple of our favourites. We came across this particular brand, Albany, when we were searching for a quirky wallpaper for our showroom.
We fell in love with their black and gold 'Omega' design—a contemporary geometric style with striking metallic detailing.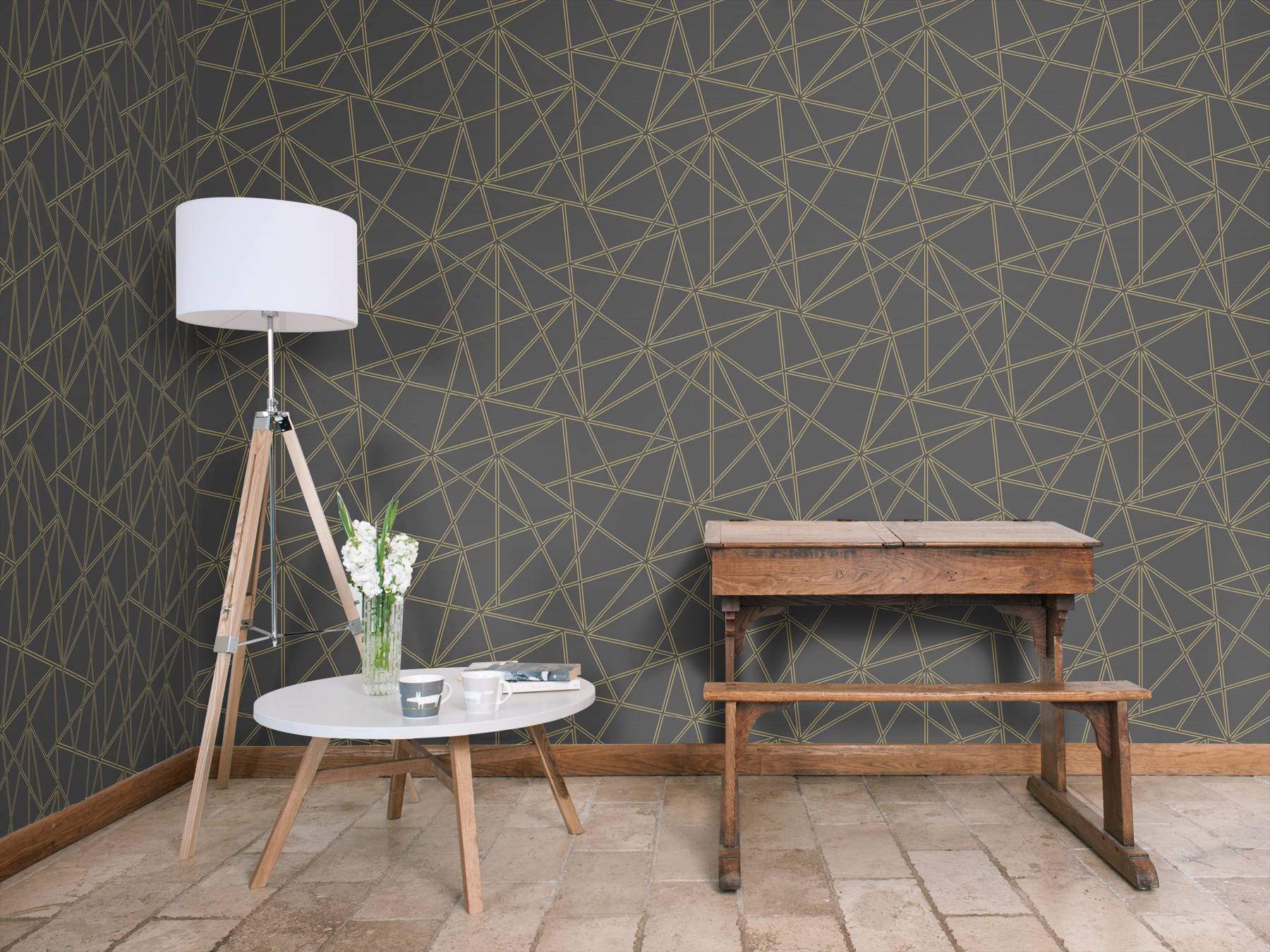 'Omega' Wallpaper by Albany
Natural Materials by Spekva
We like to incorporate natural textures to our interior schemes, and one of our favourite ways to do this is by creating a breakfast bar or dining table from a natural wood. Spekva have a fantastic range of Scandinavian-style wooden worktops, and the quality of craftsmanship is outstanding. They manufacture everything themselves from scratch, meaning every single piece of wood is hand-selected, sawn, planed, sanded and glued by their experienced craftsmen.
We chose the 'Riverwashed' finish for our new breakfast bar, with a soft grooved texture—which is enhanced by the specialist maintenance oil that comes with their products. A unique, warming, and wonderfully tactile addition to our showroom display.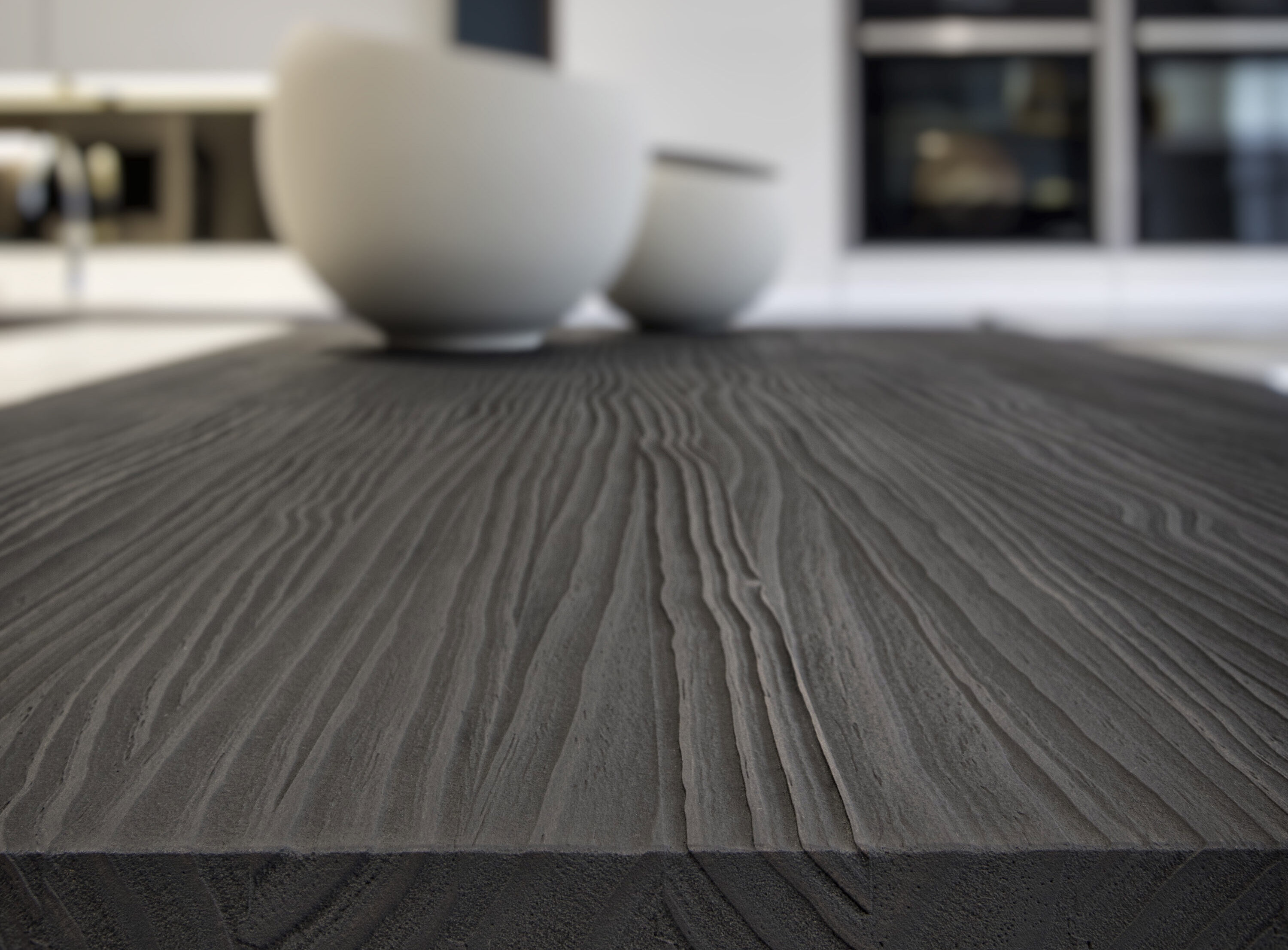 'Riverwashed' Wood Finish by Spekva
---
Visit our showroom for more kitchen inspiration
---