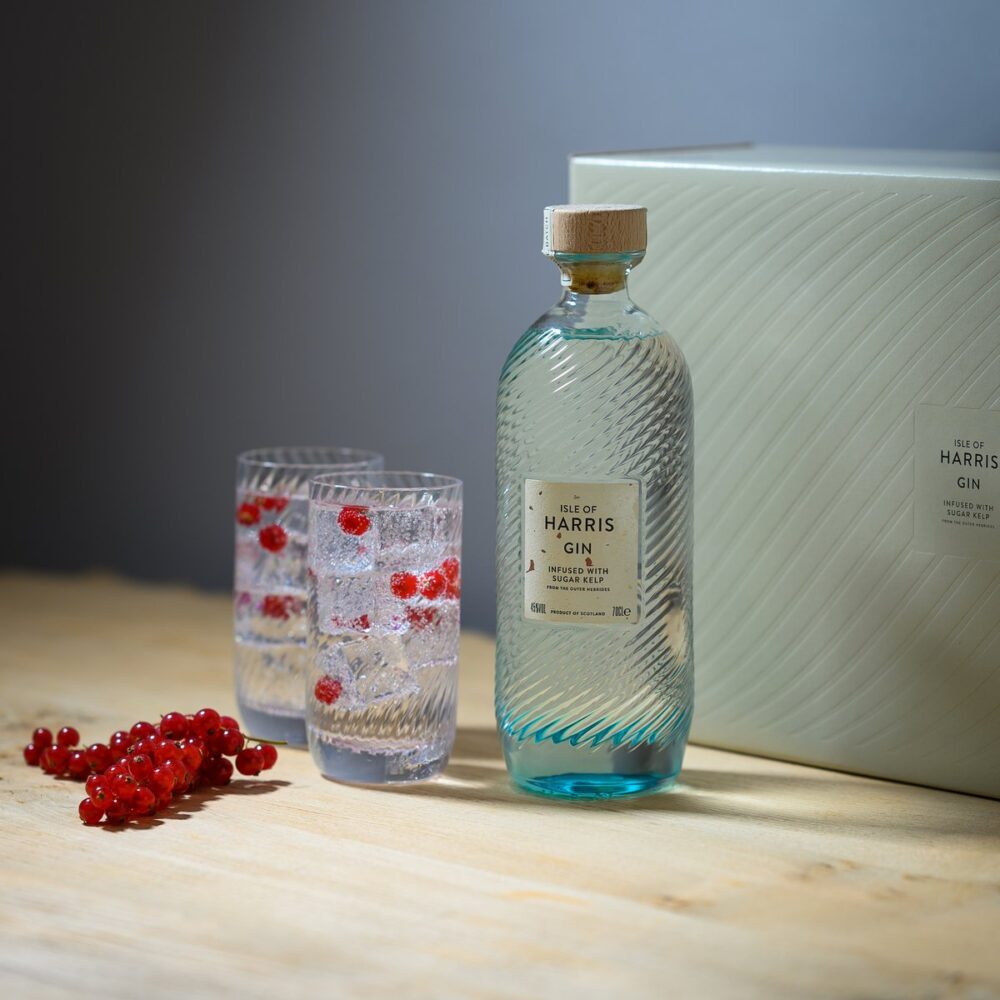 The year is at an end, and we're toasting to better, brighter times ahead. And since it's Hogmanay, we're celebrating the wonders of Scottish Gin, with a focus on two of our personal favourites – the magnificent Isle of Harris Gin and the Biggar Gin Co, a family-run small batch gin inspired by the botanicals surrounding the beautiful town of Biggar.
The Harris Highball
The classic highball cocktail has been around since the 1890s and is perfect for when you're craving a tall and refreshing drink. Add tonic water and a complementary garnish to make your Isle of Harris Gin last a little longer.

Image via Isle of Harris Distillery.
Ingredients
50ml Isle of Harris Gin.
3-5 drops Sugar Kelp Aromatic Water.
Your mixer of choice (Isle of Harris recommend Walter Gregor's Cucumber & Mint Tonic Water).
Ice.
Fresh sprigs of mint to serve.
Method
Fill your highball glass to the brim with fresh ice; cubed, or crushed.
Pour in a generous 50ml measure of Isle of Harris Gin.
Add a few drops of Sugar Kelp Aromatic Water to taste.
Slowly introduce your mixer of choice.
Then garnish with fresh mint, and enjoy!
The Harris Martini
If you're looking for something a little drier, an Isle of Harris Gin martini—made with a crisp, scented vermouth from Dalmeny Estate near Edinburgh—is the answer. This is a serious and strong serve, designed to be savoured.

Image via Isle of Harris Distillery.
Ingredients
75ml Isle of Harris Gin.
2.5ml Vermouth (Isle of Harris suggest the small-batch Wermod Great British Vermouth).
2-3 Drops of Sugar Kelp Aromatic Water.
Red Grapefruit.
Method
Peel a long slice of red grapefruit, then set it aside.
Fill a mixing glass with ice.
Coat the inside of a chilled martini glass with vermouth.
Add the Isle of Harris Gin and Sugar Kelp Aromatic Water to the mixing glass.
Stir with a bar spoon for 60 seconds until thoroughly chilled.
Julep strain the mixture into your martini glass.
Pinch and roll the red grapefruit peel to express its oils over the surface of the spirit.
Drape the peel over the edge of the glass as a garnish, and enjoy!
The Biggar White Lady
Mixed with orange liqueur, lemon juice and egg white, this fabulous cocktail is a true celebration of all things Christmas.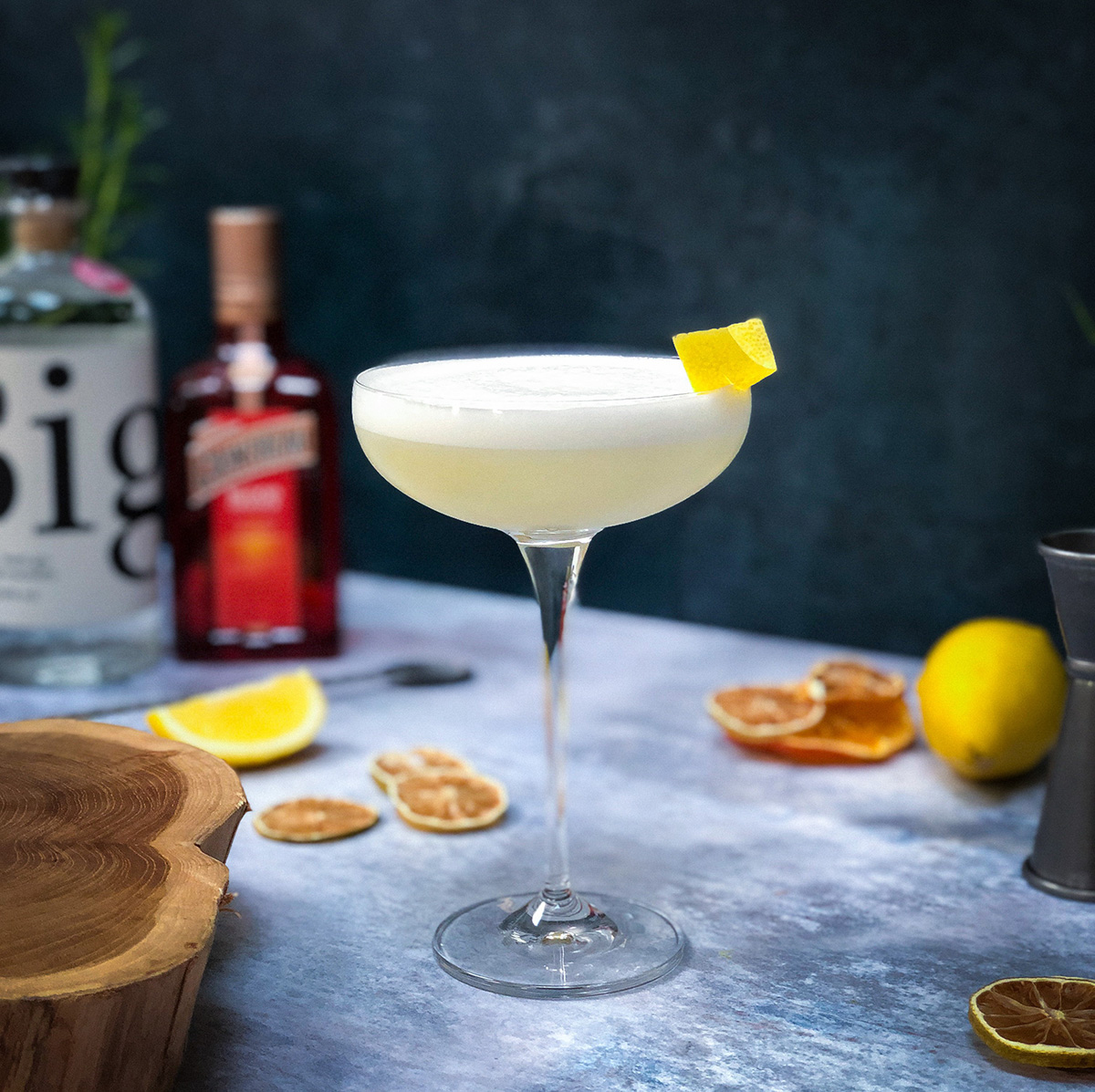 Ingredients
50ml Original Biggar Gin
22.5 ml Orange Liqueur (we used Cointreau Blood Orange)
22.5 ml lemon juice
15ml sugar syrup
Egg white (for foam – optional)
Method
Combine all ingredients in a cocktail shaker with ice and shake until chilled.
Remove the ice (reverse dry shake) and shake vigorously for 20-30 seconds. The more you shake the more foam you should achieve.
Double strain into a cocktail glass and garnish with a little lemon peel.
The Biggar Negroni
In our humble opinion, the best of all cocktails. Simple to make, great to drink, looks great and tastes fantastic.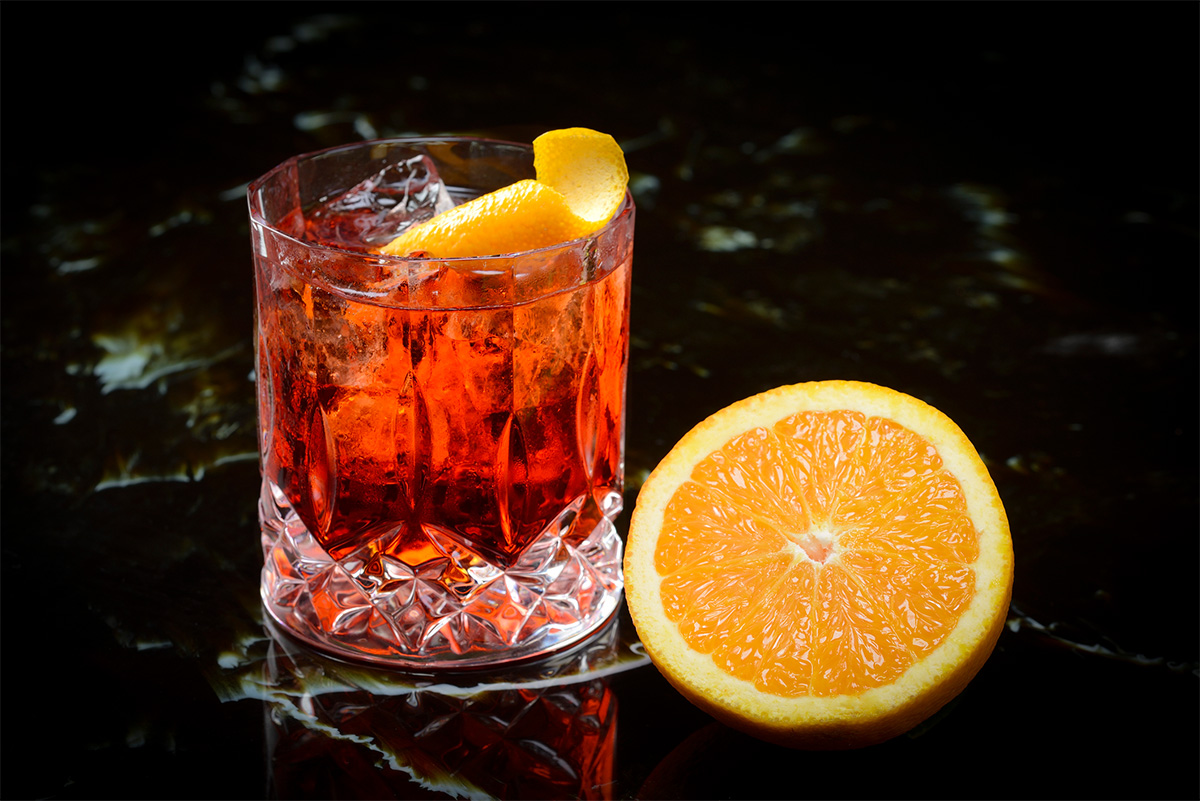 Ingredients
50ml Original Biggar Gin
30ml Cocchi Storico Vermouth di Torino
25ml Aperol
2 or 3 Dashes of Angostura Bitter Orange
Method
In a cocktail mixing jug or in the glass add the Gin, Vermouth and Aperol over ice and stir for approximately 20 seconds.
Take your glass and add ice. The Negroni benefits from a large, single, glass filling cube of ice. Failing this, add a few of your largest available ice cubes.
Pour in your stirred mix and garnish with orange peel and your Angostura bitters.
---
Happy new year, from all of us at Palazzo!
---