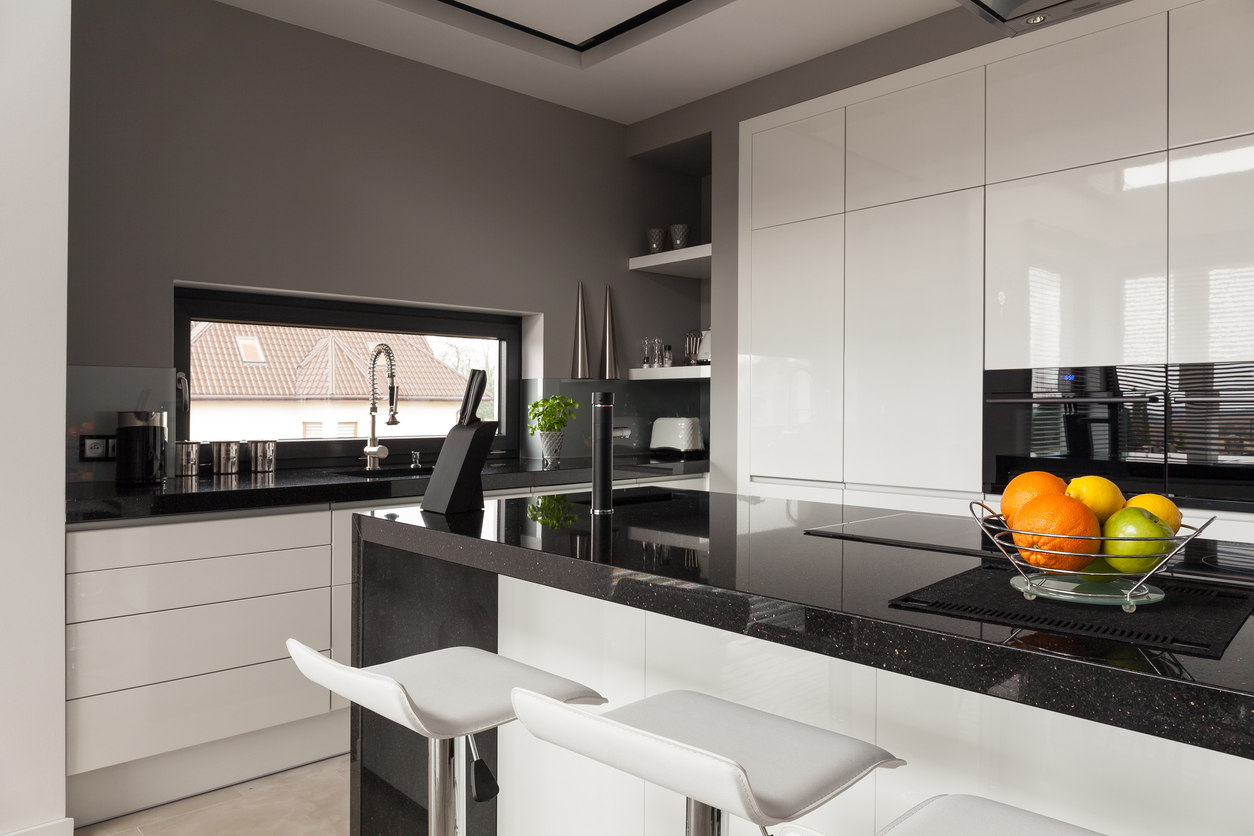 With Black Friday on the horizon, and the monochrome style looking to soar in 2018, now is the perfect time to splurge on black decor for the kitchen. Although colour trends may fluctuate from year-to-year, black has a vintage look that will never go out of style. And black and white will always be the classiest colour duo, providing a timeless decor foundation upon which to rotate more seasonal trends (and maybe even a few Black Friday accessory bargains!). Here are some ideas for incorporating black design elements to your kitchen, for added elegance and sophistication.
Cabinets
Sleek, all-black rooms have become increasingly popular this year, and this is set to continue into 2018. If you're thinking about remodelling your kitchen, consider black cabinets as part of your design. Though this can seem like a bold choice, using black as your base colour is guaranteed to create an upscale and contemporary look. It will also accentuate any other colour palette, granting you design flexibility.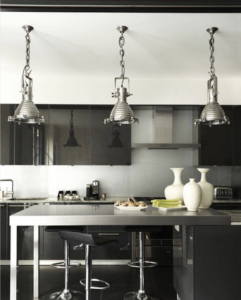 Image via Elle Decor
If you don't want to commit to wall-to-wall black, opt for the two-tone trend—white cabinets with a black kitchen island. Having the island in the darker shade creates an immediate focal point in the room and gives definition to the space. This is a good option if your kitchen doesn't have a lot of natural light, as the white cabinets will prevent the black from being too overwhelming, whilst brightening up your kitchen and making it appear more spacious.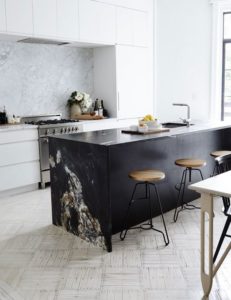 Image via Nordic Design
Combine the black and white cabinets with metal accents and a grey splashback for an ultra-modern look, or soften it with wooden worktops and accessories for a warmer appearance.
Appliances
If black cabinets aren't for you, black matte kitchen appliances are a growing trend—from larger items like refrigerators and sinks, to smaller appliances like stovetop kettles and espresso machines. With a muted look that's both classic and trendy, these may be a more suitable option if you aren't looking to entirely remodel.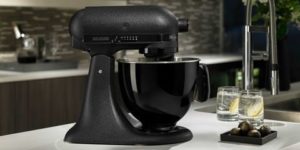 Image via House Beautiful
A matte black mixer, for example, would look majestic on the worktop and is something a little different, as these traditionally come in vibrant colours (it's also a useful item to have heading into the Christmas period, when festive baking is a must!). Match this with some stylish cast iron pots and pans, perfect for cooking up those warming autumn meals.
Dining
Black is a colour which is often overlooked in dining areas. Homeowners often opt for warmer hues, with the idea of enticing guests towards a welcoming dinner table. Black, however, can be a striking choice, and it doesn't have to be cold in appearance. Combine black dining chairs with a wooden table, or vice versa, for a look that is both stylish and inviting. Or, if you're happy with your current dining setup, simply adorn your table with black plates and cutlery—an unusual choice with a modern feel.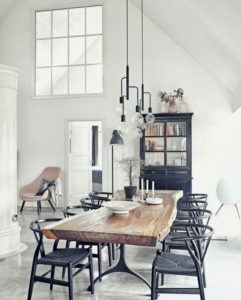 Image via Living with Flavours
Display
Kitchen storage solutions don't have to be purely functional. Add a bit of visual interest by installing a black ladder-shelf for showcasing your trinkets, or incorporate a black statement wine rack for displaying your favourite tipples.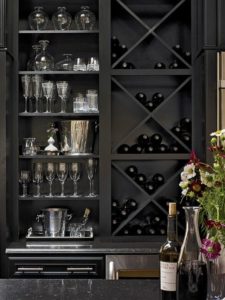 Image via DIY Network
And colour code your decorative accents—black ornaments, candle holders, artwork, placemats, coasters, vases, and maybe even a statement chandelier for adding a bit of drama to your decor. You may be less likely to grow tired of these items if you opt for black over a bright colour, as black decor definitely has staying power!
---
Start your kitchen design journey by booking your free design visit.
---
SaveSave
SaveSave
SaveSave
SaveSave
SaveSave
SaveSave
SaveSave
SaveSave
SaveSave
SaveSave
SaveSave
SaveSave
SaveSave