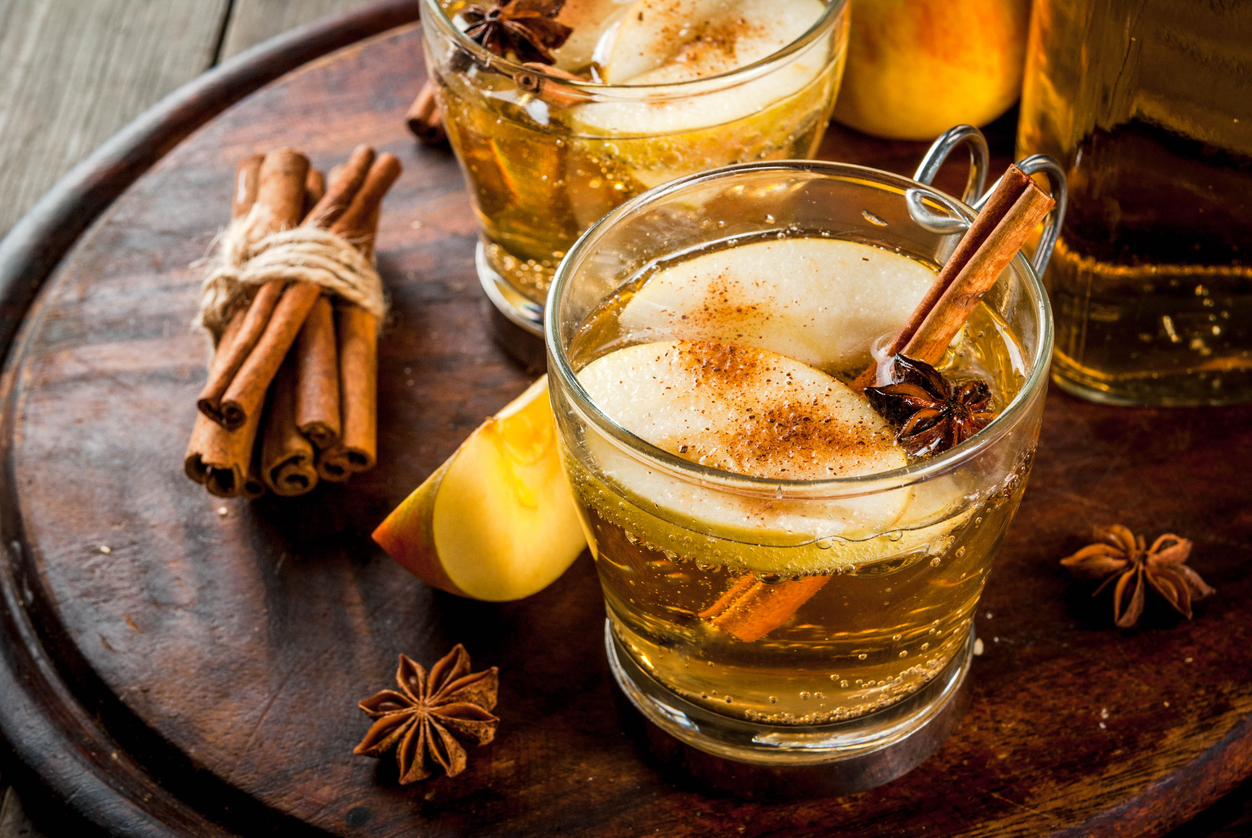 Whether you're throwing a party, celebrating a special occasion, or hunkering down for a cosy night in, a cocktail is a welcome addition to any evening. And when it's cold and dark outside, it's the perfect time for experimenting with autumnal flavours. So why not try mixing up one of these straightforward, seasonal cocktails in your kitchen? Guaranteed to add a splash of warmth to a chilly season.
Apple & Cranberry Moscow Mule
Add a touch of autumn to the classic Moscow Mule by incorporating two quintessential seasonal flavours—apple and cranberry.
Ingredients
Serves 2:
120ml vodka
60ml cranberry juice
120ml sparkling apple juice
2 ginger beers
Handful of fresh cranberries for garnish
Ice
Instructions
Fill two glasses with ice. (Go traditional and serve in a copper mug, or opt for glass to showcase the bejewelled cranberries!)
Pour in the vodka and the cranberry juice.
Add the sparkling apple juice, then top up with ginger beer.
Stir gently, garnish, serve, and enjoy!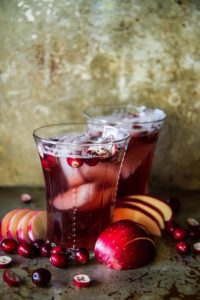 Image & recipe via Heather Christo
Honey & Pear Margarita
A more autumnal version of the classic Margarita, this honey and pear concoction is the perfect tequila drink for those with a sweet tooth.
Ingredients
Serves 2:
480ml pear juice
1 shot tequila
1/2 shot triple sec
1 tbsp honey
Sprinkle of cinnamon (optional, for extra sweetness)
2 sprigs of rosemary and/or a cinnamon stick for garnish
Ice
Instructions
Combine ingredients in a jug and stir.
Refrigerate for one hour, allowing flavours to absorb.
Pour into glasses, garnish, serve, and enjoy!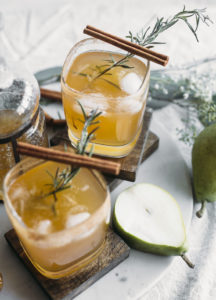 Image & recipe via The Almond Eater
Blackberry Bourbon Smash
If bourbon is your drink of choice, the Blackberry Smash is crisp, refreshing and ideal for autumn.
Ingredients
Serves 2:
120ml bourbon
30ml lime juice
12 mint leaves
6 blackberries
45ml sugar syrup (or 1 tbsp sugar)
60ml sparkling water
Ice
Instructions
Muddle the mint leaves, blackberries and lime juice in a shaker.
Add the bourbon, sugar syrup and some ice, and shake vigorously.
Pour into two glasses without straining, and top with sparkling water.
Stir, garnish with remaining blackberries and mint leaves, and enjoy!
Or, if you want to bring back a little summer, use rum instead of bourbon to make a Blackberry Mojito.

Image & recipe via Kitchen Swagger
Espresso Martini
A guaranteed pick-me-up on a dark autumn evening, the Espresso Martini is a great after-dinner cocktail.
Ingredients
Serves 2:
100ml vodka
70ml coffee liqueur
2 shots of espresso
Coffee beans for garnish
Ice
Instructions
Pour ice into two martini glasses to chill.
Pour the vodka, coffee liqueur, espresso and some ice into a shaker, and shake vigorously.
Pour into the glasses, using the strainer on top of the shaker to create a smooth froth.
Garnish with 3 coffee beans per glass, and enjoy!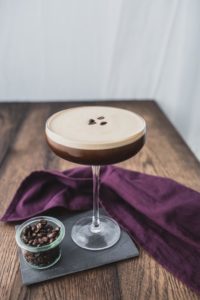 Image & recipe via Jamie Oliver
Seasonal garnish
And if you're looking for a taste of autumn but don't fancy the hassle, garnish a simple Gin and Tonic with some seasonal produce—like apple, blackberry, clementine, cranberry, date, fig, pear, pomegranate, plum, or quince.
---
Start your kitchen design journey by booking your free design visit.
---
SaveSave
SaveSave
SaveSave
SaveSave
SaveSaveSaveSaveSaveSave
SaveSave
SaveSave
SaveSave
SaveSave