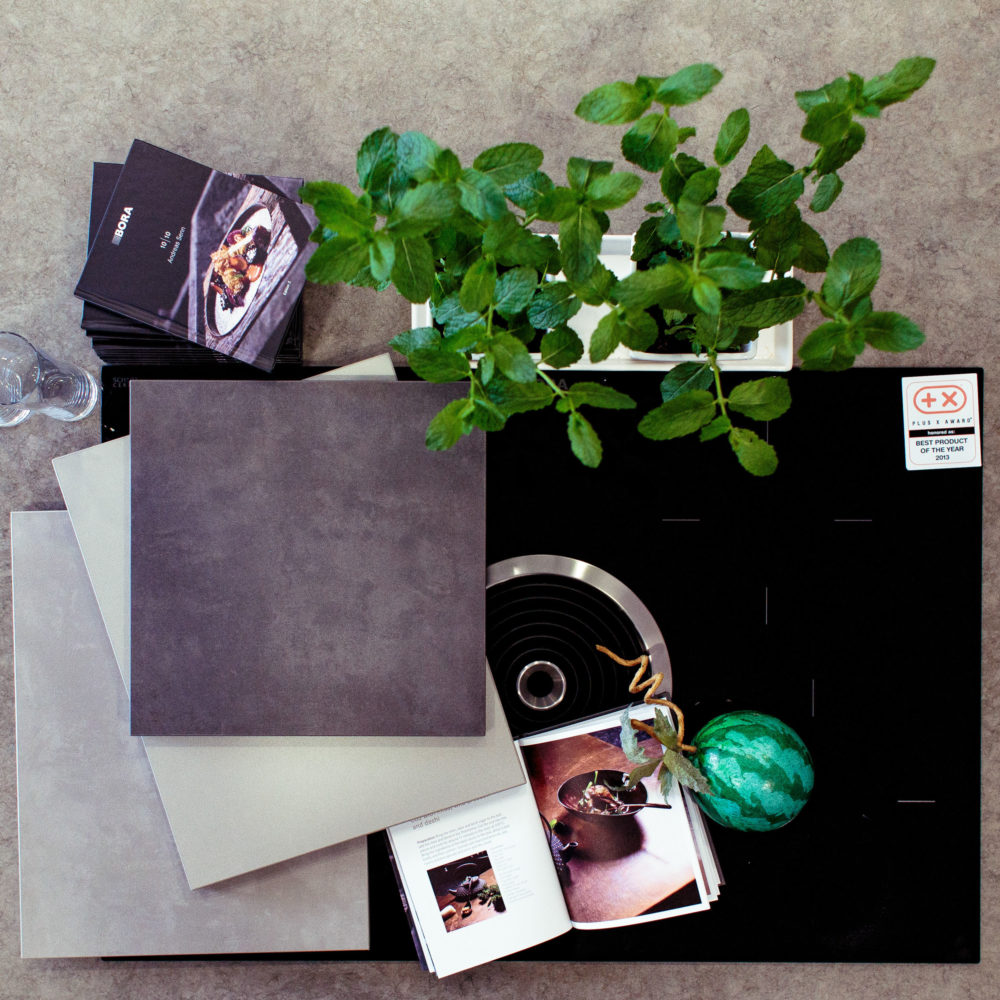 For many people, spring is a time for fresh starts and new opportunities. You might feel like it's time to reinvigorate your living space, and what better place to start than at the heart of your home? If you're looking to remodel or refresh your kitchen to change with the season, here are some ideas for your 2018 makeover—from colour schemes and room layouts, to popular textures and materials.
Colour
Grey remains very popular in kitchen design and will continue to be a dominant base for colour palettes in 2018. It provides a neutral and timeless backdrop, with the added benefit of making a pop of colour really stand out. Black is also back in fashion, but not as the main event. This year it will be used as a platform for accentuating splashes of brass, gold or stone.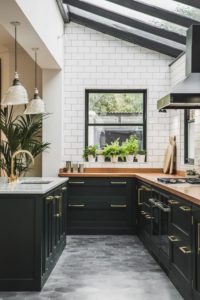 Image via Sustainable Kitchens
And if you like your accent colours to be brave and bold, Pantone's Colour of the Year for 2018 is Ultra-Violet, a vibrant and eye-catching shade that will definitely make a statement. Or if you're looking for something deeper and moodier, try a shade of trendy teal or emerald green.
Broken-plan layout
More and more homeowners are choosing to extend their homes rather than move, which is allowing many of our clients to create once coveted open-plan layouts in their houses. But for those who want a bit of a distinction between rooms, a broken-plan layout is the best of both worlds. It retains all that's good about open-plan—the light and the openness—but adds partitions to give definition to the space.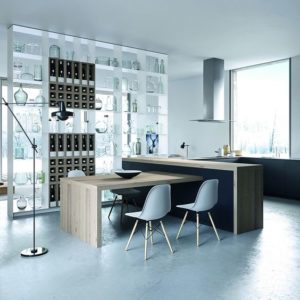 Image via Ideal Home
So if you're looking for an entertainment-friendly layout with a little added privacy, try installing multilevel flooring, dividing walls or part-height partitions to set the kitchen apart from the dining area.
Streamlining
Kitchen design is no longer strictly about minimalism. Kitchens are practical places and, now more than ever, homeowners expect convenience. Storage solutions with a streamlined look—such as pocket doors and worktop units—are popular for housing toasters, coffee machines, blenders, and any other appliances you use regularly but don't necessarily want on display. This is an easy way to hide clutter, whilst still having everything you need to hand.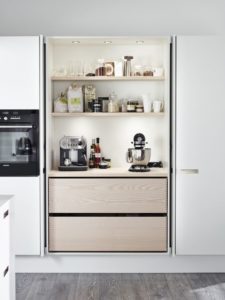 Image via Blog Lovin'
Furthermore, appliances which offer maximum convenience, such as boiling water taps and coffee machines, are ideal for a streamlined kitchen. These add great functionality by saving you time and making everyday tasks easier. So if you're seeking modern convenience and style, appliances like these should definitely be on your wish list.
Mixing textures
An ongoing trend in interior design is to explore different textures to create beautiful, tactile spaces throughout the home. And you don't need to go overboard to achieve this. A mixture of rich matt finishes, river-washed woods and polished stones will add visual interest and depth to any kitchen—especially when combined with a touch of colour in a plush velvet to bring the whole thing together. The result will be an elegant and inviting space, full of warmth.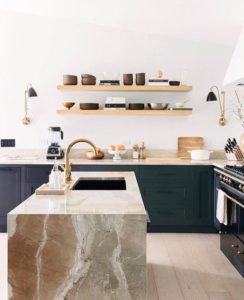 Image via Anna Bond
Marble
No longer a material to avoid, marble is making a strong statement in kitchen design this year. Marble-effect worktops are growing rapidly in popularity, and now come with impressive stain-repelling properties. Think ultra hardwearing Dekton, glossy Silestone, or even real marble with liquid-repelling treatments to make it kitchen-proof. Try combining marble worktops with moody indigo blue and a bit of bronze, for a rich and classic feel.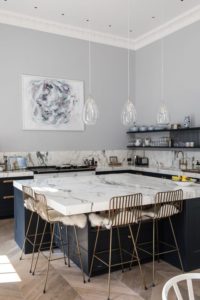 Image via Laura Butler-Madden
Wallpaper
And lastly, wallpaper is an easy way to add texture, colour and pattern to your kitchen in one go. If you're looking for a bit of change, but don't want to embark on a big project, try covering an accent wall in a new style of wallpaper to suit your taste—something bright and fun, calm and muted, or dark and moody. This will give your kitchen an immediate lift and, best of all, is very easy to replace when it's time for another change.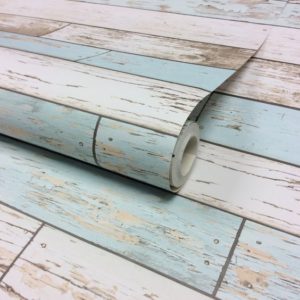 Image via I Love Wallpaper
---
---