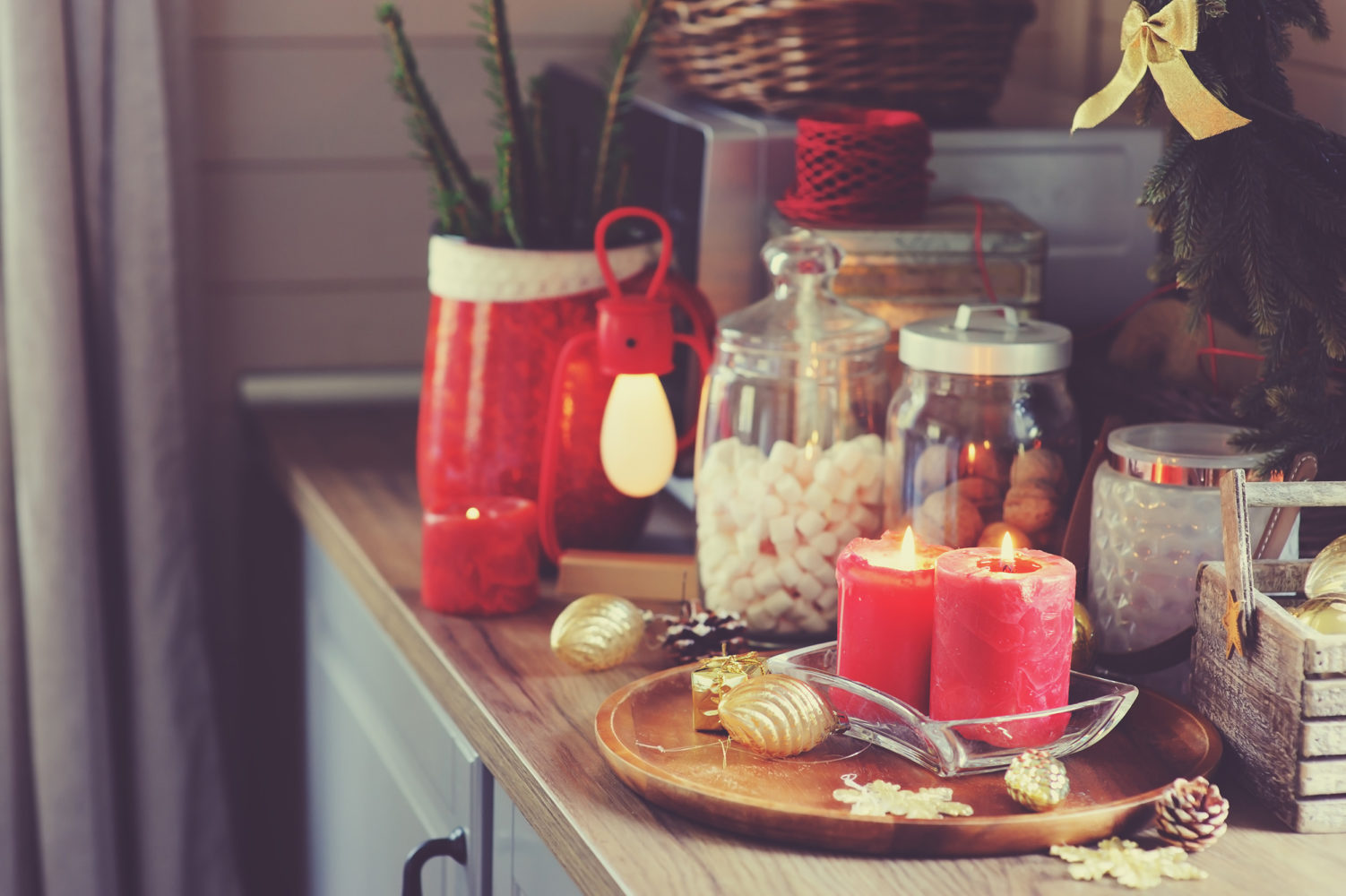 With so much of the festive season centred around food and drink, you're likely to spend a lot of time in the kitchen over the holidays. Yet when it comes to decorating, this room can be overlooked. It might be that you don't have as much space in the kitchen as you do in the living room, or maybe you just don't want decorations getting in the way of the cooking. But that doesn't mean you have to sacrifice on seasonal style! Here are some space-efficient ideas for adding a bit of festive cheer to your kitchen this Christmas.
Kitchen island
If you've already got a tree up in the living room, why not have a mini tree in the kitchen too? In-keeping with the kitchen, decorate this with edible ornaments—candy canes, gingerbread biscuits, dried orange slices, and maybe a popcorn & cranberry garland. Put the tree on the kitchen island as a festive (and delicious) focal point.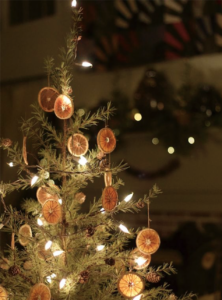 Image via The Spotted Hare
If you don't fancy an edible arrangement, and have already opted for traditional colours for your main tree, go for something a little unexpected here. Ditch the red & green and try some ultra-trendy pearlescent baubles, illuminated with delicate copper wire fairy lights to really make a statement. (Equally, if pine needles in the kitchen sounds like a nightmare, a potted poinsettia will look just as jolly!)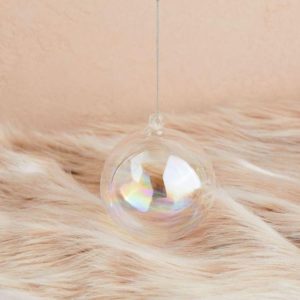 Image via House Beautiful
Worktops
Worktop space is in high demand at Christmas, but one thing you should definitely make room for is a hot chocolate & coffee corner. Arrange a display of festive mugs next to your kettle or coffee machine, and add jars of cocoa powder, marshmallows, flavoured syrups, and maybe a few candy canes for stirring. Make a chalkboard menu, showing your holiday guests which flavours are up for grabs, and add some festive napkins and tea towels.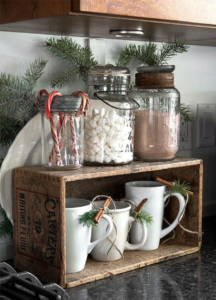 Image via Funky Junk Interiors
If you've got some time to spare, try making a gingerbread house. Create your own winter wonderland with your choice of sweets and display it on the worktop. And if both of these options sound appealing, try bite-sized gingerbread houses—these are designed to sit neatly on the edge of a mug and will be the perfect finishing touch to your hot chocolate station.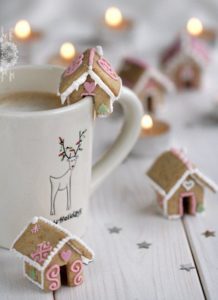 Image via Make
Windows & walls
If you're running low on surface space, decorate the windows and walls instead. Buy a wreath to hang in your window, or try making your own. Use moss, foliage of different textures (such as spruce, buxus, rosemary, and eucalyptus) and decorate it with pine cones, cinnamon sticks, star anise and/or holly.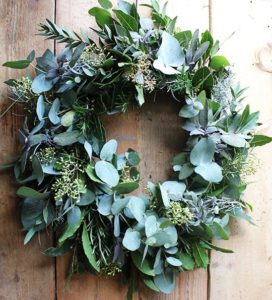 Image via A Quiet Style
Or, for something a little simpler, hang a decorative branch from the window and line it with orange & clove 'baubles'. And if your mantelpiece is getting a little crowded, display your Christmas cards in the kitchen instead. Hang some ribbon on the walls or kitchen cabinets and attach your cards with wooden pegs.
Dining table
You don't need oversized decorations or bulky centrepieces to set an impressive dinner table. If you're aiming for festive and fuss-free, fold napkins into triangles and add vertical, personalised place cards at the base—napkin Christmas trees, without any complicated folding! And add a mini wreath or bauble to the back of each dining chair, so everyone will feel like the guest of honour.
Make your own centrepieces by filling mini mason jars with tree trimmings, berries, a splash of water and a floating candle. Or tie cinnamon sticks around pillar candles using ribbon or cloth, for attractive and aromatic mood lighting.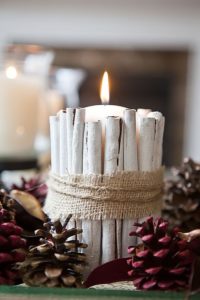 Image via Country Living
---
Start your kitchen design journey by booking your free design visit.
---
SaveSave
SaveSave
SaveSave
SaveSave
SaveSave