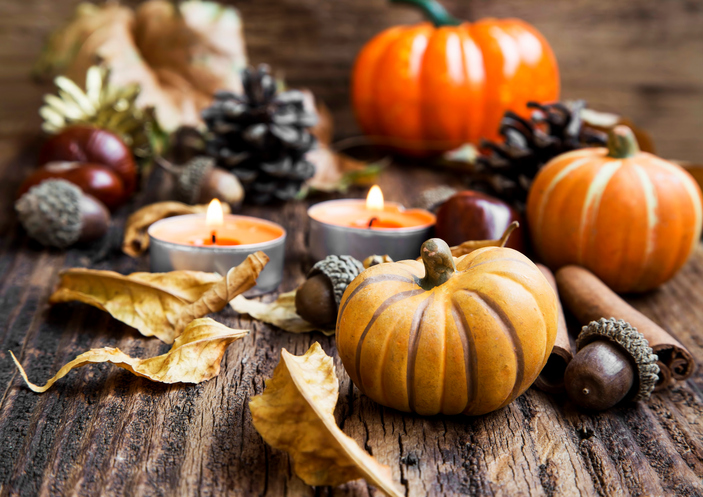 Autumn marks the beginning of the celebration season. From Halloween to Hogmanay, it's the perfect time for hosting parties and experimenting with festive decor. For Halloween in particular, there are no decor rules—which means you can really let your imagination and creativity take over. So if you're having a Halloween get-together, but don't fancy plastic skeletons and fake cobwebs, take a look at our tips for turning your kitchen into a stylishly spooky space.
Avert expectations
Halloween doesn't have to mean black and orange. Why not opt for black and gold, or black and white, as more glamorous alternatives? As well as their striking appearance, accessories in these colours have the benefit of being a little more flexible and can be reused at other times of the year. Unlike bright orange, white and gold don't scream Halloween!
If you're looking for something a little different, try incorporating wooden or glass pumpkins into your table decoration, instead of the real deal.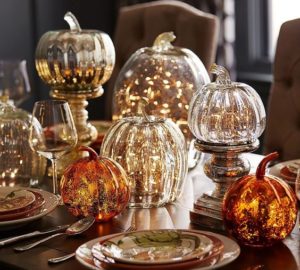 Image via House Beautiful
Then accentuate these with candlelight—an iron lantern or candelabra would be particularly suitable for the season, like something straight out of a haunted house…
DIY decor
One of the best ways to avoid going overboard at Halloween is to make your own decorations. Keep things simple and stylish by adding taper candles to glass bottles, or by covering votive candle holders in black lace for a gothic feel. Place these around your kitchen, on shelves and windowsills.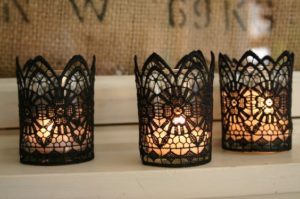 Image via Family Chic
Create a spooky but subtle display by turning your drinks cabinet into an apothecary table. Cover wine and spirit bottles with matte black paint, attach vintage labels and write ominous captions. The perfect place for setting up the Halloween cocktails—zombie, anyone?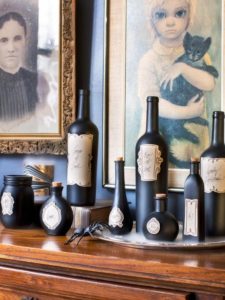 Image via HGTV
Designer pumpkins
For a no-carve approach, try painting a few pumpkins to match your chosen colour scheme, then decorate them with foil tape. Or make your own place-settings by covering mini pumpkins in chalkboard paint and writing the names of your party guests in cursive.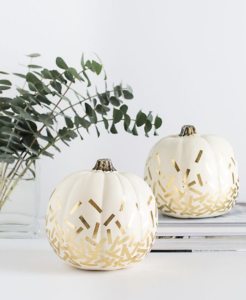 Image via Folksy
If you want to try a bit of carving, cut holes in a few pumpkins of varying sizes and colours, then place a tea-light or pillar candle in each one. Use these as a centrepiece to create an eerie and elegant atmosphere at the dinner table. And if you've got a larger pumpkin, hollow it out to use as a vase or punch bowl—guaranteed to be a conversation starter!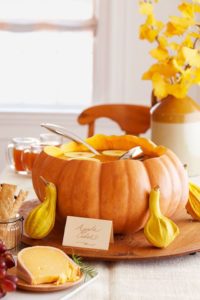 Image via Good Housekeeping
Edible ornaments
At Halloween, the best decorations come in sweetie form! Place glass bowls of colourful sweets on the kitchen island and worktops for your guests to admire and enjoy. And, if you've got some time to spare, make some Halloween-themed desserts—like 'poisoned' candy apples, a chocolate cake with spiderweb feathered icing, or black velvet cupcakes—and give these pride of place. They will look impressive and will certainly be appreciated by your friends and family.
Image via Country Living
The added bonus of adorning your kitchen with edible decorations? Not having to clear them up after the party—they definitely won't last that long!
---
Start your kitchen design journey by booking your free design visit.
---
SaveSave
SaveSave
SaveSave
SaveSave