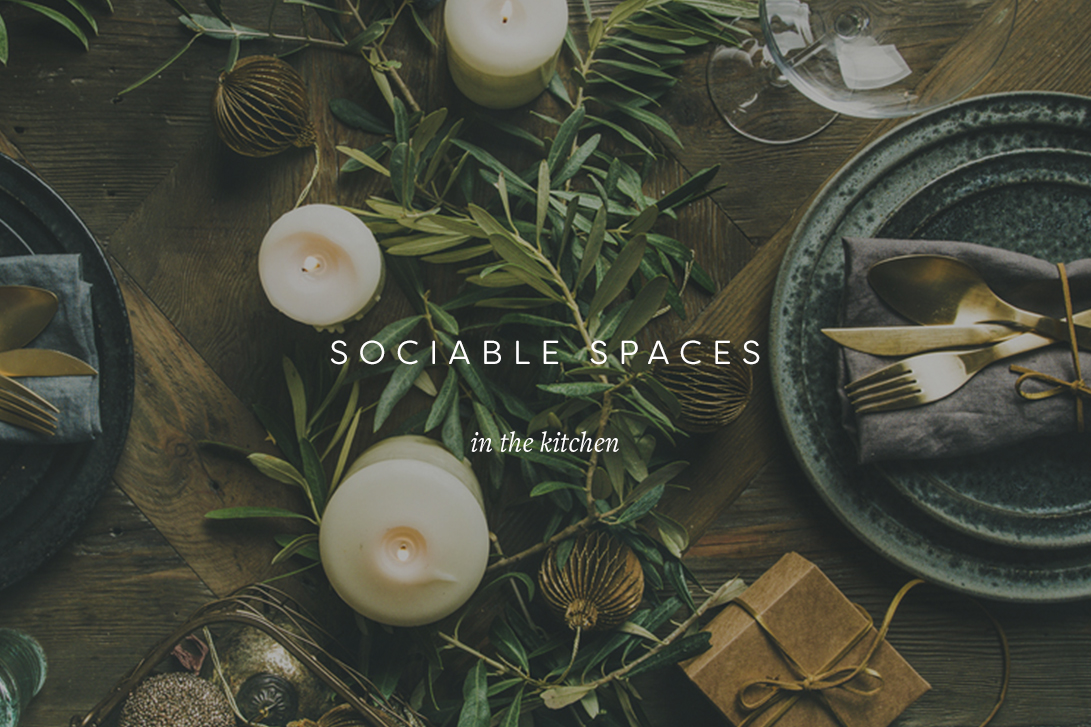 With the holiday season fast approaching, our thoughts are turning to the festive events in our social calendars, many of which take place at home with family and friends. If you're redesigning your kitchen to incorporate social spaces, take inspiration from some of our recent projects and ensure your space is tailor-made for hosting—because doesn't the party always end up in the kitchen?
Bespoke bar area
Rarely does a home bar see more use than during the festive season! In addition to having a wine cabinet for storing chilled drinks in the kitchen, it can also be handy to create a bar area for housing spirits and glassware. Some of our clients choose to have these areas on display, while others opt for incorporating bar shelves into a larder unit which can be closed off when not in use—as was the case with Emma & Craig's kitchen.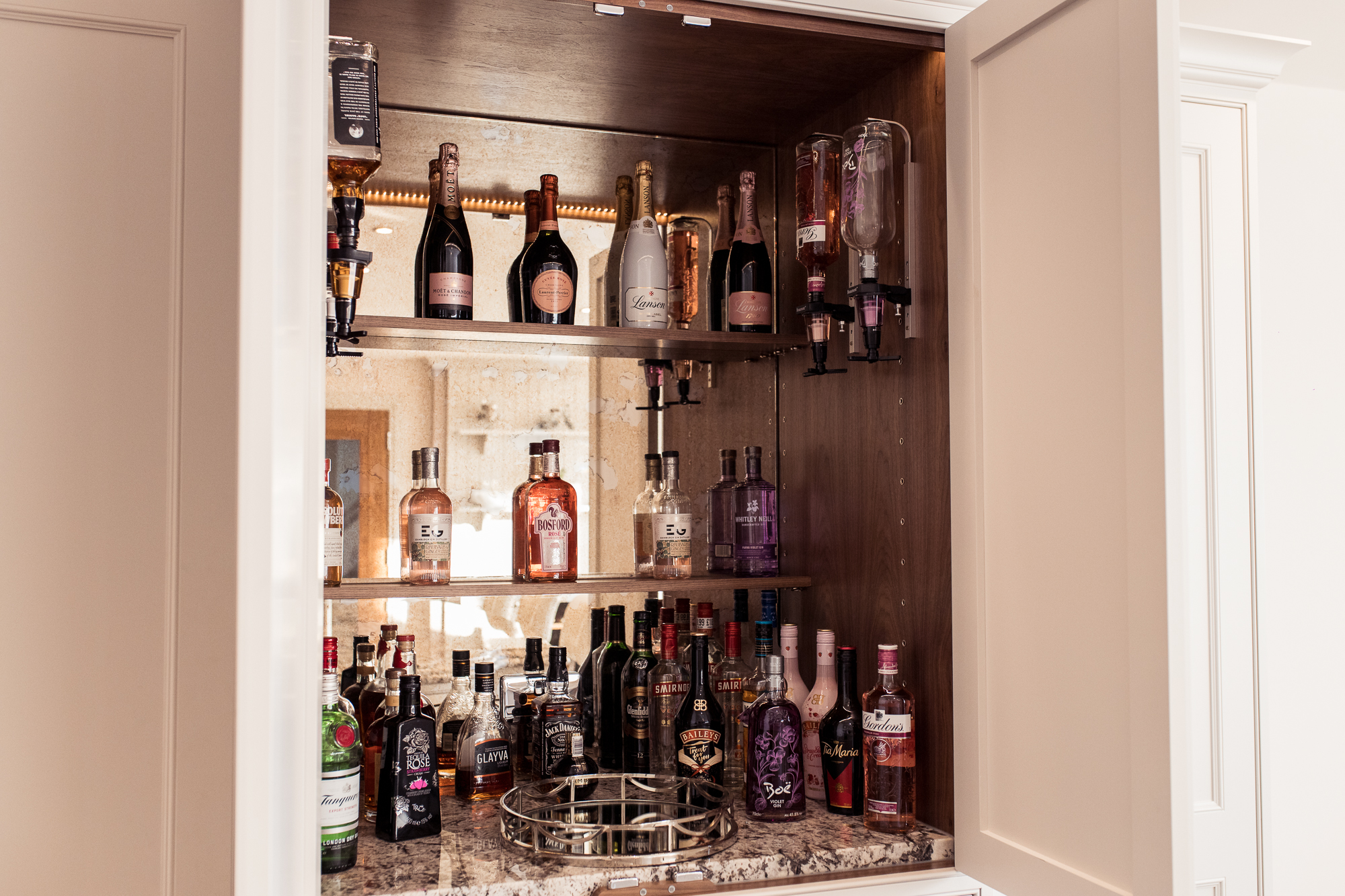 Emma & Craig's hand-crafted drinks unit.
This unit interior has walnut veneer shelves with a striking antique-style mirror for the backing, which makes for an impressive look when the doors are open. With our Handcrafted range of furniture (shown above) the internal shelving and drawer configuration of your units can be entirely bespoke, to suit your personal style and your exact storage needs.
Matching media wall
An open-plan layout is ideal for entertaining, ensuring your guests can move around and mingle with ease, all within the same room. But if you're opening up your kitchen, you'll want to make sure the design remains consistent throughout the space—and choosing coordinating furniture for your living and dining areas can seem like a daunting task. For Will's open-plan kitchen, we took away this headache by creating a simple but striking media wall in the same shade and material as his kitchen units.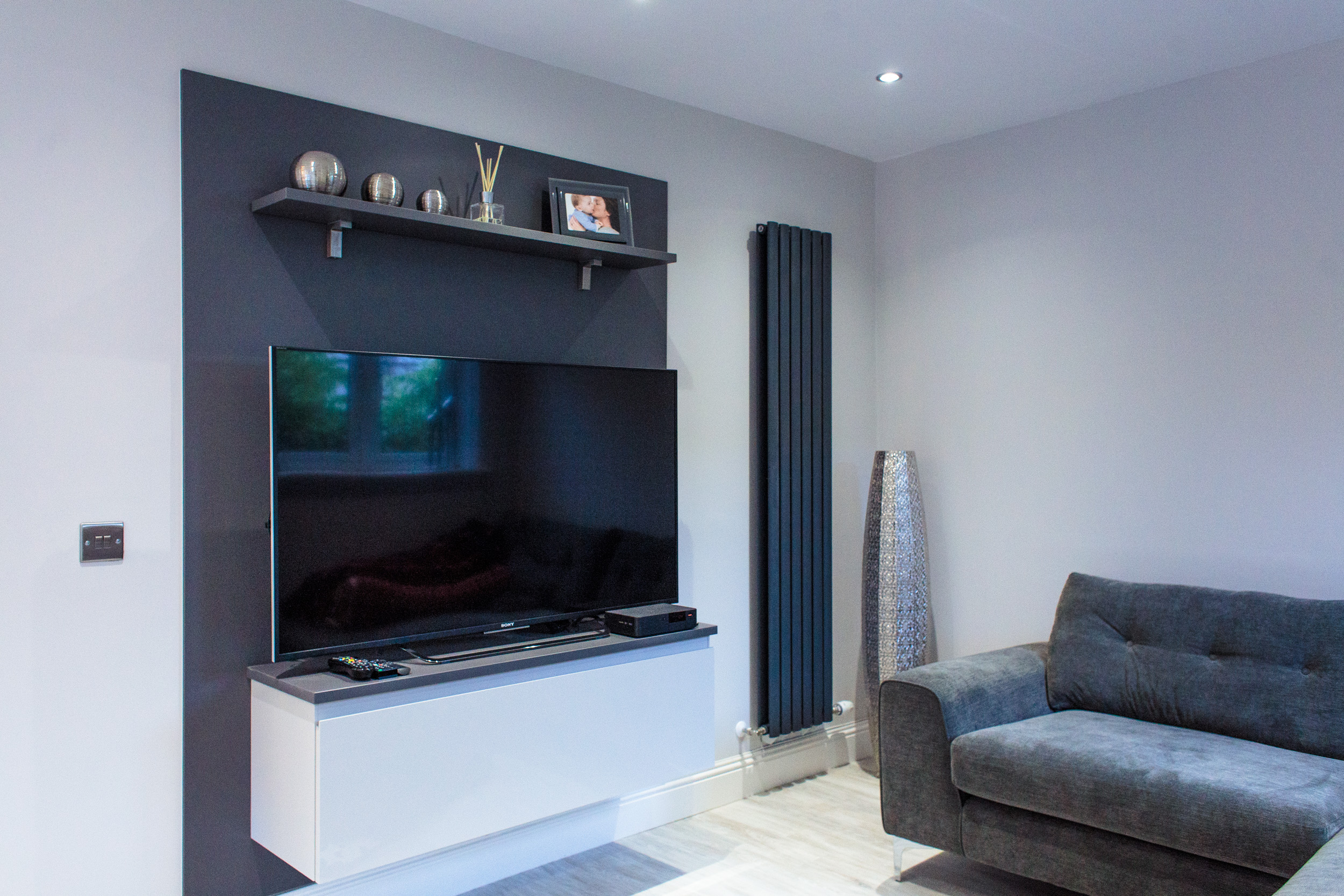 Will's bespoke media wall.
Off-the-shelf TV units can often be a bit of an eyesore, and wall mounting isn't always an option—but a bespoke unit that complements your kitchen design can turn this feature into a focal point. As well as creating a sense of cohesion across your home, this also has the added benefit of providing hidden storage for clearing away messy cables and remotes before your guests arrive.
Retro booth seating
A popular feature that our clients often ask for is booth-style seating. While this requires some thought to the layout and flow of the room—to ensure an adequate amount of passing room around the booth, whilst maintaining a comfortable space within it—booth seating can still be achieved in a variety of kitchen types. One of our favourite examples is the stylish circular booth in Reec & Steve's kitchen.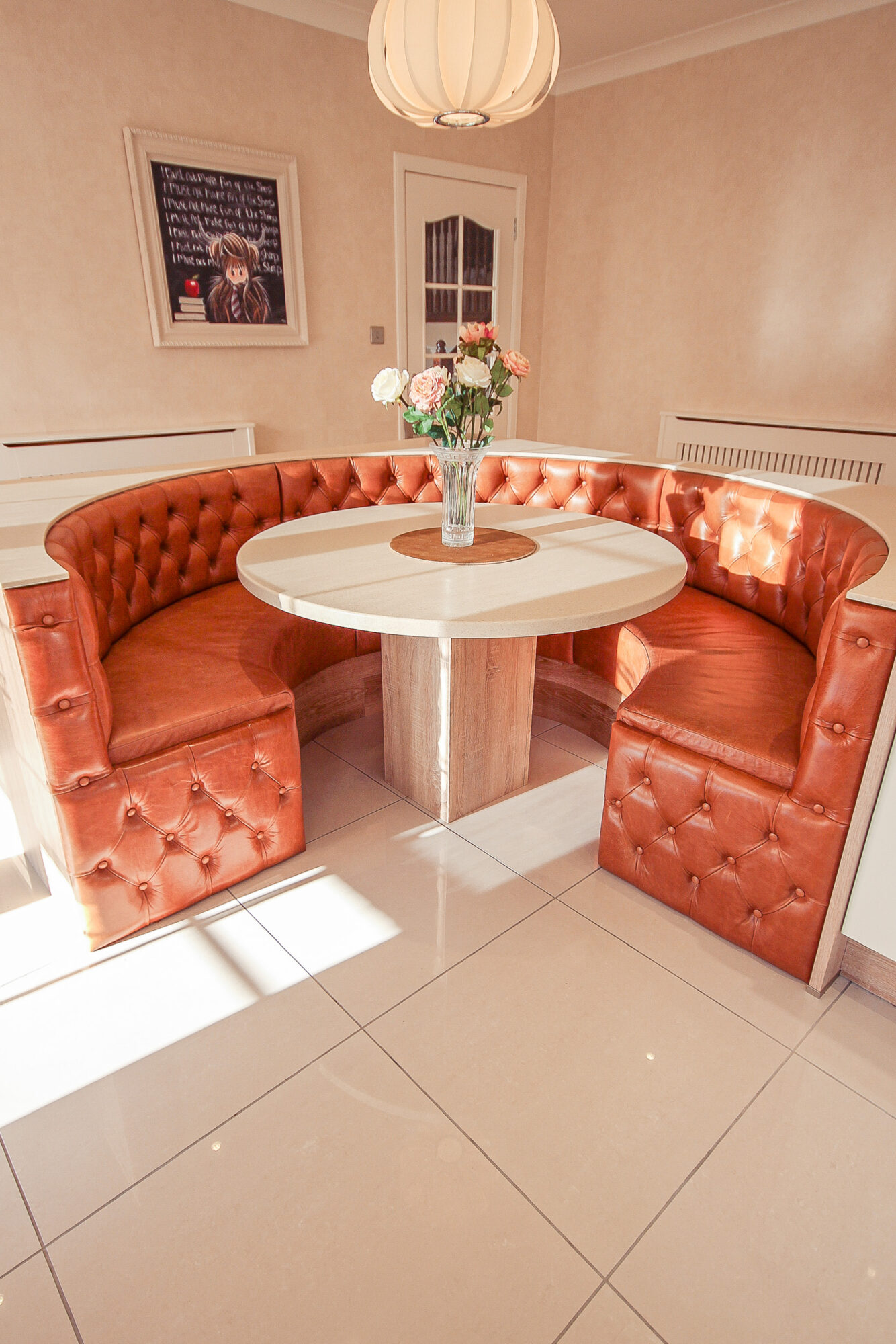 Reec & Steve's circular booth seating.
We built the structure using Corian, a stone-hard material that can be shaped to suit any design or dimension. This allowed us to create a seamless surface for the curved shape of the booth. And with ample space on either side, it's the perfect fit—even when there's a crowd in the kitchen.
Cosy kitchen fireplace
With large architectural spaces, we are often asked to lend our expertise to designing aspects of the wider living area, as well as the kitchen. For Claire's modern home, we helped to integrate a sleek fireplace into the open-plan space—showing how to make even the grandest of rooms feel warm and welcoming.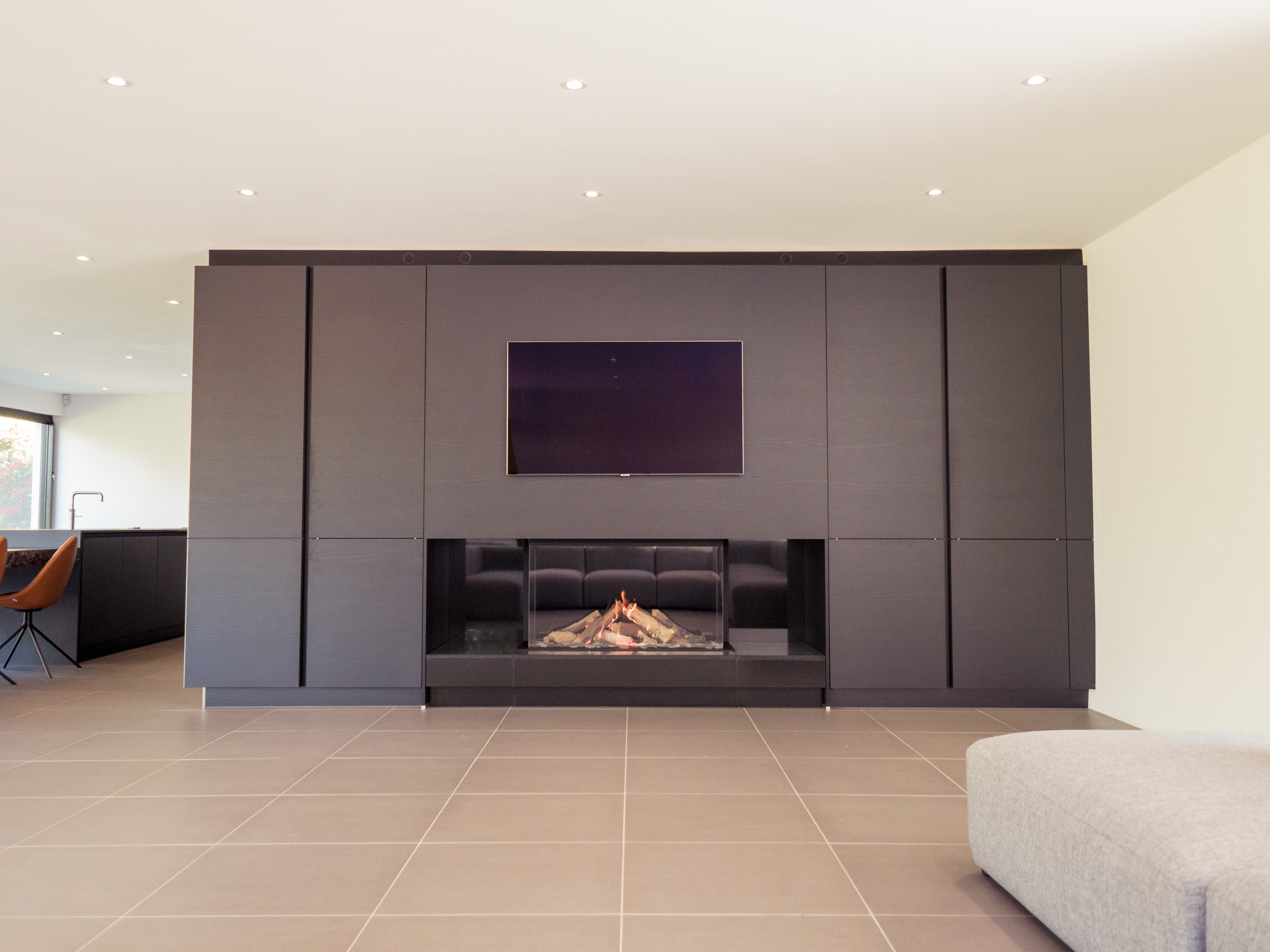 Claire's integrated fireplace.
We wrapped the tall bank of units around the wall—which not only creates additional storage, but also frames the fireplace and the TV. This free-flowing style is mirrored in the configuration of the kitchen's main furniture (see the full project here). Adding an adjoining dining table to the kitchen island, rather than having these as standalone pieces, creates a sociable spot for entertaining whilst cooking. The end result is a space that's both impressive and intimate.
---
Designing a social space in your home?
---